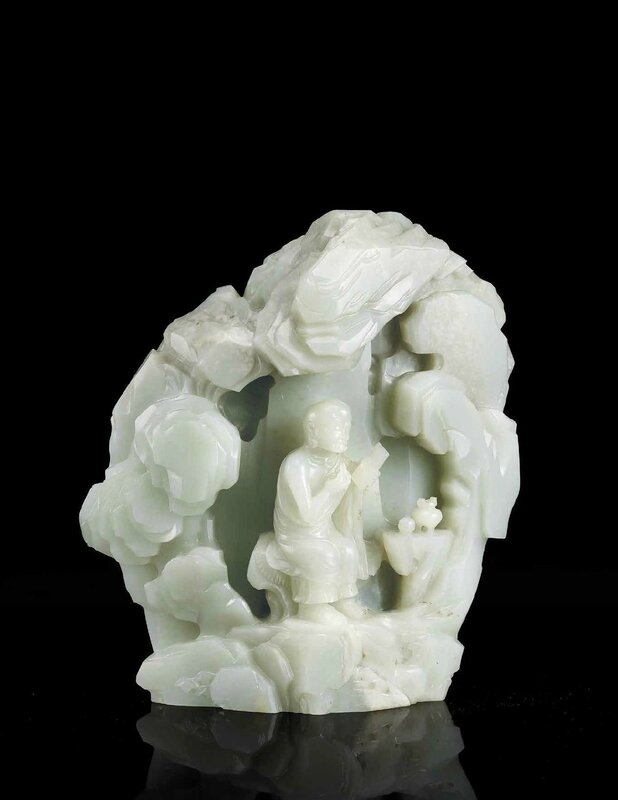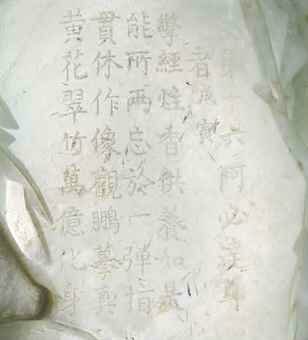 Lot 3021. A very rare Imperial inscribed white jade 'luohan' grotto, Qianlong incised six-character mark, the inscription dated to wuyin cyclical year,corresponding to 1758 and of the period. Estimate HK$8,000,000 – HK$15,000,000 ($1,035,062 - $1,940,741). Price Realized HK$9,640,000 ($1,247,249). Photo Christie's Image Ltd 2016.
The boulder is carved in the round depicting the Luohan Abhedya seated on a rock in a grotto holding a sutra in one hand. On one side is an incense burner and incense box placed on a rock table. On the back is incised an inscription reading 'The Sixteenth Luohan Abhedya, wuyin year', followed by an Imperial poem eulogising the Sixteen Luohan. The base is incised with the character yin, a Qianlong reign mark, and the characters reading 'sixteen' in one line. The stone has a pale greenish-white tone with concentrated areas of milky mottling and dark brown spots. 8 1/4 in. (21 cm.) high
Provenance: Crystalite Collection, Arizona, acquired prior to 1976
The Crystalite Collection in Arizona assembled a fine collection of jade and jadeite carvings in the 70s and 80s, some of which, such as the present lot, were exhibited in the Los Angeles County Museum of Art, while some were included in well-known publications on jade or gemstones.
Exhibited: Los Angeles County Museum of Art, Chinese Jade from Southern California Collections, Los Angeles, 26 October 1976-6 February 1977, catalogue no. 33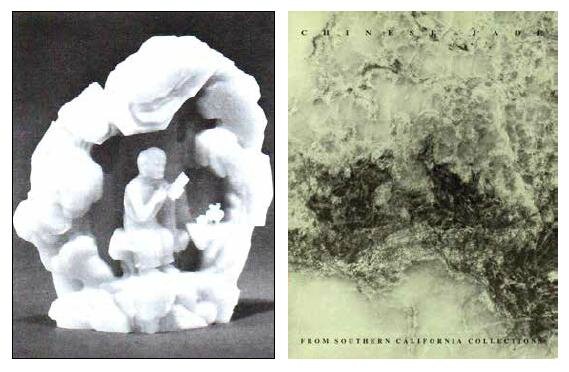 The present lot as illustrated in Chinese Jade from Southern California Collections, Los Angeles, 1976, no. 33
Notes: The inscription can be translated:
Sixteenth Arhat Abhedya
Wuyin year
Holding a sutra and lighting incense, thus he made his offering
Forsaking his self and his will, with a flick of his fingers
Guan Xiu painted his image, Guan Peng drew his likeness
Yellow flowers and green bamboo, his prevailing omnipresence.
This fantastic jade sculpture depicts an arhat - a Buddhist adept who attained enlightenment - meditating or reading a sutra inside a rocky cave. Although they are considered holy in India, arhats only became figures of devotion when Buddhism spread to Tibet. Amongst these figures, a group of sixteen has been singled out as the most revered, and as Tibetan Buddhism was adopted by the Qing Imperial court to be the primary religion, these sixteen figures were frequently depicted in different media. The current jade boulder depicts the sixteenth of this group, Abhedya. He is shown holding a sutra in one hand seated beside an incense burner and incense box, a composition taken from a 10th century painting by Monk Guanxiu, which the Qianlong emperor viewed in the Shengyin Temple in Hangzhou during his Southern Tours in 1757. The experience of viewing these paintings greatly inspired him and he composed a series of poems accompanying each of the arhats the next year, one of which is inscribed at the back of this boulder. The depiction of the Sixteen Luohan in Guanxiu's style was also frequently seen on Imperial works of art, such as a massive screen in the Palace Museum (fig. 1). At the same time, the Qing Empire regained control of the Xinjiang area, which enabled the steady flow of top quality jade boulders from Khotan. The making of this beautiful jade sculpture is a testament to these two significant cultural and political events at the height of the Qianlong period.

fig. 1. Collection of the Palace Museum, Beijing.