A George III silver-gilt 'Royal' Presentation Tray, London, 1802, Maker's mark of Joseph Preedy. Length: 66.75cm, 26.2in. Width: 44cm, 17.3in. Weight: 6,540g,210oz 4dwt. Asking price: £350,000.
LONDON - Leading London silver dealers, Koopman Rare Art will once again be showing an outstanding selection of silver masterpieces and works of art at Masterpiece London 2016, from Thursday June 30 to Wednesday July 6, 2016. (Stand C29.
Highlights this year on the Koopman Rare Art stand include a stunning silver-gilt George III presentation tray bearing the maker's mark of Joseph Preedy. Although a notable and prolific silversmith in his day, trays by Preedy are rare and this one is particularly important on account of its royal provenance. Oval in shape with basket weave pattern sides and rope twist handles and rim, the tray was a christening gift from King George III to his godson the Duke of Dorset. The centre of the tray is engraved with coats of arms within a garter and below a coronet and bears the inscription: 'Given by his most excellent Majesty George the III, to his Godson, George John Frederick Sackville, Duke of Dorset, born Novr.15, 1793.' Previously in the famous Al-Tajir collection, the tray weighs a substantial 6.54kgs and has an asking price of £350,000.
Among other notable pieces with Royal provenance is a magnificent set of four Royal George III silver-gilt candlesticks. Each candlestick bears the Royal Ducal crest believed to be for the Duke of Cambridge. The candlesticks were made in London in 1829 by Charles Fox and based on a design by Robert Adam. Suites of similar candlesticks can be found in the collection of William Beckford at Brodick Castle, where Beckford enlarged existing suites by adding reproductions of earlier designs to produce his spectacular lighting schemes. (Asking price £ 39,000).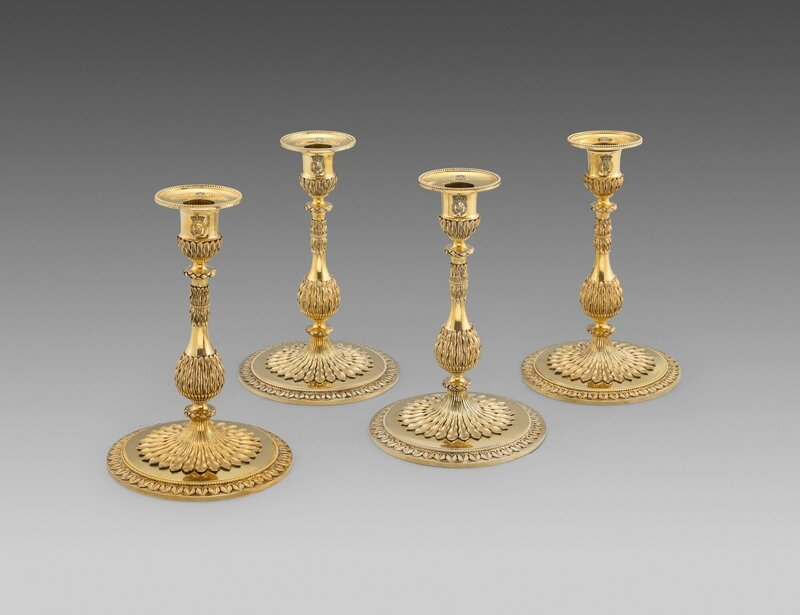 A Magnificent Royal set of four George III silver-gilt candlesticks, London, 1829, Maker's mark of Charles Fox; 20cm, 8in high, 2037gr, 65oz 10dwt. Asking price: £39,000.
Similarly a pair of George III tankards, bearing the maker's mark of William Hall, London 1802 also have royal provenance. Engraved with the initials CR below a royal coronet and the Garter motto together, the initials are those of Queen Charlotte (1744-1818), wife of George III, while the additional engraved crest and royal coronet are for one of her sons. The tankards have an asking price of £25,000.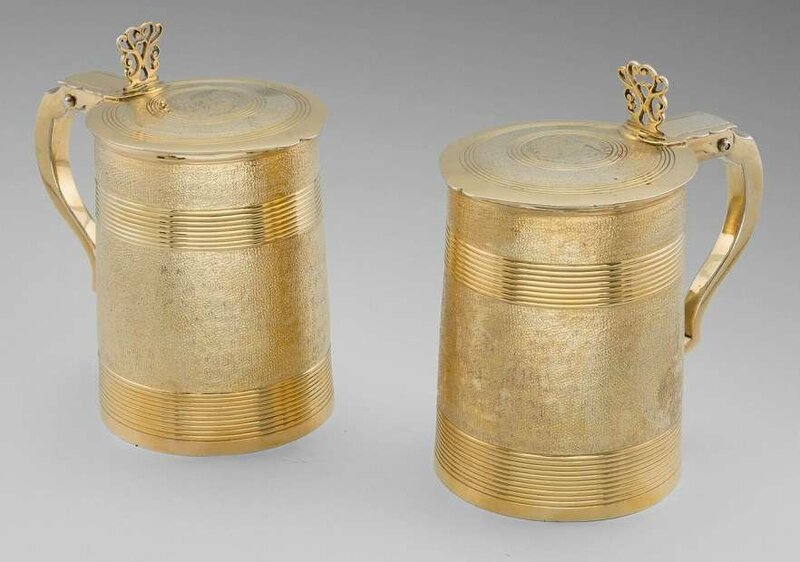 A Pair of Royal George III Tankards, London, 1802. Maker's mark of William Hall, Retailed by Rundell & Bridge, Ludgate Hill. Height: 18.6cm., 7 1/4 in. Weight: 2533gr., 81oz. 8dwt. Asking price: £25,000.
Exceptional silver by eminent silversmiths such as Paul de Lamerie and Paul Storr and continue to grace the Koopman stand. Lewis Smith, Director of Koopman Rare Art, said: "Last June at Masterpiece we previewed highlights from our forthcoming exhibition of silver by Regency silversmith Paul Storr, which was subsequently held in our London galleries in October. The exhibition was a phenomenal success and demonstrated the on-going demand and appreciation of silver by this noble silversmith. Many of the pieces have since sold but we are delighted to be able to showcase a new selection of recently acquired pieces by Paul Storr at this year's Masterpiece."
Examples include a sumptuous pair of Victorian marine inspired table centre dessert bowls. Made in London, between 1838 and1848, the bowls bear the maker's mark of Paul Storr and John Samuel Hunt for Storr & Mortimer and are engraved with the Tollemache crest John Jervis Tollemache, 1st Baron Tollemache, for Peckforton Castle in Cheshire (asking price £245,000). Art works from Peckforton Castle, including these imposing Storr bowls were sold through Christies in London in May 1953. The bowls have most recently been part of the Chen collection.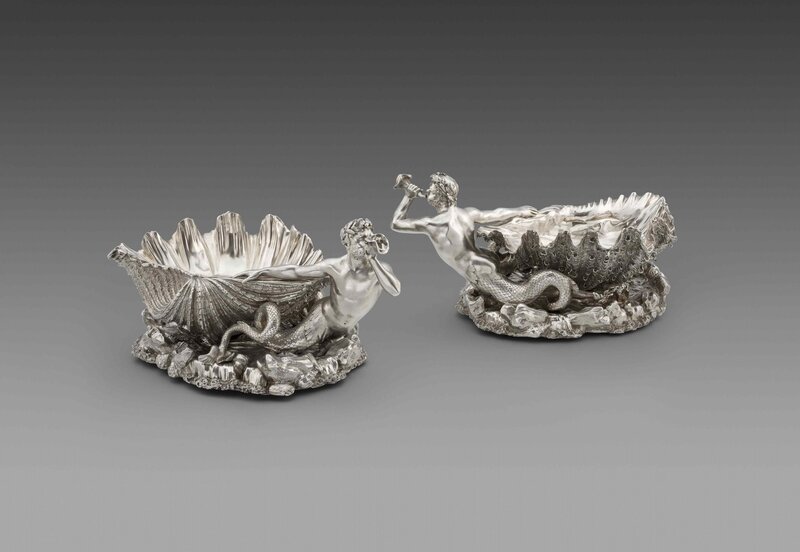 A Magnificent Pair of Victorian Marine Silver Table Centre Dessert Bowls, London, 1838-1848. Maker's mark of Paul Storr and John Samuel Hunt for Storr & Mortimer. Width: 35.5cm., 14in. Each engraved with the crest of Tollemache for John Jervis Tollemache, 1st Baron Tollemache. Asking price: £ 245,000.
With a similarly distinguished provenance and also by Paul Storr is a set of four, particularly impressive, silver-gilt George III figural shell salts, dated London 1812. The salts were formerly in the collection of the Duke of Westminster until sold at auction in 1959, before subsequently entering the venerated collection of Alan and Simone Hartman in the United States. Cast as a kneeling triton grasping a shell flanked by his tail, this arresting group of salts has an asking price £125,000.
A Set of Four silver-gilt George III Figural Shell Salts, London, 1812. Maker's mark of Paul Storr. Retailed by Rundell, Bridge & Rundell, after a design by William Theed. Height:12.5cm., 5 1/2 in.; length:12cm., 4 3/4 in. Weight: 3238.8gr., 104oz. 10dwt., excluding the spoons. Asking price: £125,000.
Other star pieces include a pair of important George IV parcel gilt candlesticks, made in London in 1827 and bearing the makers mark of John Bridge for Rundell, Bridge and Rundell. These elegant candlesticks are believed to be based on a design either by, or directed by Harriet, Duchess of Sutherland (1765-1839), who was an accomplished amateur landscape painter and engraver. The candlesticks were first made by Rundells in 1825-6, with several subsequent versions being produced both in silver and in gilt bronze. Three silver swans, shown on a silver gilt water base supported by shell feet, form the focal point of the candlesticks, their elegant necks stretching upwards along the floral inspired stem of the stick. The candlesticks are restrained and devoid of overt ostentation. The asking price is £110,000.
An Exceptional Pair of George IV Swan Candlesticks. Silver & parcel-gilt, London, 1830. Maker's mark of John Bridge. Height: 15.5cm, 6.1in. Weight: 1,800g, 60oz 8dwt. Asking price: £110,000.
Lewis Smith noted: "In general we have found that silver sales have remained buoyant over the past year. This is largely due to the fact that we focus only on silver of the highest quality, both in terms of craftsmanship and style, often combined with an interesting history and provenance. In fact one cannot underestimate the importance of provenance in today's market, this has gained even more prominence than before. Buyers are simply not impressed with mediocrity – they will only buy the best of whatever it is and will pay a premium for a blue-chip provenance."
Koopman Rare Art also has a superior collection of European gold boxes dating from the 18th and 19th centuries – some bejewelled, others made of hardstones, such as agate, lapis lazuli or rhodonite, while others incorporate decorative scenes in micromosaic. Lewis Smith added: "There has been a noticeable increased interest in gold boxes recently, which tends to be the case in times of economic uncertainty. Not only are they extremely beautiful, desirable objects they are also very portable."
One very rare gold box, of the most exquisite quality is made of three different colours of gold and is decorated with allegorical scenes, which make reference to arms, nature, music and science. Dating from 1772 the maker is believed to be Nicolas Marguerit (asking price £65,000).
Smaller, less expensive items but all equally special in terms of execution and interest are also to be found on the stand. For example coffee aficionados will be thrilled by one of the earliest silver coffee percolators. Made by English silversmiths Emes and Barnard in 1809, the design is both elegant and practical. Comprising two parts the top canister, which sits on the pot below, takes the coffee granules and the hot water. Once the coffee has percolated through, the top can be removed leaving an elegant coffee pot with lid for pouring. This fabulous piece has an asking price of £7,500 and will clearly last for a couple more hundred years.
Another unusual item is a stylish inkwell formed of an ostrich egg was formerly in the collection of the Coke family from Holkham in Norfolk. The top of the egg is mounted by a small silver image of an ostrich holding a horse-shoe in its beak – a reference to the Coke family's coat of arms (asking price £11,500).
And bringing silver into the 20th century are six striking beakers by one of the leading lights in British contemporary silversmithing Stuart Devlin. Made in silver and silver gilt, the beakers bear Devlin's distinctive and instantly recognisable 'Tree Bark' decoration. These chic beakers date from 1968 (asking price £9,750).