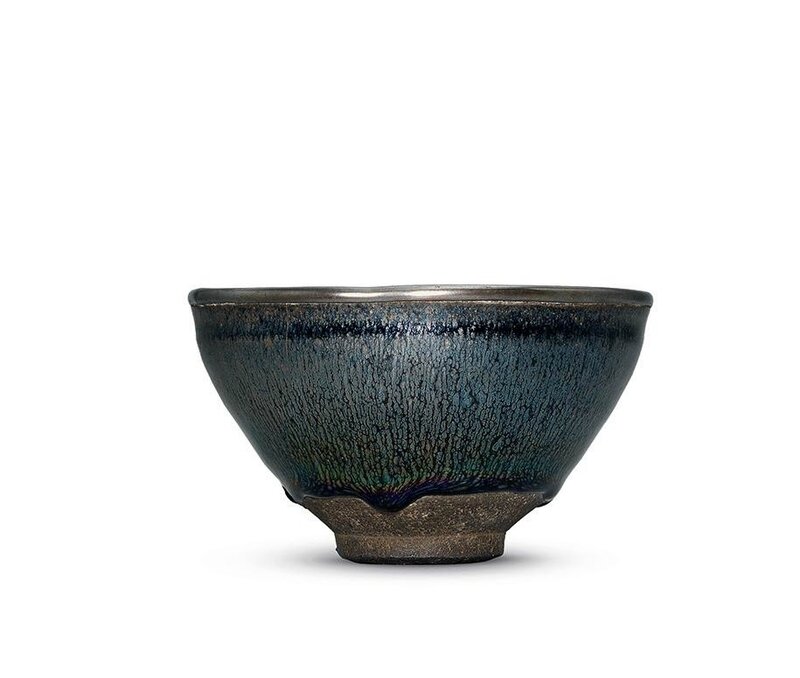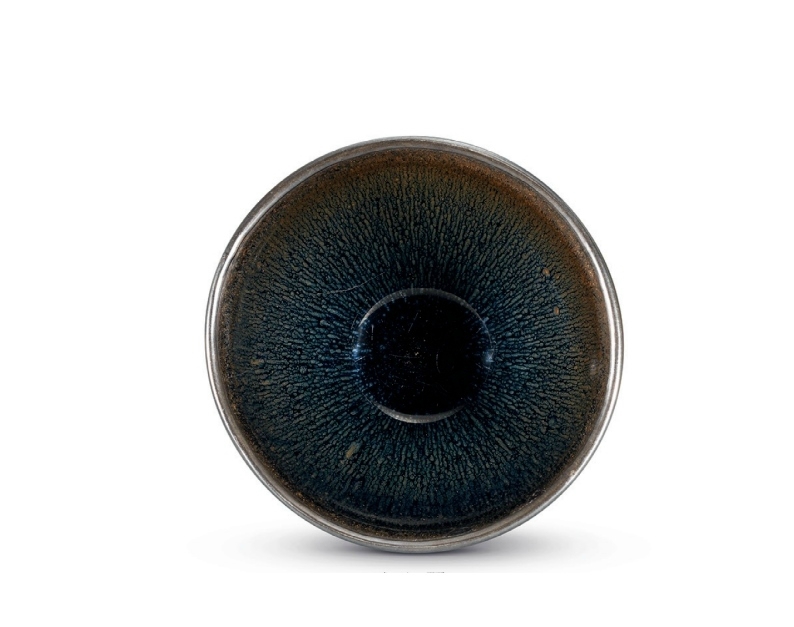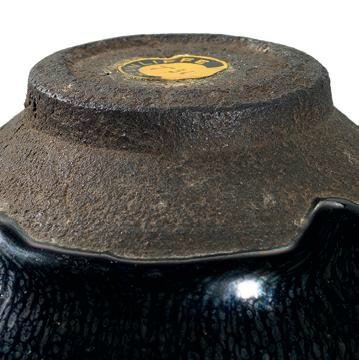 Lot 3132. The Cunliffe Jian Bowl. A superb 'silver hare's fur' Jian tea bowl, Southern Song dynasty (1127-1279). Estimate HK$2,000,000 – HK$3,000,000 ($258,674 - $388,011). Photo Christie's Image Ltd 2016.
The tea bowl is well potted with deep rounded sides rising from a short foot rim rising to a finger-grooved rim. It is mounted with a silver rim, covered with a thick black glaze finely streaked with iridescent 'silver hare's fur' markings, stopping irregularly above the foot exposing the dark brown body. The mouth rim is mounted with a metal band. 4 ¾ in. (12.2 cm.) diam.
Provenance: Michou, 28 April 1949 (£7)
Bluett & Sons, London, 15 June 1949 (£15)
Lord Cunliffe (1899-1963), no. T31
Bonhams London, 11 November 2002, lot 45
Exhibited: The Arts Council of Great Britain and The Oriental Ceramic Society, London, The Arts of the Sung Dynasty, 16 June – 23 July 1960, no. 196
Notes: Jian black-glazed bowls were intended primarily for the drinking of tea. The choice of tea during the Song and Jin periods was a pale tea that was whisked to produce a white froth on top. Black-glazed bowls such as the present example became increasingly popular as they showed off the frothy white tea to great advantage.
The formation of patterns on Jian ware bowls depends on the specific oxides of iron that form in firing and to the type of crystals that develop as the glaze cools. The current bowl has a very attractive black glaze with a network of iridescent 'silver hare's furs' streaks, which is one of the rarest patterns amongst Jian bowls, and one of the most desirables prised by connoisseurs. For similar Jian bowls with 'silver hare's furs', compare an example in The Metropolitan Museum of Art, New York, illustrated by Robert Mowry, Hare's Fur, Tortoiseshell, and Partridge Feathers: Chinese Brown- and Black-Glazed Ceramics, 400-1400, Cambridge, 1996, pp. 219-220, no. 83, and another sold at Sotheby's London, 11 May 2011, lot 7, the markings on both of these examples exhibit a bluish tinge.