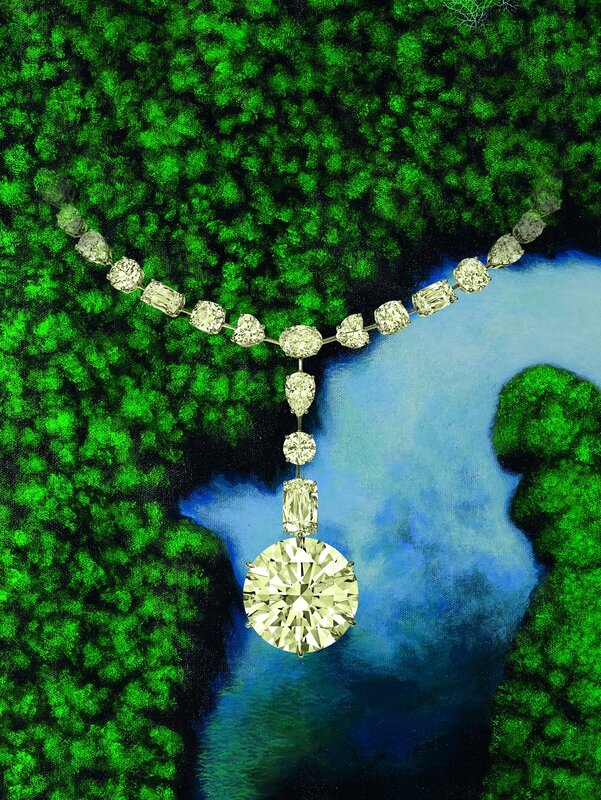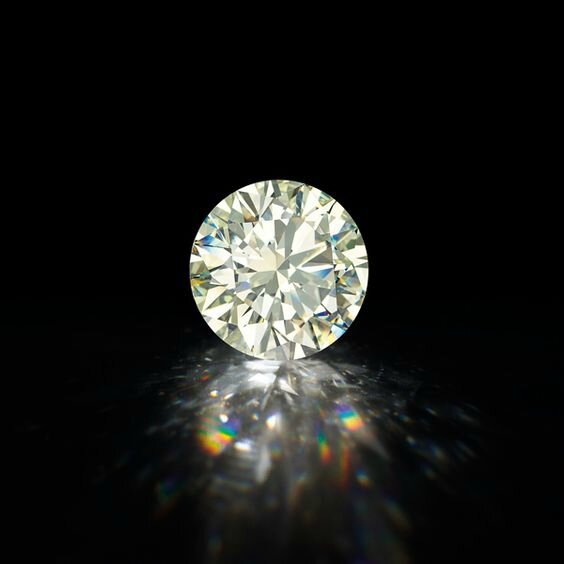 Lot 273. "The Cape of Good Hope". Magnificent 61.72-Carat Light Yellow VS2 Clarity Triple Excellent Diamond, Graff; and Matching Diamond Necklace. Estimate:HK$ 16,000,000 – 20,000,000/US$ 2,050,000 – 2,560,000. Courtesy Tiancheng International.
Suspending a brilliant-cut light yellow diamond weighing 61.72 carats, laser inscripted GRAFF, to an articulated necklace set with variously-shaped diamonds together weighing approximately 54.60 carats, mounted in platinum, length approximately 400mm, ring fitting. Ring size: 5½ - Accompanied with an original signed box.
Accompanied by GIA report numbered 2155004389, dated 16 October 2015, stating that the 61.72 carat diamond is W to X range colour, VS2 clarity, with Excellent Cut, Polish and Symmetry;
another eight GIA reports stating that the 14.97 carat diamonds ranging from 5.09 to 0.90 carat are L to V colour, VVS1 to SI2 clarity.
THE CAPE OF GOOD HOPE
Graff Diamonds, one of the most reputable diamond jewellers in the world, originated from Bond Street of London. The company is celebrated for its legendary diamonds, hailed as the 'diamonds of diamonds.' Laurence Graff, its founder, once said that diamonds held an irresistible appeal to him since childhood, that it invigorated him and made up a vital part of his life. He wanted to let diamond lovers like himself possess truly perfect diamonds. In 1998, Laurence Graff acquired a 51% controlling stake in the South African Diamond Corporation and proudly proclaimed that over 70% of the world's yellow diamonds came from Graff. As its promotional slogan goes, Graff's name extends from the diamond mines to the jewellery – from the cutting and polishing of the rough through to design and setting of exquisite jewel by the skilled lapidary.
The earliest diamond discovery in South Africa was made in the Cape Colony in 1867. Henceforth, the roughs unearthed there were called Cape Diamonds. Over the past century, Cape Diamonds became a professional synonym for light yellow diamonds, particularly those with X to Z colours. Some gemologists have set Cape Diamonds apart from Cape White, believing that the former is a blanket term for South African diamonds. Discussions of Cape Diamonds have since continued unabated. Before the Gemological Institute of America (GIA) developed the diamond grading system, the industry used Cape as a term for white diamonds, such as Top Silver Cape, Silver Cape and Top Cape, which is equivalent to J-M colour in GIA grading.
The most renowned Cape Diamond is the 234.65-carat De Beers Diamond unearthed from the Kimberly mine of South Africa. Suffused with a light yellow hue, the diamond became the possession of the Maharajah of Patiala when it exhibited in Paris. In 1928, Cartier was commissioned to set the diamond as the centerpiece of the internationally famous Patiala Necklace.
Tiancheng International is proud to present a magnificent 61.27-carat diamond by Graff. With excellent cut, polish and symmetry, this important diamond from the Cape is W to X range colour. Radiating strong brilliance and possessing charming yellow hue, the prized diamond is entitled The Cape of Good Hope as a compliment of its distinguished quality and prestigious origin. Brilliant-cut diamonds involve great wastage of the rough. Therefore, in order to retain the weight, diamonds over 10 carats are more likely to be polished by fancy cuts. This superb 61.72-carat brilliantcut Triple-Excellent diamond is comparable to the glitter of the brightest star in the sky. The perfect dispersion causes the stone to exhibit the spectacular fire, echoing the glorifying legacy of Graff and Cape Diamonds
Tiancheng International. HONG KONG SPRING AUCTION, Jewellery and Jadeite. 12 Jun · 1 pm