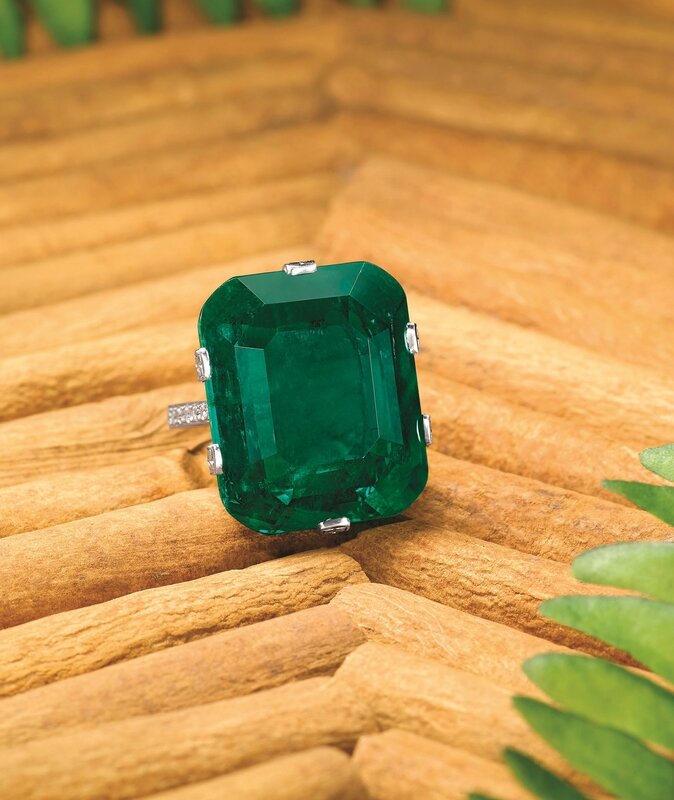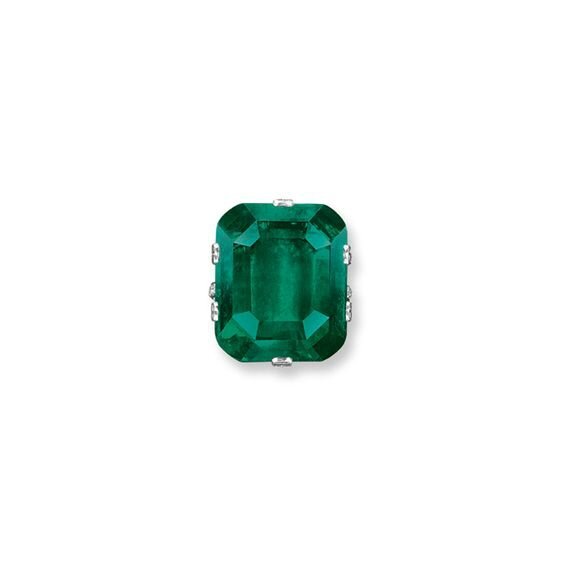 Lot 216. The "Crown of Muzo". Important 29.16-Carat Natural Untreated Colombian Muzo Emerald and Diamond Ring. Estimate:HK$ 9,800,000 – 13,000,000/US$ 1,260,000 – 1,666,000. Courtesy Tiancheng International.
Centring on a cushion-shaped emerald weighing 29.16 carats, decorated with brilliant-cut diamonds on the shoulders, mounted in platinum. Ring size: 6¼
Accompanied by AGL report numbered CS69320, dated 15 October 2015, stating that the 29.16 carat emerald is natural, Green colour, of Colombian origin, with no indications of clarity enhancement; along with a special AGL Jewel Folio, stating that 'The 29.16 carat...is a gem worthy of special merit. Its large size and superior quality converge to make a gem of unique rarity. Top-quality Muzo emeralds such as this are the reason that the emeralds of Colombia have earned their elite status. In consideration of its rarity this gem has been named The Crown of Muzo.';
Gübelin report numbered 15105080, dated 28 October 2015, stating that the 29.16 carat emerald is natural, Green colour, of Colombian origin, with no indications of clarity enhancement; along with an information sheet, stating that 'By filling these fissures and fractures with a foreign substance such as oil, resin or wax, the transparency of the emerald can be enhanced. Such a clarity enhancement process is usually reversible and repeatable at any time. At the time of the analysis, the emerald described in the above...did not show any indications of clarity enhancement.'.
The Crown of Muzo
Emerald is a green mineral beryl, coloured by trace amounts of chromium or vanadium. The varying presence of these elements gives emerald its range of colour which until now, no gemologist has ever accurately described its colour - green with a touch of yellow and seemingly a bluish tint, making emerald an arresting sight to behold.
Cleopatra, the queen of ancient Egypt, was known to have a passion for emerald. One millennium later, the gemstone captured the heart of actress Elizabeth Taylor, who played the bewitching queen on the silver screen. Taylor recalled the scene she visited the Bulgari's shop in Rome, "a green glitter emerged and all we could do is to hold our breaths. Oh my God! I've got to have the emerald!"
Emerald is formed under extremely complex geological conditions. Though exceedingly beautiful, they are brittle and contain numerous inclusions that are described by gemologists as an internal "jardin," or garden. Due to this unique characteristic, the main focus of emerald enhancement is to deal with their cracks. One of the widely accepted enhancements is oil treatment (colourless oil). Filling them with oil makes their fractures less visible and helps protect the gem crystals. Almost all emeralds in general are subject to oil enhancement, except for a precious few that are so naturally perfect they are spared this treatment.
Colombia is a famous producer of emeralds in the world. Backed with a unique geographical environment, it provides excellent growing conditions for emeralds. The country's Muzo mining region yields emeralds of the finest quality, so beautiful that collectors find it hard to resist them. Amongst the limited mines within Colombian borders, Muzo mine produces the most saturated pure green to slightly bluishgreen emeralds, creating the lushest allure of green gemstones that make collectors scramble for. Muzo emeralds are called "oil drops" by the locals. Along with the increasing demand for emeralds coupled with markedly curtailed outputs from the Colombian mines over the years, Muzo emeralds are close to depletion. Colombian Muzo emeralds above five carats are rare, those in excess of ten carats are exceptionally rare.
To be offered in the auction is a 29.16-carat untreated Colombian Muzo emerald "Crown of Muzo", with prestigious origin and impressive quality, this gemstone is truly an arresting beauty.