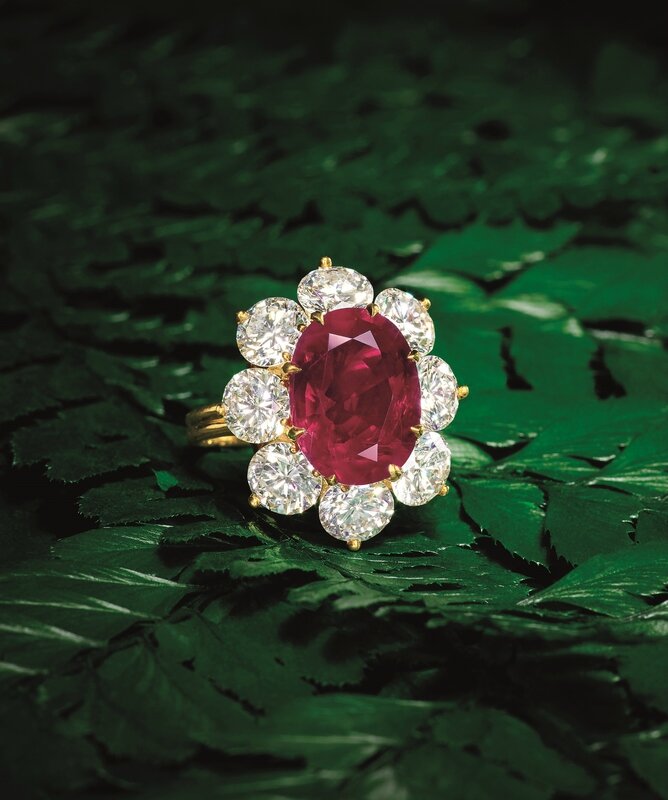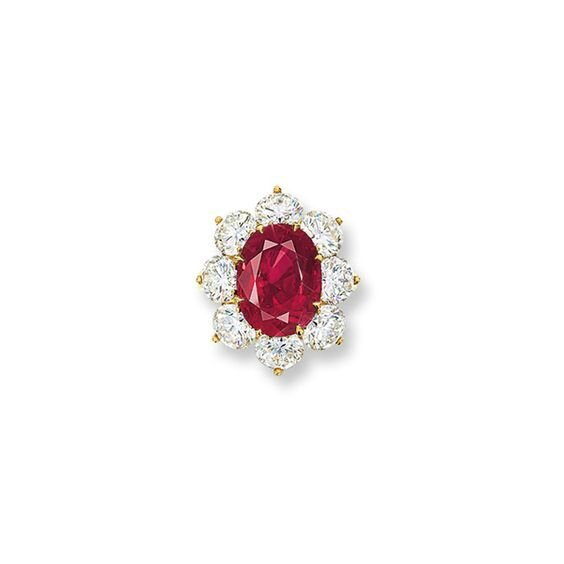 Lot 226. Important 6.00-Carat Natural Unheated Burmese Mogok "Pigeon's Blood" Ruby and Diamond Ring, Tiffany & Co. Estimate:HK$ 9,800,000 – 15,000,000/US$ 1,260,000 – 1,920,000. Courtesy Tiancheng International.
Centring on an oval ruby weighing 6.00 carats, framed by brilliant-cut diamonds together weighing approximately 5.00 carats, mounted in 18 karat yellow gold, signed. Ring size: 5½
Accompanied by SSEF report numbered 81683, dated 24 August 2015, stating that the 6.00 carat ruby is natural, Red colour of strong saturation, of Burmese origin, with no indications of heating; with comments, stating that 'The colour of this ruby may also be called 'Pigeon's Blood Red' in the trade.'; along with an appendix, stating that 'The natural ruby described...possesses extraordinary characteristics and merits special mention and appreciation. The described ruby of 6.007 ct exhibits an attractive and saturated colour combined with a fine purity. Its colour is further pronounced by its well-proportioned cutting style, resulting in vivid red hues due to multiple internal reflections...The inclusions found by microscopic inspection represent the hallmarks of rubies from the classical ruby mines in the Mogok Valley in Burma (Myanmar), well known for its wealth in gems since historic times. Its attractive saturated colour - peotically also referred to as 'Pigeon Blood Red' - is due to a combination of well-balanced trace elements in this gemstone, characteristic for the finest rubies from Mogok. In addition to these quality, this ruby has been spared exposure to heat treatment and its clarity and colour are thus all natural. A natural ruby from Burma of this size and quality is very rare and exceptional.';
AGL report numbered CS84964, dated 28 September 2015, stating that the 6.00 carat ruby is natural, Red colour, of Burmese origin, with no indications of heating; along with comments, stating that 'Non-heated rubies are scarce.'
Tiffany & Co.
Tiffany & Co. was established in 1837 in downtown Manhattan, New York, specialising in silverware and stationery.
In 1867, Tiffany & Co. first achieved international recognition at Exposition Universelle in Paris, with the company awarded the grand prize for silver craftsmanship, which was the first time that an American design house had been so honoured by a foreign jury. Since then, its name has become synonymous with the finest American silverware, jewellery and timepieces.
Tiffany & Co.'s creations transcend trends and its pieces are timeless and classic. Since the early 20th century, the entire world has become fascinated with Tiffany & Co.'s appeal. In 1961, Hollywood classic Breakfast at Tiffany's starring Audrey Hepburn made the brand glitter again and gain allegiance around the world.
Rubies top the list of the five most valuable gems and are commonly adorned on the crowns and sceptres of Western royalty. In Qing dynasty of China, only the most senior princes and the highest-ranking court officials could wear ruby headdresses as a status symbol.
Colour is the most significant factor affecting a ruby's value. It is evaluated by the colour and saturation. "Pigeon's Blood" rubies are acknowledged as the highest-quality rubies for their rich crimson red. Some have compared "Pigeon's Blood" ruby to the centre of a live pigeon's eye. Stones fetching the highest prices are generally those certified as being unheated.
Mogok, located in Myanmar (Burma), has been the mining area for the finest rubies since the fifteenth century. Mogok's "Pigeon's Blood" rubies range from a pure vibrant red to slightly purplish red colour. The presence of rutile silk adds a glowing, red fluorescence to the stone, making it radiate a fiery brilliance even in darkness.
Burmese rubies are typically smaller in size. It is hard to come across rubies that carry a high carat weight. With prized mines virtually depleted, superior-quality rubies have become increasingly scarce and hard to find. Nowadays, a Burmese "Pigeon's Blood" ruby over three carats is considered rare and high in collectible value. Rubies over five carats are exceedingly rare.
This season, Tiancheng International is delighted to offer a 6.00-carat "Pigeon's Blood" ruby that has been kept by a private collector for almost half a century. Originating from the prestigious Mogok mine and skillfully crafted by Tiffany & Co., the gem of pure rich intensity is a dream possession coveted by ruby collectors.
Tiancheng International. HONG KONG SPRING AUCTION, Jewellery and Jadeite. 12 Jun · 1 pm