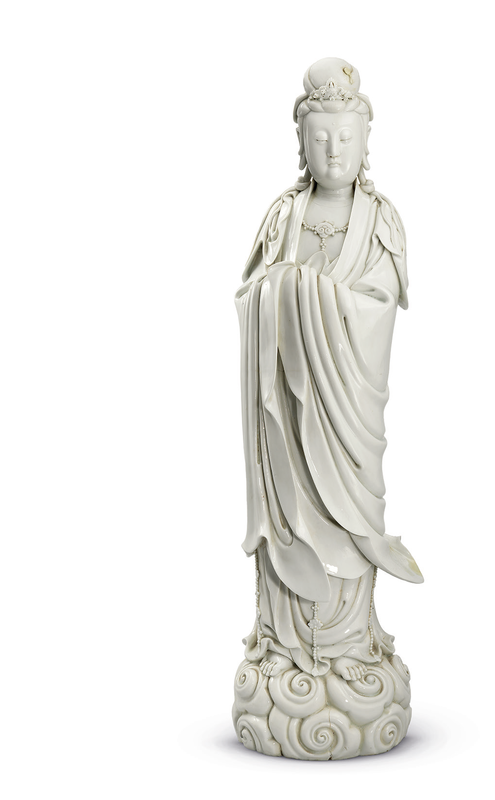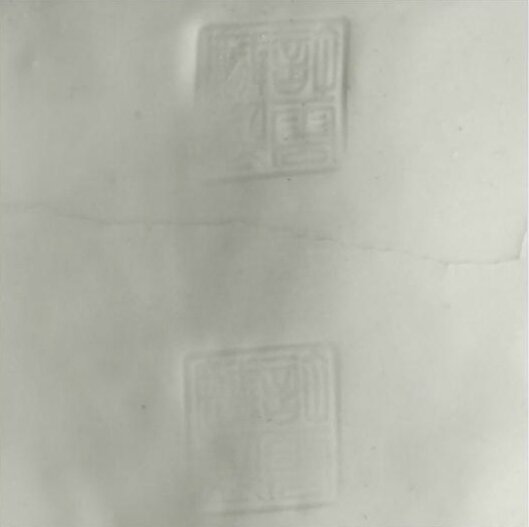 Lot 3330. A large Dehua standing figure of Guanyin, Republic period, early 20th century. Estimate HK$200,000 - HK$300,000 ($25,867 - $38,801). Price Realized HK$750,000 ($96,973). Photo Christie's Image Ltd 2016.
The figure of the Bodhisattva is standing on a base of swirling clouds, both hands held in front of the body, hidden under voluminous robes exposing pendent jewellery chains and bare feet, the full-face finely modelled with eyes downcast and corners of the lips slightly indented to provide a serene expression, the hair swept up behind a floral diadem accommodating the Amitabha, in front of the top knot and fastened with a hairpin, reserving two strands of hair falling loosely on the shoulders, the reverse bearing two square seal marks, both of four-character, Xu Yunlin zhi, 'Made by Xu Yunlin'. 34 in. (86.4 cm.) high, box
Notes: Compare with a large standing Dehua figure of Buddha, illustrated by P.J. Donnelly, Blanc de Chine, New York, 1967, pl 156; the figure also bears two impressions of Xu Yunlin's seals as the first was considered too faint, op. cit., p. 158.
Xu Yunlin (1887-1940), or Xu Youyi, was a renowned ceramicist from Dehua, active during the late Qing to early Republic period. Born to a family of professional carvers, Xu excelled in modelling Dehua Buddhist figures.
Christie's. THE IMPERIAL SALE / IMPORTANT CHINESE CERAMICS & WORKS OF ART, 1 June 2016, Convention Hall