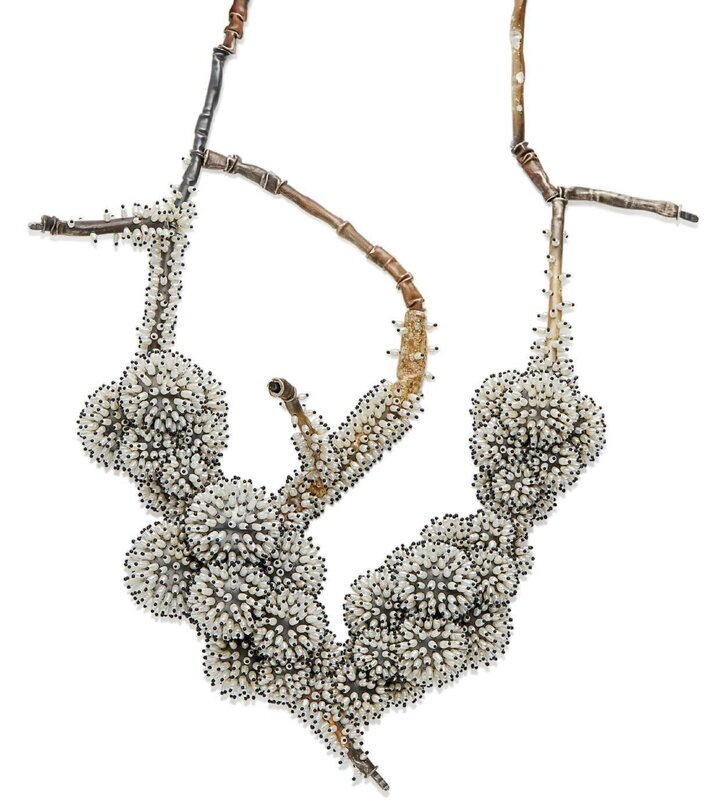 Lot 172. Collier 'Frozen' perles d'eau douce par Duong Sam Tho. Estimation: €10,000 - €15,000 ($11,158 - $16,736). Prix réalisé €16,250 ($18,100). Photo Christie's Image Ltd 2016.
Formé de grappes de sphères d'argent patiné serties de perles d'eau douce oblongues piquées d'une bille de nylon noir, la chaîne en argent patiné et plissé, 2015, 40 x 15 x 8 cm., poids brut: 302.93 gr., monture en argent (>800). Pièce unique, volontairement non signée.
Duong Sam Tho
L'émotion naît par association. Sur cette branche, à foison, apparaissent des fleurs blanches en pompons. Est-ce la magie de ce moment d'émerveillement loué par l'hanami japonais (1) quand les arbres se métamorphosent en bouquet ? La référence est plus singulière car cette floraison est non de pétale mais de neige. Ce n'est donc pas la saison qui impressionne mais l'impact poétique, le travail en finesse par le mimétisme de l'écorce des arbres et la composition délicate des fleurs de nacre. De cette alchimie si technique émane cette mystérieuse beauté de l'éphémère. Rare pièce unique, un écho des branches enneigées d'Hokuzai.
Duong Sam Tho (né en 1969), originaire du Vietnam, vit en Allemagne où il fit ses classes d'orfèvrerie. Immédiatement remarqué, il reçoit en 2009 le prestigieux prix Herbert Hoffman (2) et depuis, chaque année, est couronné. De cette collection Frozen, le Victoria and Albert Museum, a acquis un de ces extraordinaires colliers, sélectionné en première page du catalogue – et de l'affiche- de l'exposition sur les perles de 2013.
1. Hanani, depuis le XIXème siècle au Japon, réunion sous les cerisiers en fleurs, de hana, la fleur et mi, le fait de regarder.
2. Le prix Herbert Hoffman, créé en 1973, est le prix le plus prestigieux pour le bijou d'avant garde, remis lors du Schmuckzene à Munich.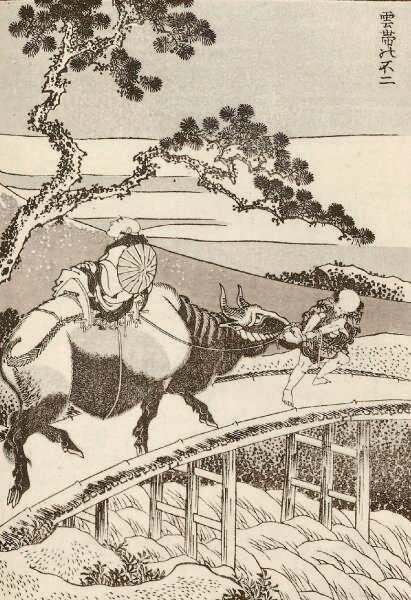 Estampe d'Hokusai © Droits réservés
A 'FROZEN' FRESHWATER PEARL, NYLON AND SILVER NECKLACE, BY SAM-THO DUONG
Emotion born out of association. This branch bears a profusion of pom-pom like white flowers. Is this the magical moment of wonderment celebrated by the Japanese tradition of hanami as trees burst into blossom? The reference here is less straightforward, since the burgeoning blossom is not petals, but snow. So it is not the season that is striking, but the poetic impact created by the exceptionally detailed work involved in mimicking tree bark and the delicate composition of pearl flowers. Out of this highly technical alchemy emerges the mysterious beauty of the ephemeral. A rare single piece that echoes Hokusai's snow-weighted branches.
Sam Tho Duong (b. 1969) is Vietnamese by birth and learned his craft as a jeweller in Germany. His talent was quickly recognised, and he received his first prestigious Herbert Hofmann Prize in 2009, and has continued to do so every year since. The Victoria and Albert Museum acquired one of these extraordinary necklaces from the same Frozen collection and featured it on the catalogue cover and poster for its Pearls exhibition of 2013.
1. Hanami, Japanese 19th century, referring to the tradition of meeting to view the new cherry blossom: hana (flower) and mi (the act of looking).
2. The Herbert Hofmann Prize was first awarded in 1973, is the most prestigious award for avant-garde jewellery, and is presented annually at the Schmuckzene in Munich.
Christie's. PARIS JEWELS, 1 June 2016, Paris