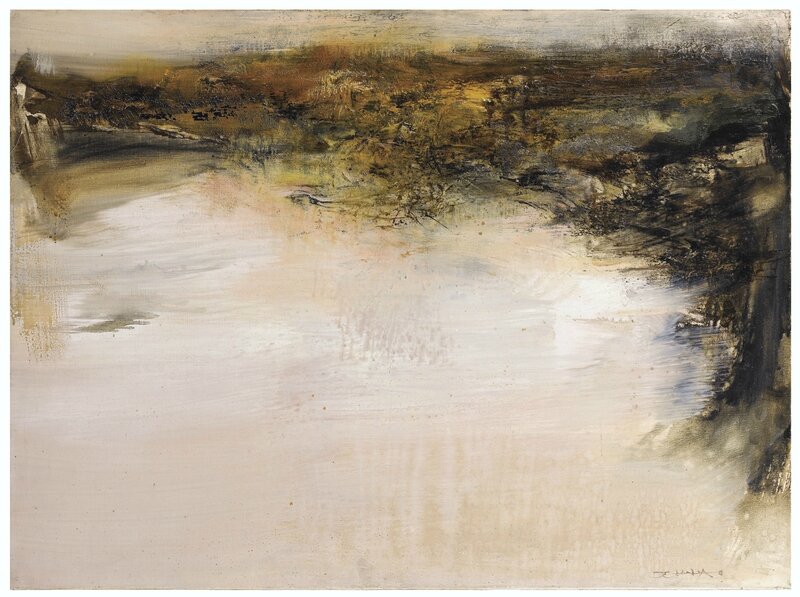 Lot 30. Zao Wou-Ki (1920 - 2013), 20.10.65, signé, signé en chinois; signé, titré et daté 20.10.65 au dos, huile sur toile, 60 x 81 cm; 23 5/8 x 31 7/8 in. Exécuté en 1965. Estimate 500,000 — 700,000 EUR. Lot sold 663,000 EUR. Photo: Sotheby's
Cette oeuvre sera incluse dans le Catalogue Raisonné en préparation sous l'égide de Madame Françoise Marquet et Monsieur Yann Hendgen.
Provenance: Galerie de France, Paris
Collection particulière, France (acquis circa 1968)
Transmis par descendance au propriétaire actuel.
Note: Au tournant des années 1960, Zao Wou-Ki n'a plus rien à envier à ceux avec qui il a étudié à l'école des Beaux-Arts de Hangzhou, transférée en 1938 à Chongping face à l'avancée de l'armée impériale japonaise. Plus rien à envier à ceux qui « essayaient toujours de peindre comme Matisse et Picasso » et n'avaient pas, comme lui, assimilé aussi bien les leçons de Cézanne et de Matisse que celles des T'ang (618-907 après J.-C.) et des Song (960-1279 après J.-C.). Il aura fallu plus d'une dizaine d'années à Zao après avoir quitté la Chine à la veille de la victoire de Mao Tsé Toung, en 1949, pour arriver à concilier deux traditions aussi antagonistes, deux pratiques aussi dissemblables que celles de la peinture orientale et de la peinture occidentale. » (Zao Wou-Ki, Françoise Marquet, Autoportrait, Paris, 1988)
Comme il l'explique lui-même dans son autobiographie, ces années sont pour lui « la fin d'un cycle » et l'amorce d'une « étape irréversible ». Wou-Ki s'est libéré à jamais de toute entrave naturaliste, acceptant de se laisser submerger par des émotions qu'il n'essaiera plus jamais de dissimuler derrière la moindre marque figurative. « Je voulais peindre ce qui ne se voit pas, le souffle de la vie, le vent, le mouvement, la vie des formes, l'éclosion des couleurs et leur fusion », explique-t-il. (Ibid.)
Dès lors, Zao n'a plus qu'une idée en tête : « peindre la peinture ». Grâce à l'enseignement qu'il a reçu à l'école des Beaux-Arts de Hangzhou, il sait mieux que nul autre s'approprier l'espace et la lumière. Reste à trouver un équilibre entre le geste et le souffle, le vide et le plein, le visible et l'invisible ; et faire parler la couleur au-delà du monde des formes.
At the turn of the 1960s, Zao Wou-Ki had no reason to envy his fellow students with whom he studied at the Fine Arts school of Hangzhou, transferred in 1938 to Chongping in face of the advance of the Japanese Imperial Army. No reason to envy those who "were still trying to paint like Matisse and Picasso" and had not, like him, assimilated as much the lessons of Cézanne and Matisse, as of the Tang (618 – 907 AD) and the Song (960-1279 AD) dynasties. It took Zao over ten years afer having left China on the eve of Mao Tse-Tung's victory, in 1949, to succeed in reconciling two such antagonistic traditions, two such dissimilar practices as those of Oriental art and Western Painting. (Zao Wou-Ki, Françoise Marquet, Autoportrait, Paris, 1988.)
As he explains in his autobiography, those years were "the end of a cycle" and the beginning of an "irreversible stage". Wou-Ki freed himself from all naturalist shackles, accepting to let himself be submerged by emotions that he will never try to hide behind the slightest figurative line. "I wanted to paint what cannot be seen, the breath of life, wind, movement, the life of forms, the blossoming of colours and their fusion", he explains.
Henceforth, Zao had only one idea in mind: "to paint painting". Thanks to the teaching he had received at the Fine Arts school of Hangzhou, he knew, better than anyone, how to appropriate space and light. A balance between gesture and breath, the void and fullness, the visible and the invisible remained to be found in order to make colour speak beyond the world of forms.
Sotheby's. Art Contemporain, Paris | 07 Jun 2016