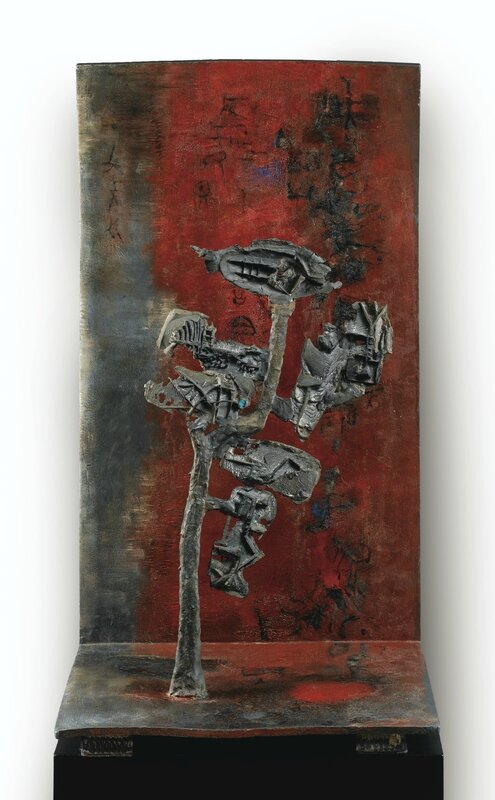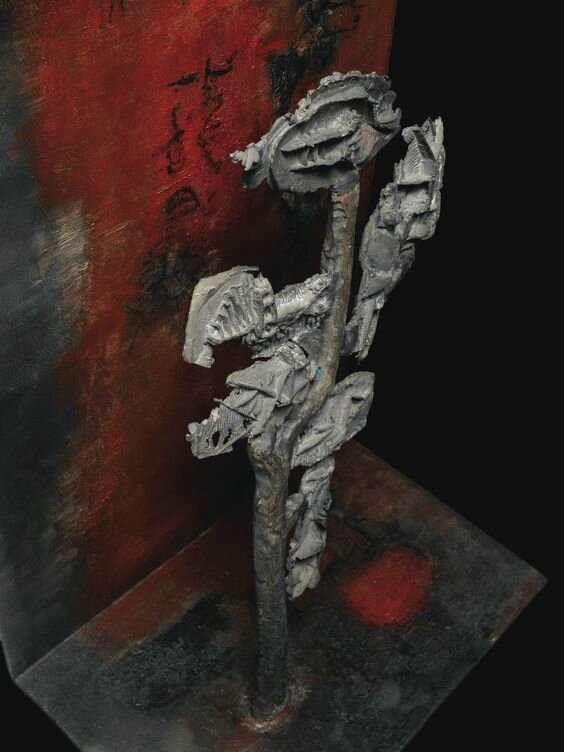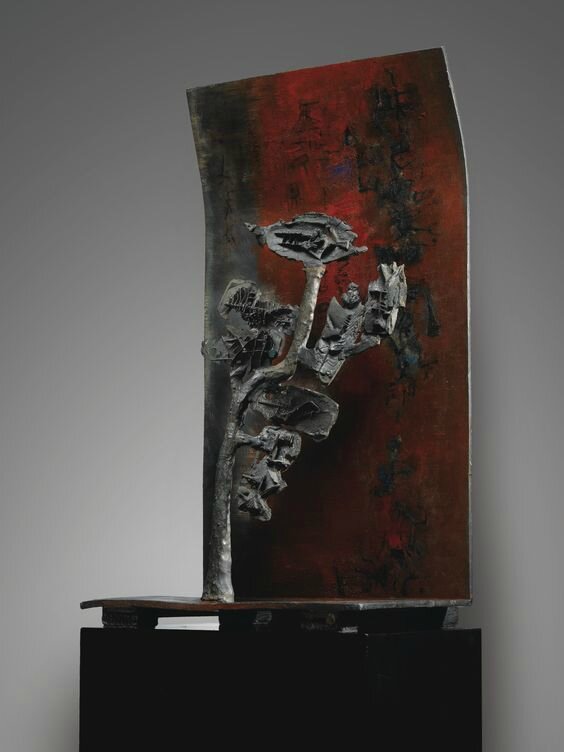 Lot 31. Zao Wou-Ki (1921 - 2013) & Germaine Richier (1902 - 1959), L'Echelle, signé et signé chinois par Zao Wou-Ki, sculpture en plomb peinte, 82 x 46,5 x 31,5 cm; 32 1/4 x 18 5/16 x 12 3/8 in. Exécutée en 1956, cette oeuvre est unique. Estimate 400,000 — 600,000 EUR. Lot sold 807,000 EUR. Photo: Sotheby's
Provenance: Galerie Henri Creuzevault, Paris
Collection particulière, Paris
Exposition: Paris, Musée National d'Art Moderne, Germaine Richier, 10 octobre-9 décembre 1956
Paris, Galerie Henri Creuzevault, Germaine Richier, juin 1959
Paris, Galerie Odermatt-Cazeau, Hommage à Germaine Richier, 28 février-25 mars 1992; catalogue, p.65, illustré
Berne, Kunstmuseum, Germaine Richier, Retrospektive, novembre 2013-juin 2014, catalogue, illustré
Littérature: Les Cahiers du Sud, Volumes 43-44, 1956, p.309
Germaine Richier, 1904-1959, ouvrage de la Galerie Creuzevault, préface de Dor del Souchère, Paris, 1966, n.p., illustré
Daniel Abadie, Les Années 50, catalogue d'exposition, Paris, 1988, p.234
Valeria da Costa, Germaine Richier, un art entre deux mondes, paris, 2006, p.113
Zao Wou-Ki, catalogue d'exposition à la Fondation Pierre Gianadda, Martigny, Suisse, 4 décembre 2015-12 juin 2016, Martigny, 2015, p.163, illustré en couleurs.
Note: Zao Wou-Ki, Autour du feu, 1955, huile sur toile
Deux pôles. Deux soleils. Une grande leçon de frontalité.
Les années cinquante sont celles de la consécration pour Germaine Richier. Elle est couronnée à la Biennale de Sao Paulo en 1951, à l'exposition internationale de Ljubljana en 1955, à celle de Bruxelles en 1958. C'est aussi le moment où elle entame une série d'œuvres essentielle à la compréhension de sa démarche, réalisée à quatre mains avec des artistes dont l'itinéraire échappe, comme le sien, aux normes de l'époque.
A travers La Ville (1951), dont le fond peint par Vieira da Silva en est le premier exemple, La Toupie (1952), dont le socle en équerre réalisé par Hans Hartung l'enthousiasme, L'échelle (1956) réalisée en collaboration avec Zao Wou-Ki, La Clef (1958) avec Bernard Dufour et La Rose des sables (1956-1959) avec Ladislas Kijno -ces deux dernières étant de plus petites dimensions- Germaine Richier confronte les pensées créatrices de son temps.
En plaçant l'une de ses sculptures illustrant mieux que nulle autre ce qui est sans doute le mot le plus célèbre qu'elle ait prononcée et qui soit parvenu jusqu'à nous -« je suis plus sensible à un arbre calciné qu'à un pommier en fleurs »- devant une paroi de métal peinte par Zao Wou-Ki en rouge -couleur symbole de joie et de bonheur pour les chinois- Germaine Richier rapproche deux visions du monde. Alors que la statuaire confère à L'échelle une dimension presque totémique, la peinture permet de brosser un horizon abstrait et enveloppant qui rend l'ensemble lumineux. La couleur n'est pas, comme chez Giacometti, envisagée pour renforcer les détails de la sculpture, mais plutôt pour accentuer le déploiement du sujet dans l'espace.

Germaine Richier se définissait elle-même « comme le contraire de l'abstrait. » Mais les contraires, ici complémentaires, s'attirent. « Tout se passe comme si (…) le destin de la forme s'était séparé de celui du signe. Par rapport à la totale liberté gestuelle dans la peinture, génératrice d'une authentique remise en questions des valeurs, l'imagination formelle dans ce qu'elle a de plus profondément créateur s'enracine dans la condition humaine » écrit Pierre Restany. En introduisant la couleur dans sa sculpture par l'intermédiaire d'un de ses grands maîtres, Zao Wou-Ki, l'œuvre de Germaine Richier gagne encore en magie.
« La sculpture est grave, la couleur est gaie. J'ai envie que mes statues soient gaies, actives. Normalement, une couleur sur de la sculpture ça distrait. Mais après tout, pourquoi pas ? » (Germaine Richier, Propos recueillis par Yvon Tallandier dans XXeSiècle, no 4, juin 1958.)
Two poles. Two suns. An important lesson in frontality.
The 1950s were years of recognition for Germaine Richier. She was awarded prizes at the Biennale of Sao Paulo in 1951, at the International Exhibition of Ljubljana in 1955, and of Brussels in 1958. It was also the time when she embarked upon a series of works that proved to be essential for an understanding of her practice, made with other artists whose path, like hers, was highly original.
With works such as La Ville (1951), whose background painted by Vieira da Silva was the first example of the series, La Toupie (1952), whose flat-angled base made by Hans Hartung filled her with enthusiasm, L'échelle (1956) made in collaboration with Zao Wou-Ki, La Clef (1958) with Bernard Dufour and La Rose sablée (1956-59) with Ladislas Kijino, Germaine Richier brought in confrontation the creative thinkers of her time.
By placing one of her sculptures that best illustrates what can be considered her most famous words – "I am more sensitive to a burnt tree than an apple tree in flower" - in front of a metal wall painted in red by Zao Wou-Ki, symbol of joy and happiness for the Chinese, Germaine Richier brought together two visions of the world. Whilst the statuary aspect endows L'échelle with an almost totemic dimension, the painting opens up an enveloping abstract horizon that illuminates the group of works. Colour is not, as with Giacometti, used for reinforcing the details of the sculpture, rather for emphasising the subject's deployment in space.
Germaine Richier defined herself "as the opposite of abstract". But opposites, here complementary, attract. "Everything takes place as if (…) the destiny of form was separated from that of the sign. In terms of the total gestural freedom of painting, generator of an authentic questioning of values, formal imagination in its most profound creativity, embeds itself in the human condition" writes Pierre Restany. By introducing colour into her sculpture through the intermediary of one of the greatest masters of the last century, Zao Wou-Ki, Germaine Richier's work gains in magic.
"Sculpture is serious, colour is not. I want my statues to be active. Normally a colour on a sculpture is distracting. But after all, why not?" (Germaine Richier, interview with Yvon Tallandier in XXe Siècle, n°4, June, 1958).
Sotheby's. Art Contemporain, Paris | 07 Jun 2016