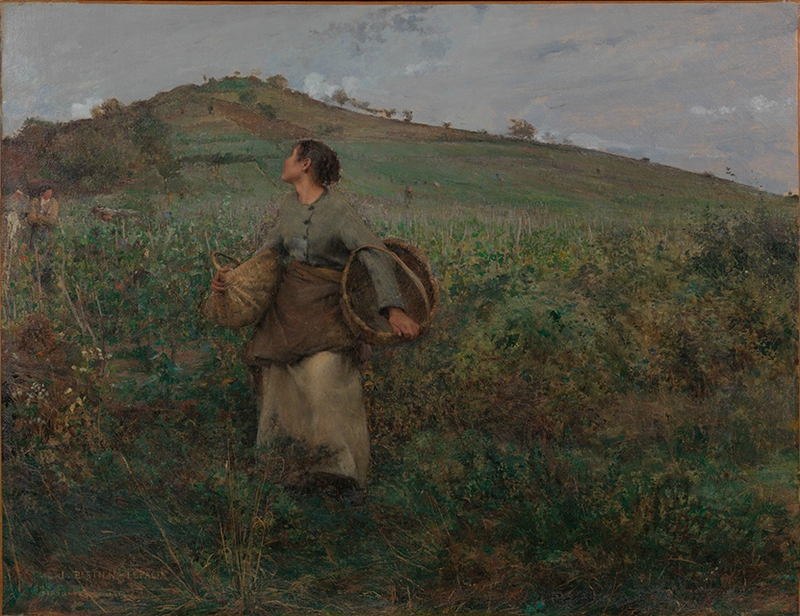 Jules Bastien-Lepage (1848–1884), The Grape Harvest (Au temps des vendanges), 1880.
AMSTERDAM.- The Van Gogh Museum has enriched its collection with the 1880 painting The Grape Harvest (Au temps des vendanges) by the French artist Jules Bastien-Lepage (1848–1884). The work was purchased at TEFAF in March 2016, and will go on display at the museum on 14 June. Axel Rüger (Director of the Van Gogh Museum): 'We are delighted with this purchase: not only is The Grape Harvest an impressive masterpiece, it also illustrates the way Van Gogh was inspired by his predecessors.'

Bastien-Lepage: inspiration for Van Gogh
Jules Bastien-Lepage began to paint rural themes in 1876 and his honest and simple approach to peasant life made him an important model for Vincent van Gogh, who also wanted to depict the harsh yet honest life of country people without idealizing it. Bastien-Lepage's The Grape Harvest (1880), painted in a highly animated variety of brushstrokes and tones, is an impressive example.

Bastien-Lepage painted relatively few paintings with rural themes like this before his early death in 1884. The Grape Harvest fits perfectly into the Van Gogh Museum's collection as both a source of inspiration for Van Gogh and as a nineteenth-century masterpiece.

Enigmatic masterpiece
The story told by The Grape Harvest is enigmatic: a young woman carrying two empty baskets walks towards the viewer, but does not make eye contact. She looks over her shoulder instead, turning away in a pose that draws the viewer's eye and leads it, as it were, into the landscape. What is the woman looking at? Her companions on the left? Or at the grey clouds, which make her doubt whether the grape harvest will be able to start?

Addition to the permanent collection
The Grape Harvest will go on display on 14 June on the first floor of the Van Gogh Museum, where Van Gogh's other predecessors have also been located since the new presentation of the permanent collection (November 2014).

As far as is known, this is the only painting by Bastien-Lepage in a Dutch public collection apart from the small Study for Haymaking (Etude pour Les Foins) in The Mesdag Collection in The Hague, which is administered by the Van Gogh Museum.