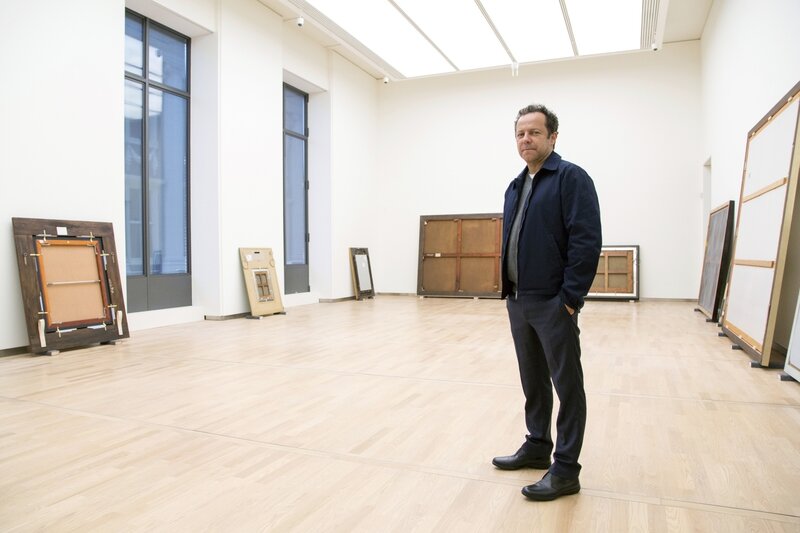 Vik Muniz. Photo by Ivo Hoekstra.
THE HAGUE.- It's a first: a museum exhibition of Vik Muniz's Versos. It's also a first for the Mauritshuis: this show presents an exciting new spin on the museum's collection through an extraordinary partnership with a contemporary artist. From 9 June to 4 September the Mauritshuis in The Hague hosts Vik Muniz: Verso. An exhibition which reveals not the fronts of world famous paintings, like Da Vinci's Mona Lisa, Van Gogh's Starry Night or Vermeer's The Girl with a Pearl Earring, but an exact replica of their backs.

Emilie Gordenker, director of the Mauritshuis: "I approached the internationally renowned Vik Muniz about doing a project for the Mauritshuis for several reasons. He has a lively interest in Old Masters and in museum practice. At our very first meeting, he surprised me by suggesting a project about the backs of paintings. His Versos force us to look at famous paintings differently; we can often call them to mind, but we rarely think of them as objects that are installed in galleries, moved, conserved and even carry labels and inscriptions. By stepping back from the familiar image, we gain a more profound appreciation of the works themselves. I can't tell you what a pleasure it has been to work with Vik and his team, who have created amazing new works and taught us a great deal along the way. "

For this exhibition, celebrated Brazilian artist Vik Muniz has created a total of five new works based on paintings in the Mauritshuis collection to augment his existing Verso series: Vermeer's Girl with a Pearl Earring and View of Delft, Carel Fabritius's The Goldfinch, Rembrandt's The Anatomy Lesson of Dr Nicolaes Tulp and Frans Post's View of Itamaracà Island in Brazil. The latter is of particular interest, given Muniz's own Brazilian identity and his association with Johan Maurits van Nassau-Siegen, the original owner of the Mauritshuis, who was governor of Dutch Brazil from 1637 to 1644 and commissioned the painting by Post.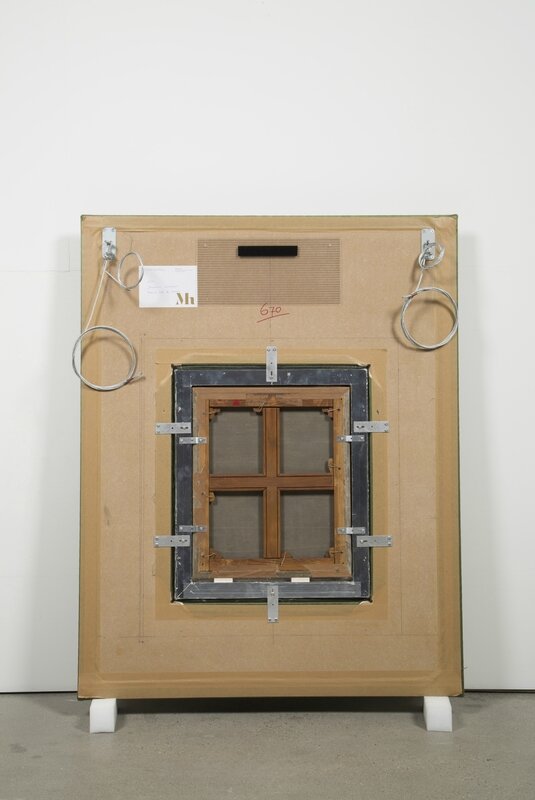 Vik Muniz, Verso (Girl with a Pearl Earring), 2016, mix media, 120 x 95,5 cm.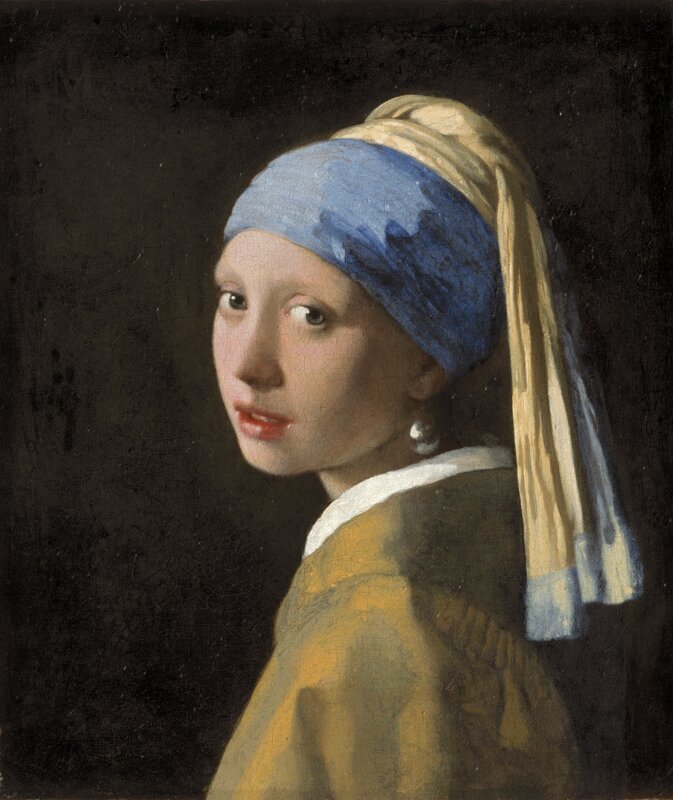 Johannes Vermeer, Girl with a Pearl Earring, c. 1665, Mauritshuis, The Hague.
Vik Muniz, Verso (View of Delft), 2016, mix media, 125 x 144 cm.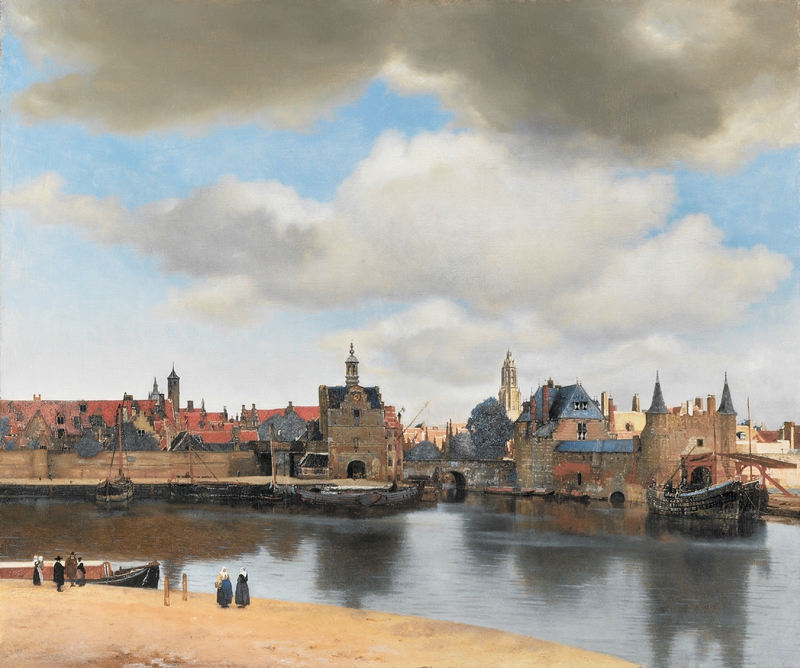 Johannes Vermeer, View of Delft, c. 1660-1661, Mauritshuis, The Hague.
Vik Muniz, Verso (The Goldfinch), 2016, mix media, 84 x 70 cm.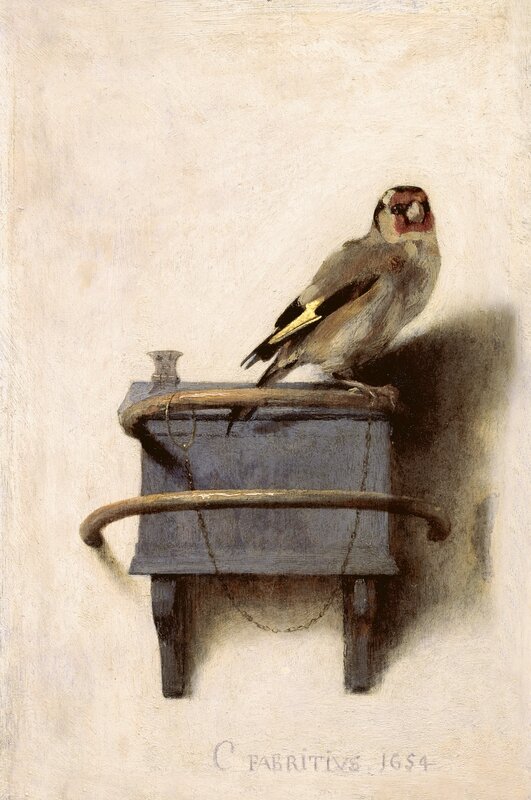 Carel Fabritius, The Goldfinch, 1654, Mauritshuis, The Hague.
Vik Muniz, Verso (Anatomy Lesson), 2016, mix media, 205,5 x 258 cm.
Rembrandt, The Anatomy Lesson of Dr Nicolaes Tulp, 1632, Mauritshuis, The Hague.
Vik Muniz, Verso (Illha de Itamaraca), 2016, mix media, 82 x 108 cm.
Frans Post, View of Itamaracà Island in Brazil, 1637, Mauritshuis, The Hague.
Versos

Vik Muniz began photographing the backs of famous paintings in 2002. In his book Reflex (2005) he expressed a desire to make life-size prints of the photographs and exhibit them. His first, meticulous, 3D copies of the reverse sides were made in 2008. He called them 'Versos', perfect imitations of the side that normally faces the wall.

For Muniz, the back of every painting is unique; the holes, the metal brackets, the labels and all the other markings it acquires tell the story of its past. As the years go by the back of a painting changes. New owners make their mark. The latest processes leave an imprint. The back reveals the materials from which the painting is made - stretchers, canvas or panel - and shows details of the frame and any other safety measure taken while it was on display. It is only ever seen by the museum staff. And it is this, the more intimate side of a famous masterpiece, that Muniz seeks to share with the visitor.

In 2008 Muniz organised his first Verso exhibition at the Sikkema, Jenkins & Co. gallery in New York. On that occasion he presented the reverse sides of masterpieces such as Picasso's Les Demoiselles d'Avignon (MoMA, New York), Van Gogh's Starry Night (MoMA) and Renoir's Woman with a Parrot (Guggenheim, New York). Though more 'Versos' were made in the following years, such as Da Vinci's La Gioconda (better known as the Mona Lisa) (Louvre, Paris), they have never been exhibited as a group.
Vik Muniz, Verso (La Gioconda), 2012, mix media, 103 x 75 cm.
Vik Muniz, Verso (Starry Night), 2008, mix media, 103 x 75 cm.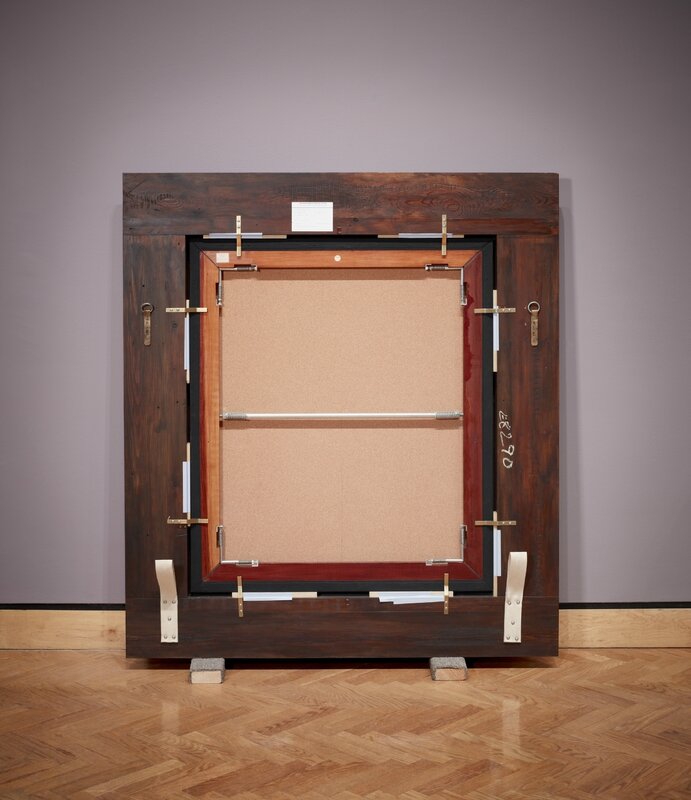 Vik Muniz, Verso (Lucretia), 2012, mix media, 150 x 133 cm.
Quest for perfection

Producing a Verso can best be described as an endless, almost obsessive, quest for perfection. It is an admirable process, performed by Vik Muniz and his team of experts, with the two specialists Tony Pinotti and Barry Frier in particular performing the main roles. This quest for perfection takes them all over the world in search of the right materials. They experiment with recreating the ageing process on the canvas and labels. Handwriting is painstakingly copied. Where necessary, frames are hand-cut from wood. Every scratch is faithfully reproduced.

The complex production process plays an important role in the Vik Muniz: Verso exhibition. A special multimedia tour (free of charge) provides an explanation for each exhibited Verso. Examples are presented in cabinets of proofs for labels, reproduced (half) stamps and test samples of canvasses which were created to achieve the most authentic ageing effect. Various GoPro videos are also being shown, which document the production of the Mauritshuis Versos.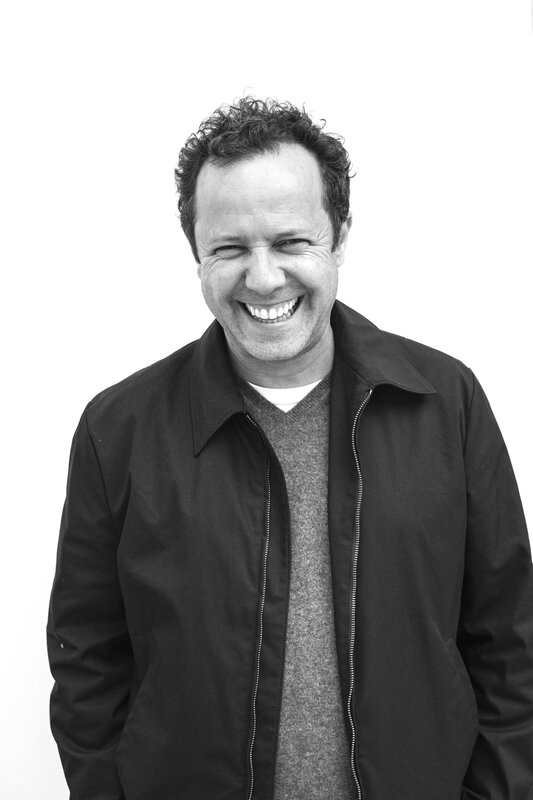 Vik Muniz. Photo by Ivo Hoekstra.
Vik Muniz

Vik Muniz is a world-renowned artist who lives and works in New York and Rio de Janeiro. Leading museums, such as the MoMA in New York, the National Gallery of Art in Washington DC and the Tate in London, have acquired his work for their collections. Muniz began his career as a sculptor, but gradually shifted his interest to photographic representations of his work. Muniz creates imagery that is challenging, ironic and deceptive out of everyday materials like sugar, thread, diamonds, chocolate syrup and garbage. In his 2010 film Waste Land, which won numerous awards, Muniz returned to his native city Rio de Janeiro to embark on an unusual collaboration with garbage pickers at the Jardim Gramacho landfill, the world's largest garbage dump.