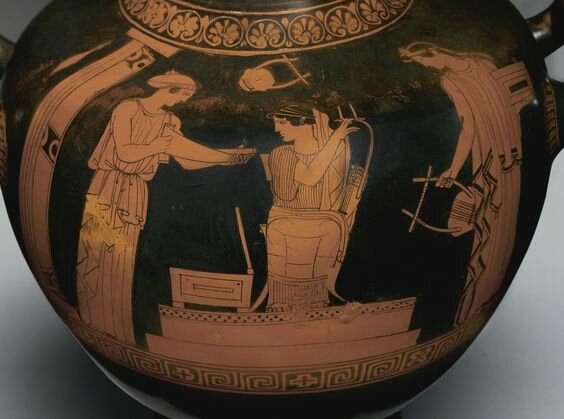 Lot 86. An Attic Red-figured Kalpis, attributed to the Niobid Painter, circa 460 B.C. Estimate 200,000 — 300,000 GBP. Photo: Sotheby's.
painted with a domestic musical contest between three women, one raised on a two-stepped podium (bema) in the center, seated on a klismos, her head turned to her right, playing the barbiton, and wearing a chiton and himation raised as a veil over the back of her head, a lyra hanging above her, another woman standing to left and unrolling a scroll removed from the open box before her, and wearing a girdled peplos and head scarf identifying her as unmarried, and a third woman, probably the next competitor, standing to right, wearing an ungirdled peplos and her hair loose, holding a lyra in her right hand and cradled in her left arm a box perhaps containing the score or text of her song, a door, pillar, and beam in the handle zone at left indicating the venue as the courtyard of an Athenian house, a bag for dice or toys (phormiskos) hanging behind. Height 28.8 cm. 11 3/8 in.; width across handles 28.6 cm. 11 1/4 in.
Provenance: Herbert Cahn, Münzen u. Medaillen, Basel, acquired in 1975 or earlier
the Greek shipping magnate and art collector George Embiricos (1920-2011), Lausanne, acquired from the above (Christie's, London, A Private collection of important Greek Vases, April 28th, 1993, no. 23, illus.)
acquired at the above sale by the present owner
Literature: DOCUMENTED
three prints by Dieter Widmer, once photographer to Herbert Cahn, Basel, each marked 1975 on the reverse
PUBLISHED
Claude Bérard, et al., La Cité des images. Religion et Société en Grèce Antique, Lausanne, 1984, p. 86, fig. 124
Claude Bérard et al., Die Bilderwelt der Griechen, Schlüssel zu einer "fremden" Kultur, Mainz, 1985, p. 129, fig. 124
Claude Bérard et al., A City of Images, Princeton, 1989, p. 174, fig. 124
Mathias Prange, Der Niobidenmaler und seine Werkstatt. Untersuchungen zu einer Vasenwerkstatt fruhklassischer Zeit, Frankfurt, 1989, p. 201, no. N101, pl. 8
Edith Specht, Schön zu sein und gut zu sein. Mädchenbildung und Frauensozialisation im antiken Griechenland, Frauenforschung 9, Vienna, 1989, p. 123, fig. 17
Imago Musicae, International Yearbook of Musical Iconography, vol. 8, 1991, p. 77, fig. 5, pl. 8.101
Bulletin of the Walters Art Gallery, vols. 52/53, 1994/95, p. 115, figs. 3f.
Ellen D. Reeder, et al., Pandora, Women in Classical Greece, Baltimore, 1995, p. 209f., no. 45
John H. Oakley, et al., Athenian Potters and Painters, The Conference Proceedings, Oxford, 1997, p. 291, fig. 9
A. Vazaki, Mousike Gyne: die musisch-literarische Erziehung und Bildung von Frauen im Athen der klassischen Zeit, Möhnesee, 2003, p. 243, fig. 29, no. 67 D
Stefan Schmidt, Rhetorische Bilder auf attischen Vasen. Visuelle Kommunikation im 5. Jahrhundert v. Chr., Berlin, 2005, p. 259, fig. 12 pp. 63ff., 137, fig. 9
Sheramy D. Bundrick, Music and Image in Classical Athens, Cambridge, 2005, p. 93, fig. 57
Mouseion, vol. 49, 2005, p. 93, fig. 57
Dimitrios Yatromanolakis, Sappho in the Making. The Early Reception, Cambridge and London, 2007, p. 145, fig. 20
Ulrike Theisen, Parthenos, Nymphe, Gyne. Weibliche Trachtikonographie als Bedeutungstrager im 5. Jahrhundert v. Chr. in Griechenland, Göttingen, 2009, pp. 63ff., 137, fig. 9
Beazley Archive Pottery Database, no. 11020
Note: Euripides notes the musical talent of women in the Athenian elite of the 5th Century B.C.: " We too possess a Muse, who consorts with us to bring us wisdom: not with all of us, for it is some small clan, one woman among many, that you will find with a share in the Muse" (Medea, v. 1085‒89). The iconography of the present vase also evokes the circle of the poetess Sappho, who flourished about 200 years earlier and whose songs were known in Athens in the 5th Century B.C. She was named the Tenth Muse by Plato.
The barbiton played by the seated woman was an instrument used to accompany sung erotic poetry. Ancient Greek literary sources – written by men – remain silent concerning the education of Athenian women, making the present vase and other related ones all the more important as visual sources pointing to the musical talents of elite Athenian women, who may have been taught music by theirs mothers or by female teachers. There is no other Attic vase showing a female musician on abema.
Sotheby's. Ancient Marbles: Classical Sculpture and Works of Art, London, 13 Jun 2016, 02:00 PM