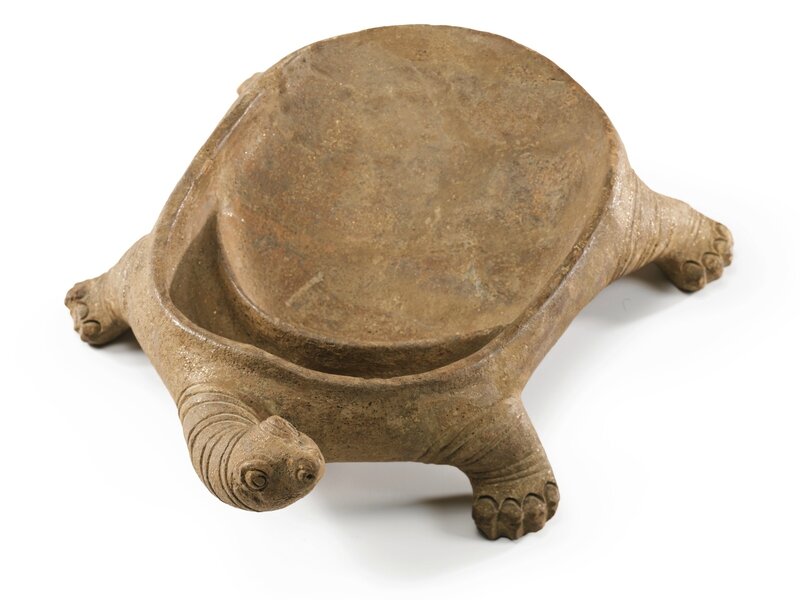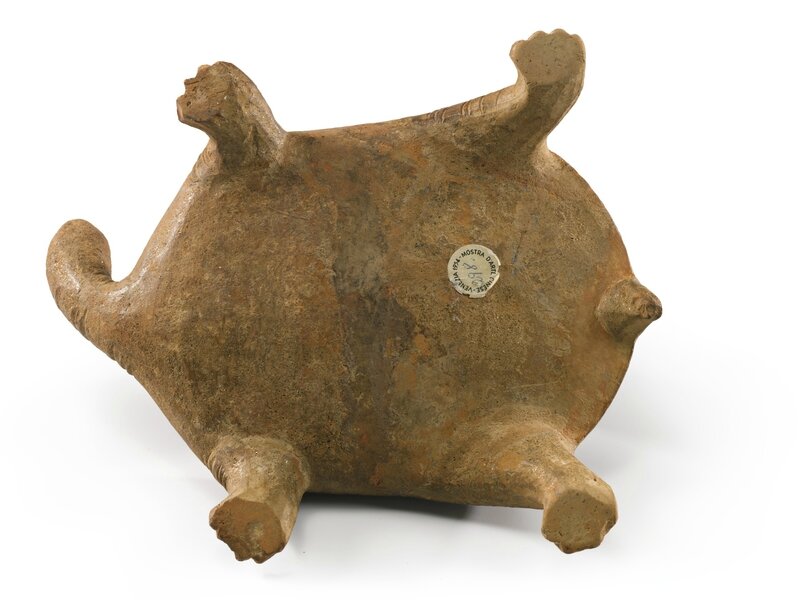 Lot 693. A tortoise-shaped pottery ink stone, Han–Tang dynasty (206 BC-907 AD). Estimate 50,000 — 70,000 HKD. Lot sold 250,000 HKD. Photo Sotheby's.
naturalistically modelled as a tortoise standing foursquare, her head sharply turned to the left, her back hollowed to form the inkwell, the buff-coloured ware finely speckled with a fine gold mist; 24.5 cm, 9 5/8 in.
Property from the Collection of Alberto Giuganino (1887-1979)
Exhibited: Mostra d'Arte Cinese, Palazzo Ducale, Venice, 1954, cat. no. 298.
Note: Tortoise-shaped ink stones appear to have been in use in China for many centuries, probably from the Han dynasty (206 BC – AD 220) onwards, and are known both with and without cover, in stone and in pottery. Tortoises were revered particularly on account of their longevity. Examples of the present type are generally attributed to the Tang dynasty (618-907) or slightly earlier. A similar pottery ink stone excavated at Xiaobaizhuang, Licheng county, near Jinan in Shandong province and attributed to the Tang dynasty is illustrated in Shandong wenwu jinghua [Gems of cultural relics from Shandong], Beijing, 1996, pl. 211. Three other ceramic tortoise-shaped ink stones attributed to the Six Dynasties (220-589) or Tang dynasty are illustrated in Ge Yonglan, 'Wo shoucang de guixing yan [Tortoise-shaped ink stones in my collection]',Shoucangjia/Collectors, no. 13, May 1995, pp. 58-9. A stone ink stone of similar type attributed to the Han dynasty is illustrated in Su Qiming, 'Yan wenhua kaoshu [Exploration of the ink stone culture]', Lishi wenwu/Bulletin of the National Museum of History, no. 108, July 2002, p. 8.