Lot 692. A rare blue and russet-glazed pottery figure of a lady, Tang dynasty (618-907). Estimate 150,000 — 200,000 HKD. Unsold. Photo Sotheby's.
the slender figure modelled standing elegantly, dressed in a full-length brown-glazed skirt with a blue-glazed shawl gathering at the front, the face detailed with a gentle smile and rosy cheeks, all beneath a high top-knot; 27 cm., 10 5/8 in.
Property from the Collection of Alberto Giuganino (1887-1979)
Literature: Mario Prodan, Le Ceramiche T'ang, Rome, 1961, p. 23, pl. IX.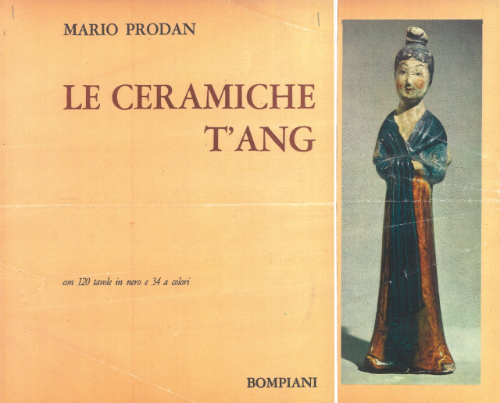 Mario Prodan, Le Ceramiche T'ang, Rome, 1961,
Note: Tang dynasty tomb figures of ladies dressed in this way, with a long scarf covering the figure's hands, are well known with the usual sancai glazes of cream-coloured, green and brownish tones, but are exceedingly rare with a cobalt-blue glaze. Blue glazes began to be used in the Tang dynasty, probably in the 8th century, and figures related to the present one have been excavated from Tang tombs in Gongyi, Henan province, in close vicinity to the Huangye kiln site, one of the main producers of Tang glazed burial wares. An analysis of a blue-glazed piece from this kiln site has shown that a particularly pure cobalt pigment was used for these blue glazes, perhaps imported from abroad, but in any case undoubtedly very valuable, which obviously explains the great rarity of this beautiful colour on Tang pottery (Rose Kerr and Nigel Wood, Science and Civilisation in China, vol. 5: Chemistry and Chemical Technology, part XII: Ceramic Technology, Cambridge, 2004, p. 503). For related excavated figures, see Gongyi Huangye Tang sancai/Tricolour-Glazed Wares of Tang Dynasty from Huangye in Gongyi, Zhengzhou, 2002, pp. 147-9. Compare also a similar larger figure excavated in Luoyang, Henan province, illustrated in Luoyang Tang sancai/Tang Dynasty Tri-Colour Pottery of Luoyang, Beijing, 1980, pl. 2.
Sotheby's. Chinese Art, Hong Kong, 02 Jun 2016