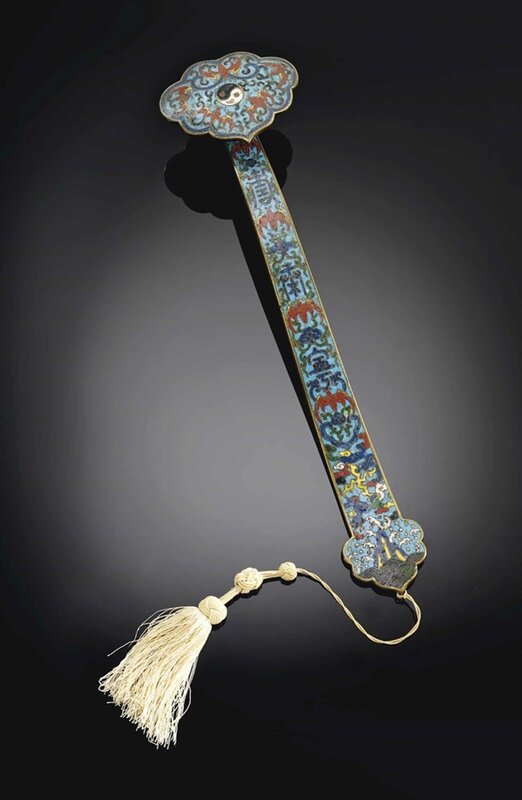 Lot 353. Sceptre ruyi en émaux cloisonnés, Chine, dynastie Qing, seconde moitié du XVIIème siècle. Estimation €10,000 – €15,000 ($11,285 - $16,927). Photo Christie's Image Ltd 2016
The ruyi head is inlaid with five bats (wufu) confronted on a central yingyang symbol. The curved shaft is decorated with the auspicious characters fu shou kang ning, interspersed with bats and foliate motifs, all above a rocky outcrop emerging from crashing waves at the pointed tip. The reverse of both the head and the handle are decorated with lotus scroll. 16 1/8 in. (41 cm.) long.
Provenance: Collection of the late Laurent Kadé (1933-1990), France, and thence by descent to the present owner.
A CLOISONNE ENAMEL RUYI SCEPTRE, CHINA, QING DYNASTY, SECOND HALF OF 17TH CENTURY
Note: Compare the similar sceptre illustrated by H. Brinker and A. Lutz, Chinese Cloisonné: The Pierre Uldry Collection, The Asia Society Galleries, New York, 1989, no. 163, which is also dated to the second half of the 17th century.
Christie's. ART D'ASIE, 21 - 22 June 2016, Paris