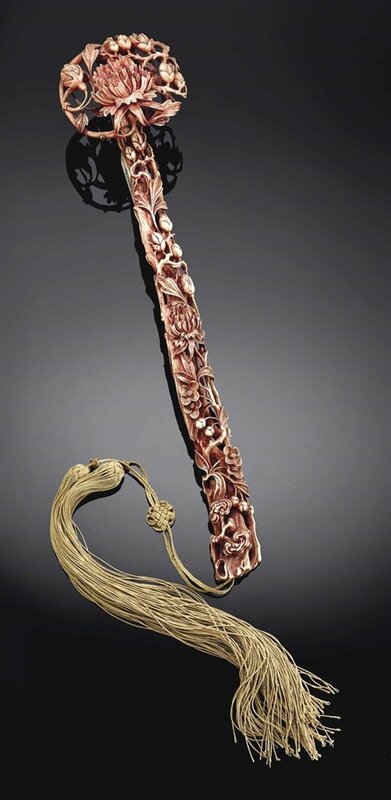 Lot 435. Rare sceptre ruyi en ivoire teintée, Chine, dynastie Qing, époque Qianlong (1736-1795). Estimation €15,000 – €20,000 ($16,927 - $22,570). Photo Christie's Image Ltd 2016
Extremely well carved in openwork, the head is carved with a chrysanthemum blossom and buds borne on intertwined leafy branches. The gnarled stem is carved with further flowers, buds and two lingzhi fungus. 15 3/8 in. (39 cm.) long.
Provenance: The collection of Max Müller (1867-1960), German Consul to Shanghai and Wuhan, acquired in China between 1905-1908.
Property from a German family collection, acquired from the Consul's daughter Irmagrd Müller-Doertenbach(1909-2011) in 1992.
A RARE AND FINELY CARVED OPENWORK STAINED IVORY 'FLOWER' RUYI SCEPTRE, CHINA, QING DYNASTY, QIANLONG PERIOD (1736-1795)
Note: Compare to a similar polychrome ivory ruyi carved with blossoming peony branches from the Simon Kwan Collection, dated Yongzheng-Qianlong period, included in the exhibition of Chinese University of Hong Kong, illustrated in the catalogue Chinese Ivories from the Kwan Collection, Hong Kong, 1990, no. 146., p. 294.
Christie's. ART D'ASIE, 21 - 22 June 2016, Paris