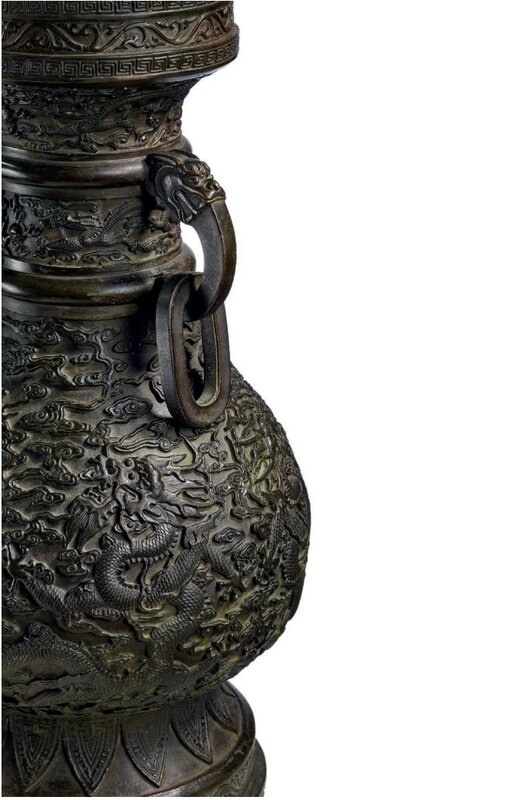 Lot 293. Rare et important vase impérial en bronze, Chine, Dynastie Qing, marque moulée à six caractères dans un rectangle et époque Qianlong (1736-1795). Estimation €140,000 – €160,000 ($157,989 - $180,559). Lot invendu. Photo Christie's Image Ltd 2016
The powerful vase is decorated with a pair of dragon-head handles with loose rings to both sides. The exterior is superbly decorated with confronted five-clawed writhing dragons in pursuit of the flaming pearl and all amidst vaporous clouds. The foot is decorated with a band of archaistic cicada blades with a rectangular panel containing the reign mark. 16 7/8 in. (42.8 cm.) high
Provenance: From an old American family collection, acquired before 1960.
AN IMPORTANT AND RARE IMPERIAL BRONZE 'DRAGON' VASE, CHINA, QING DYNASTY, QIANLONG CAST SIX-CHARACTER MARK WITHIN A RECTANGULAR PANEL AND OF THE PERIOD (1736-1795)
Notes: This superbly cast vase exemplifies the exceptional quality of imperial bronze vessels that were commissioned for the Qing court. Altar vases such as these were originally part of a five-piece altar garniture, including a censer, a pair of vases and a pair of pricket candlesticks, used in shrines or temples for religious ceremonies or ancestral worship. These sets of altar garnitures were produced in different sizes and in different types of material, such as bronze, porcelain and cloisonné enamel.
See a complete bronze garniture decorated with a simpler design in situ in the shrine in the Hall for Worshipping Buddhas, illustrated by Wan Yi, et al., , Daily Life in the Forbidden City, New York, 1988, pl. 467. Three different bronze altar garnitures are shown in a photograph of the Qin An Temple illustrated by Yu Zhuoyun, Palaces of the Forbidden City, Hong Kong, 1986, pp. 198-9, pl. 222. A pair of very similarly decorated imperial bronze vases, but of larger size (76.5 cm. high), was sold at Christie's London, 15 May 2012, lot 188. A pair of comparable vases decorated with phoenix and of a larger size was sold in the sale Chinese Porcelains and Enamels from The Alfred Morrison Collection, Fonthill House, Christie's London, 9 November 2004, lot 17.
Christie's. ART D'ASIE, 21 - 22 June 2016, Paris