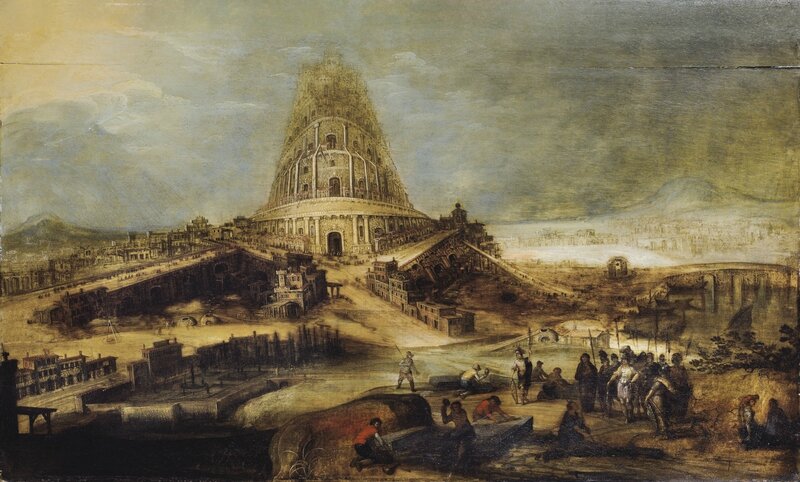 Lot 9. Hendrick van Cleve III (Anvers 1525 – 1589), La Tour de Babel. Huile sur panneau, 58,5 x 96 cm ; 23 by 37 3/4 in. Estimation 30,000 — 40,000 €. Prix réalisé 37,500 €. Photo: Sotheby's.
HENDRIK VAN CLEVE III ; THE TOWER OF BABEL ; OIL ON PANEL
Notes: Artiste anversois, Hendrick van Cleve se forma dans l'atelier de son père Willem van Cleve, puis dans celui du peintre Frans Floris. Il parcourut très jeune l'Italie, où il dessina d'après nature des paysages, des vues de villes, ainsi que de nombreuses ruines. À son retour d'Italie en 1551, il devint membre de la guilde de Saint Luc, corporation des peintres d'Anvers. Beaucoup de ses dessins furent gravés et publiés par Philippe Galle, qui édita notamment, à Anvers en 1587, une suite de trente-huit vues, intitulée Henrici a Cleve ruinarum varii prospectus ruriumque aliquot delineationes. L'artiste collabora notamment avec son frère Marten (1527-1581), avec Ambrosius Francken (1544-1618) ou encore avec son maître Frans Floris (1516-1570).
Cette Tour de Babel est une œuvre très caractéristique de la production d'Hendrick van Cleve, qui montra un intérêt prononcé pour le sujet, déclinant les formats, les angles, les paysages. Ce sujet, tiré de l'Ancien Testament, rencontra un certain succès auprès des artistes flamands du XVIe siècle comme Pieter Brueghel l'Ancien, Lucas van Valckenborch ou Graf Hans.
Sotheby's. Tableaux et Dessins Anciens et du XIXe siècle, Paris, 16 Jun 2016