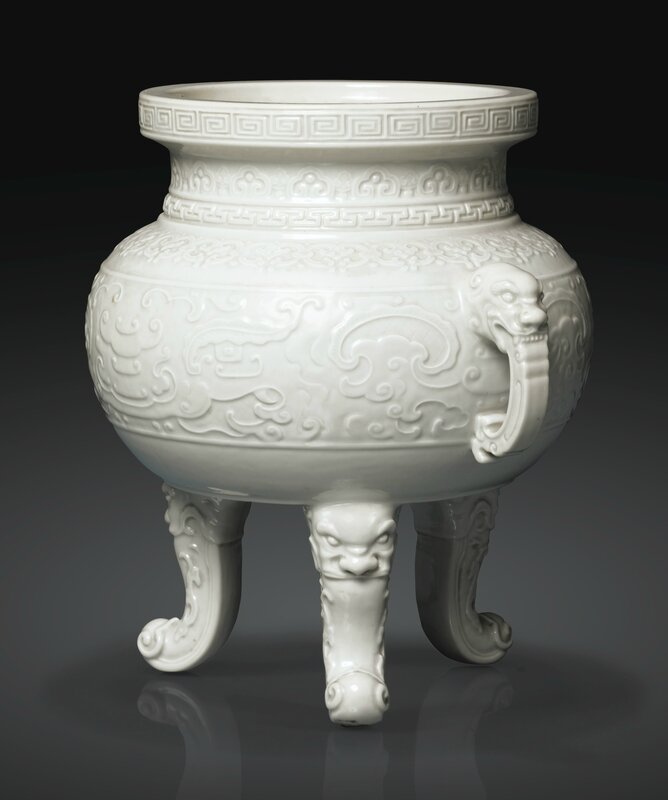 Lot 85. Rare brûle-parfum en porcelaine à glaçure blanche, Marque et époque Qianlong (1736-1795). Estimation 15,000 — 25,000 €. Photo Sotheby's.
reposant sur trois pieds cambrés à têtes de lion, le corps globulaire finement sculpté et moulé en relief d'une large bande de deux grands masques de taotie stylisés, l'épaule ornée de bandes de virgules archaïsantes entrelacées, le col décoré d'un méandre et d'une frise de ruyi, les bords soulignés par une bande de grecques entourant une marque en relief à six caractères en sigillaire - 25 cm; 9 7/8 in.
A RARE ARCHAISTIC 'IMITATION DING' CENSER WITH A CARVED AND MOULDED DESIGN, MOULDED SIX-CHARACTER QIANLONG SEAL MARK AND PERIOD
Notes: This censer belongs to a small group of Imperial porcelains produced under the Qianlong emperor that is referred to as 'fang Ding yao' ('in imitation of Ding wares) after the bluish opaque white glaze of the much celebrated official 'Ding' wares of the Song dynasty. It is very rare to find a monochrome white censer such as the present example bearing a reign mark. A white-glazed censer of the same form and design, possibly the pair to the present piece, was sold in Sotheby's London, 13th June 1989, lot 348, and again in Sotheby's London, 20th June 2001, lot 24. Several related monochrome white vessels with a similarly carved and moulded designs imitating 'Ding' wares bearing a raised Qianlong seal mark, formerly in the Qing Imperial collection, are illustrated in The Complete Collection of Treasures of the Palace Museum, vol. 37: Monochrome Porcelain, Hong Kong, 1999, pls. 239 and 241.
Sotheby's. Arts d'Asie, Paris, 23 juin 2016, 10:30 AM