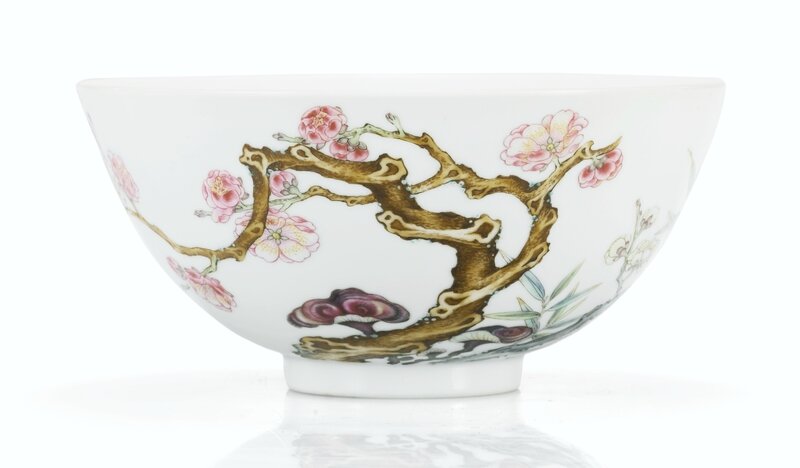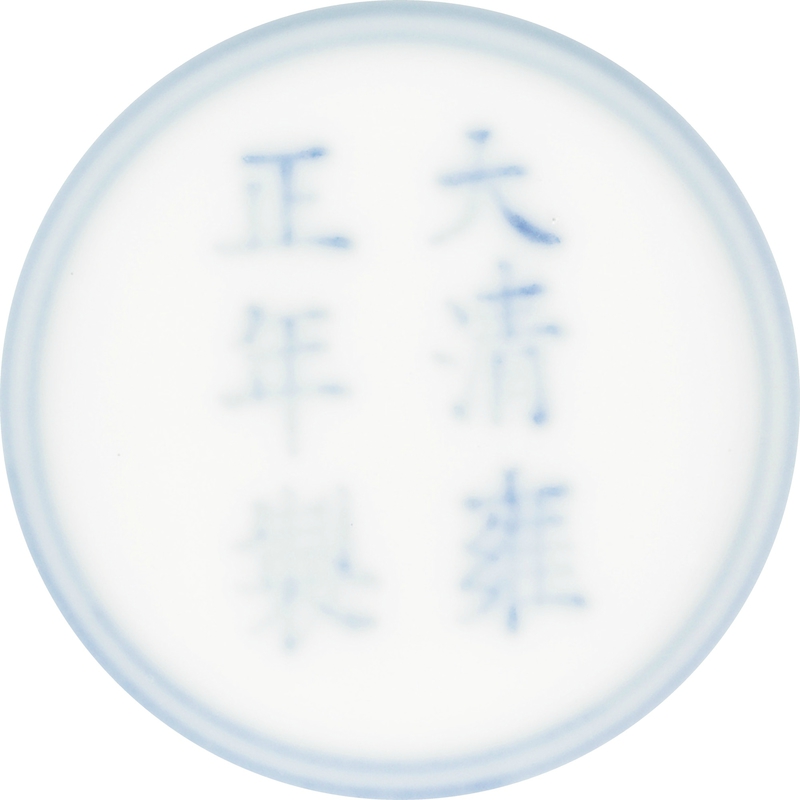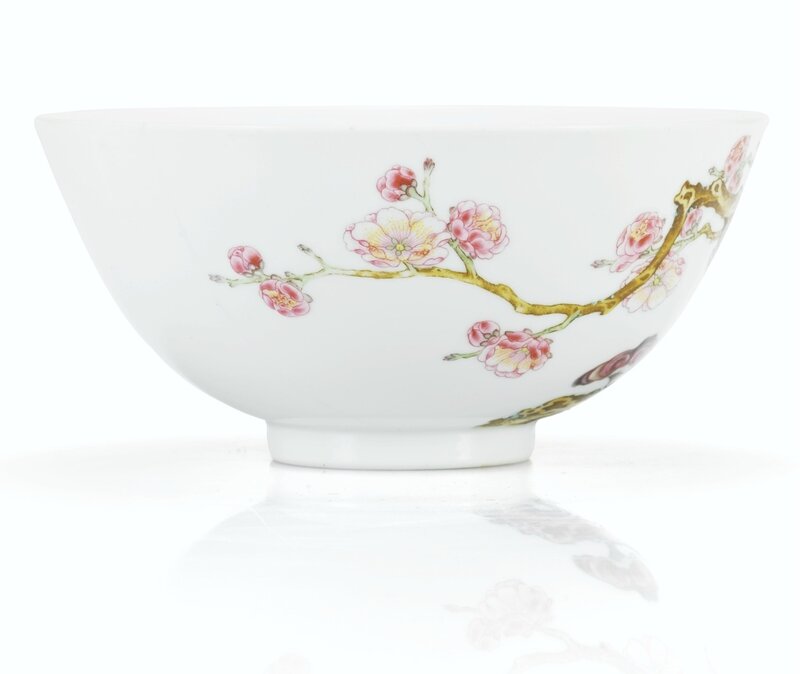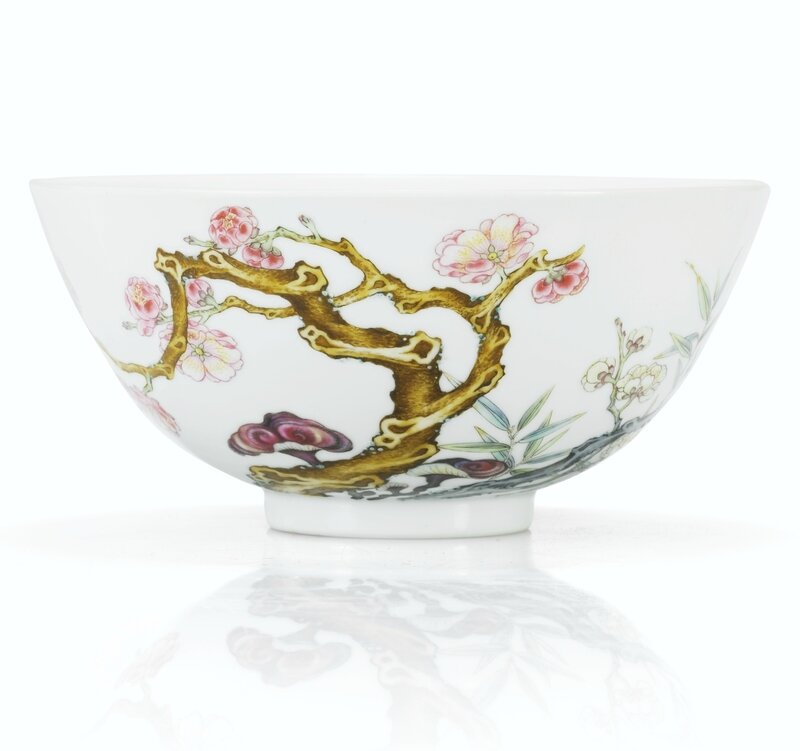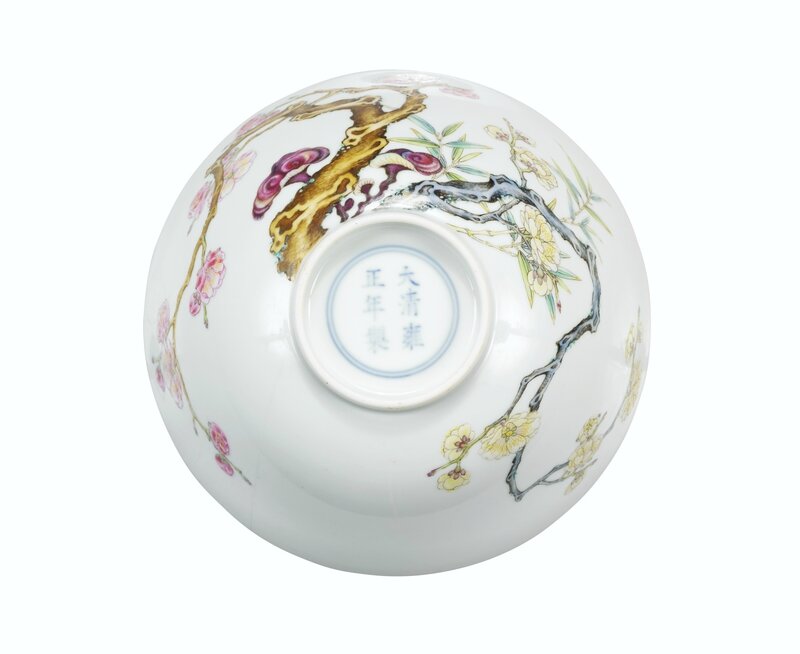 Lot 93. Important bol en porcelaine de la Famille Rose, Marque et époque Yongzheng (1723-1735). Diam. 14,4 cm; 5 5/8 in. Estimation 80,000 — 120,000 €. Lot. Vendu 987,000 €. Photo Sotheby's
reposant sur un court pied droit, le pourtour délicatement peint d'une branche noueuse de prunus en fleur épousant les courbes du bol, les pétales blancs teintées de vert avec les étamines roses à pointes jaunes et les sépales verts et pourpres, une branche de cerisier à fleurs roses lui faisant pendant et s'étendant dans la direction opposée, l'ensemble complété par un champignon lingzhi violacé jaillissant du pied, parmi des tiges de bambou aux feuilles finement dégradées et aux extrémités virant sur le brun, l'intérieur et la base émaillé blanc, marque à six caractères en bleu sous couverte dans un double cercle à la base.
A VERY RARE FAMILLE ROSE-DECORATED BOWL FINELY PAINTED WITH FLOWERING PRUNUS AND CHERRY BRANCHES BESIDE BAMBOO AND LINGZHI, YONGZHENG MARK AND PERIOD.
Provenance: Collection of William Kenneth Slatcher C.V.O. (1926-1997), High Commissioner of the United Kingdom, in Beijing between 1958 and 1961 (by repute).
Thence in the family by descent.
Note: The present bowl belongs to a small group of porcelains decorated with variations of gnarled branches of flowering prunus, peach and camellia, accompanied by tufts of bamboo, see, for example, a pair of Yongzheng-marked bowls similarly decorated but without the lingzhi, sold Sotheby's Hong Kong, 29th November 1976, lot 623. The appearance of the purple lingzhi on the present bowl is also rare and appears only on few other Yongzheng examples, compare a large famille rose-decorated dish featuring a purple lingzhi, sold Sotheby's Hong Kong, 15th May 1990, lot 237. A cluster of lingzhi in varying shades of purple are prominently painted on a baluster vase sold at Christie's Hong Kong, 22nd and 23rd March 1993, lot 756.
A pair of Yongzheng-marked bowls of the same shape and size, and decorated with the same arrangement of flowering prunus and plum branches with the same spray of lingzhi depicted in varying shades of purple, are in the Baur Collection, Geneva, illustrated in John Ayers, Chinese Ceramics in the Baur Colllection, Geneva, 1999, nos. A 590 and A 591 (Fig. 1), illustrated next to a pair of matching cups, ibid., A 592 and A 593. Compare also with a pair of slightly smaller bowls similarly decorated with flowering plum, prunus and bamboo, sold Christie's Hong Kong, 29th and 30th October 1995, lot 752.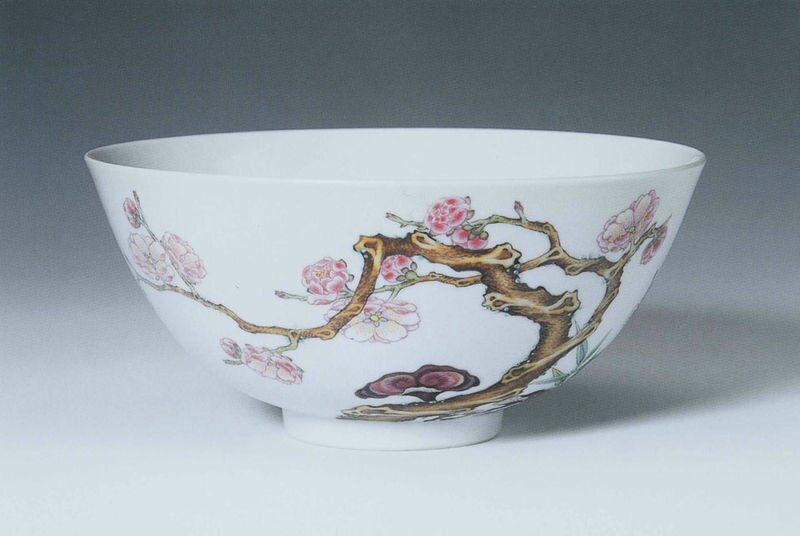 Yongzheng marked famille rose bowl in the Baur Collection, Geneva © Fondation Baur, Genève. Photo Marian Gérard
Sotheby's. Arts d'Asie, Paris, 23 juin 2016, 10:30 AM