Lot 74. Paire de pots-pourris en tôle émaillée de Canton et bronze doré d'époque Louis XV. Estimate 15,000 — 25,000 €. Photo: Sotheby's.
à décor d'objets usuels polychromes dans des cartouches encadrés de rinceaux, à fond blanc, le couvercle muni d'une prise feuillagée, le col de la coupe ceint d'une frise ajourée, les trois pieds rocaille ajourés. Quantité: 2. Haut. 16 cm, diam. 10 cm
A pair of gilt-bronze and metal pots-pourris, Louis XV. 

Height 6 1/3 in; diameter 4 in
Note: Un pot-pourri en tôle émaillée de Canton figurait dans l'ancienne collection Philippe Wiener, il a ensuite appartenu à l'antiquaire Jacques Seligmann qui l'a exposé à l'Hôtel de Sagan à Paris, en 1929 (voir reproduction).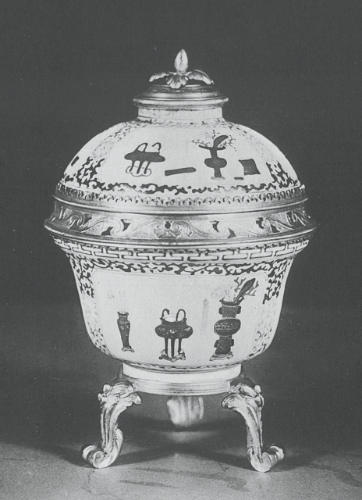 Pot-pourri en émail de Canton, anc. coll. Seligmann.
Sotheby's

. B. B. S. Un Hommage. Paris, 30 Jun 2016, 02:30 PM