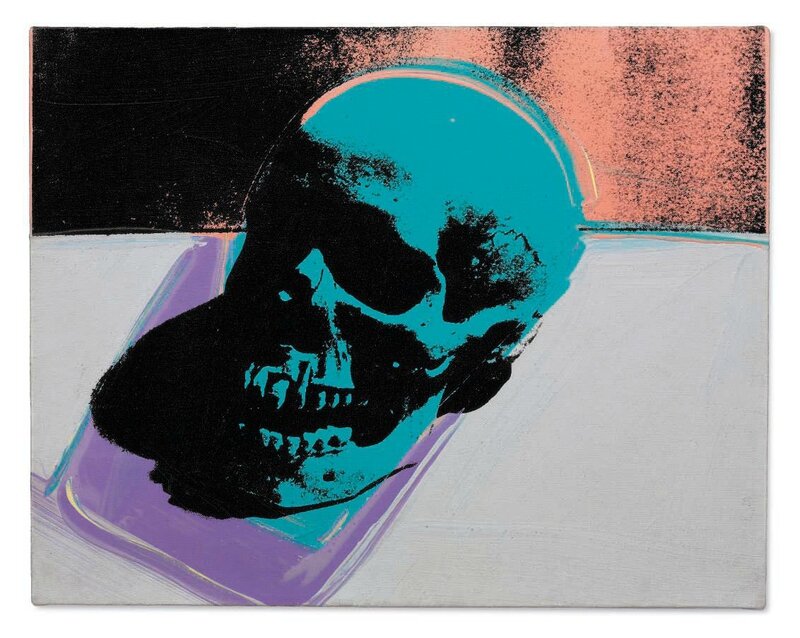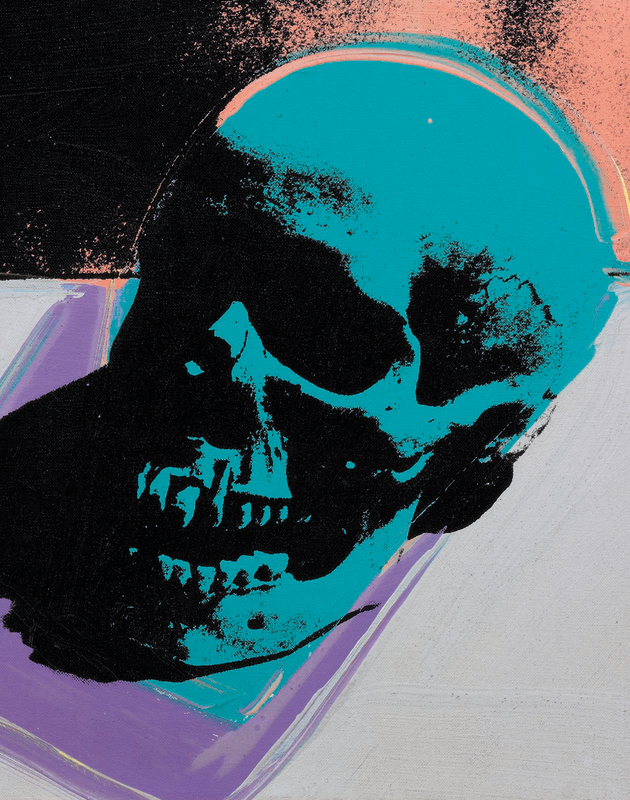 Lot 31. Andy Warhol (1928-1987), Skull, signed and dated 'Andy Warhol 77' (on the overlap), acrylic and silkscreen ink on canvas, 15 x 19 1/8in. (38.1 x 48.6cm.). Executed in 1977. Estimate £600,000 – £800,000 ($885,000 - $1,180,000). Photo: Christie's Image Ltd 2016.
Provenance: Galerie Bruno Bischofberger, Zurich.
Lauren Hutton Collection, Los Angeles.
Kohn Gallery, Los Angeles.
Acquired from the above by the present owner.
Notes: 'Death can really make you look like a star' —A. WARHOL

'At the end of time, when I die, I don't want to leave any leftovers. And I don't want to be a leftover' —A. WARHOL

'The more you look at the same exact thing, the more the meaning goes away and the better and emptier you feel' —A. WARHOL
A memento mori for the Pop generation, Andy Warhol's Skull stems from the important series of skull paintings that the artist began in 1976. Executed in vivid turquoise upon a cold grey foreground, the skull casts a purple shadow and is offset by the background's grainy orange glow; coal-black shadows transform its hollows into gaping voids, creating a sumptuous vision of death like a film noir still made technicolour. Based on a set of black and white photographs taken by Warhol's studio assistant Ronnie Cutrone, the skulls are situated at the dawn of the artist's mature practice. Recapitulating the mortal themes that had driven his early fascination with violence and celebrity, the skulls forged a new trajectory within Warhol's oeuvre. Their ubiquity stood in sharp contrast to the flood of high-profile portrait commissions that Warhol received during the 1970s. Though his fame had reached fever pitch, Warhol was unable to shake the memory of his attempted assassination eight years earlier. Death preyed increasingly upon his mind, and the skulls were the first in a long line of macabre subjects that occupied Warhol during his latter years. Although its potent symbolism conjures Shakespearean tragedy and the vanitas still-life tradition, Warhol's skull is articulated with the deliberately banal opacity of his Campbell's soup cans and Coca-Cola bottles, representing a kind of universal portrait: a reminder of the corporeal transience to which we are all fated. Ultimately, it prefigures the artist's final series of self-portraits, in which Warhol's skull-like visage becomes an ethereal, disembodied vision of his own ephemeral condition. Standing among the artist's most enigmatic motifs, works from the Skull series are housed in institutions including Tate, London, the San Francisco Museum of Modern Art and the Metropolitan Museum of Art, New York.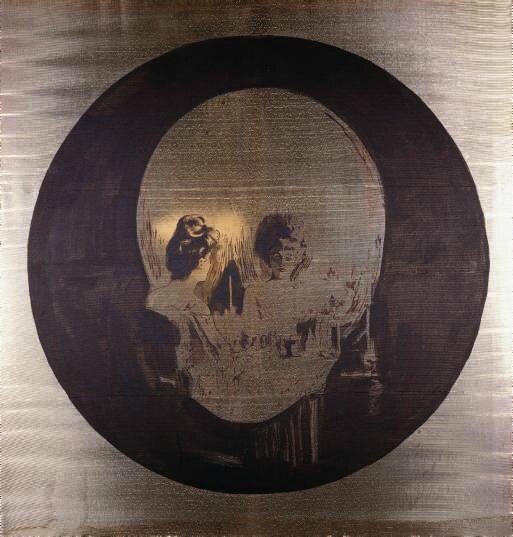 Sigmar Polke, Totenkopf (Quecksilberkosmetik), 1974. Private Collection. © DACS 2016
According to Cutrone, Warhol had purchased the original skull from an antiques shop in Paris. In the set of photographs that became the source images for the series, Cutrone had placed it on a trestle table in front of a blank studio wall, on top of a piece of plywood covered in white paper. Under Warhol's instruction, he had taken a number of photographs under different light conditions in order to create varying lengths of shadow. Warhol was fascinated by the different shapes created in the interplay of light and shade, and sought to replicate this effect in his silkscreens. In doing so, the skulls are reduced to an almost abstract geometry that undermines their traditional association with Old Master painting and nature morte composition. As the curator Arthur K. Wheelock has written, 'Dutch still-life painters placed realistically rendered skulls, with jawbones and teeth missing, in the midst of luxurious displays of expensive silver and luscious fruit to warn viewers about the transience of the sensual world. Warhol, however, presents an even starker image of the inevitability and mystery of death … there is no sensual world to enjoy, only a skull, complete with jawbone, who laughingly confronts us' (A. K. Wheelock Jr., quoted in Andy Warhol: 365 Takes, New York 2004, p. 312). Filtered through the mechanical apparatus of the silkscreen, Warhol's skull is a distinctly anti-human apparition. However, in a characteristic twist, there is an undeniably painterly quality to the work's surface: in the skull's lilac shadow and halo-like outline, remnants of sweeping brushstrokes betray the trace of the artist's hand, a transient marker of physical presence. Despite their flattened formal properties, the varied and often bright colours of the series introduce a unique expressive dimension to each of Warhol's skulls, individuating them to an even greater extent than many of his portraits.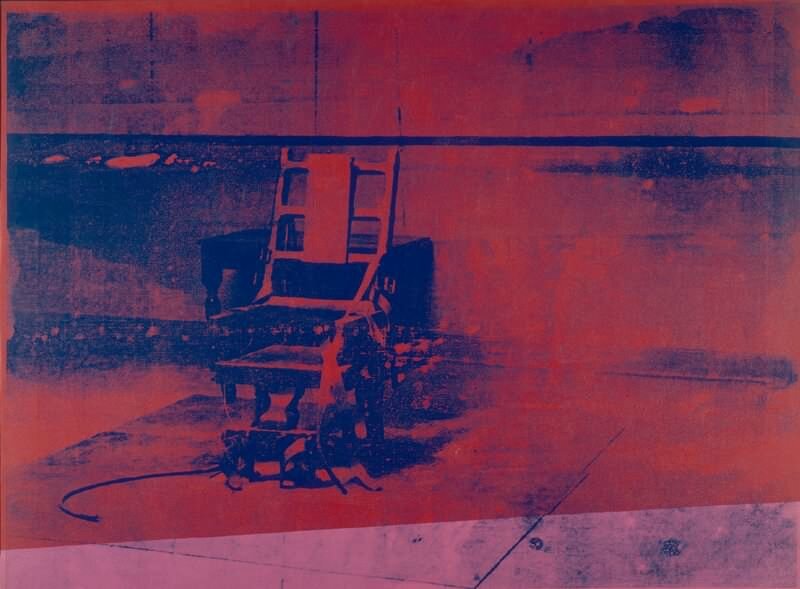 Andy Warhol, Big Electric Chair, 1967-68. Musee National d'Art Moderne, Centre Pompidou, Paris. Artwork: © 2016 The Andy Warhol Foundation for the Visual Arts, Inc. / Artists Rights Society (ARS), New York and DACS, London. Photo: © Centre Pompidou, MNAM-CCI, Dist. RMN-Grand Palais / Droits réservés.