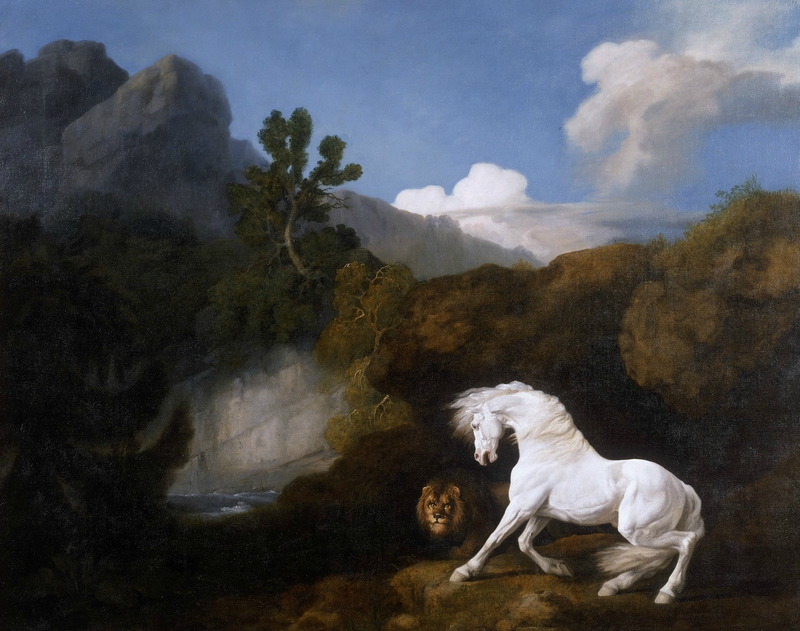 George Stubbs (1724-1806), Horse frightened by a lion (detail), 1770. Oil on canvas © National Museums Liverpool. Walker Art Gallery.
BATH.- The Holburne Museum presents Stubbs and the Wild, an exhibition of animal portraits, grand fantasies, and exquisite prints and drawings by renowned British wildlife painter George Stubbs (1724-1806), on show from 25 June to 2 October 2016.

Stubbs and the Wild delves into the many-sided eighteenth-century world of George Stubbs through his realistic animal studies and sublime fantasy pieces, focusing on the artist's famous depictions of wild animals in paint and print that encapsulated the uneasy relationship between the domestic and the exotic in polite Georgian society.
George Stubbs (1724-1806), A lion devouring a Horse, May 1788. Soft-ground etching with roulette work, 275x35.5cm. Nicholas Stogdon
Throughout his life George Stubbs was fascinated by how animals are built and studied their anatomy tirelessly. It was this interest that led him beyond horses and dogs to other animals at a time when exotic new wildlife was arriving in London from Britain's expanding colonies. Moose, leopards, lemurs, antelope and even the remains of a kangaroo were brought home as valuable curiosities and their owners encouraged Stubbs to study the animals and record them for posterity. Although many of them were intended primarily as zoological studies, Stubbs's paintings of wild creatures are also portraits that capture the behaviour and character of living beings.
George Stubbs (1724-1806), A Lion seated on a Rock, 1775. Enamel on ceramic 23.3 x 31 cm. © The Schorr Collection
As a subject painter, Stubbs's most successful essays in the sublime also explore the wild, not as a source of curiosity but as a distant, untamed land where nature is merciless and well-fed predators rule. His images of a horse attacked and then devoured by a lion, with variations in different media and reproductions in print, became Stubbs's signature work.

Alongside paintings, the exhibition will present some of the astonishing works that Stubbs made in other media, using wild animals as his subject. As a printmaker, he was one of the most outstanding etchers of his day, despite being apparently self-taught. He also developed the art of painting in enamels on ceramic, producing jewel-like works of extraordinary clarity and durability.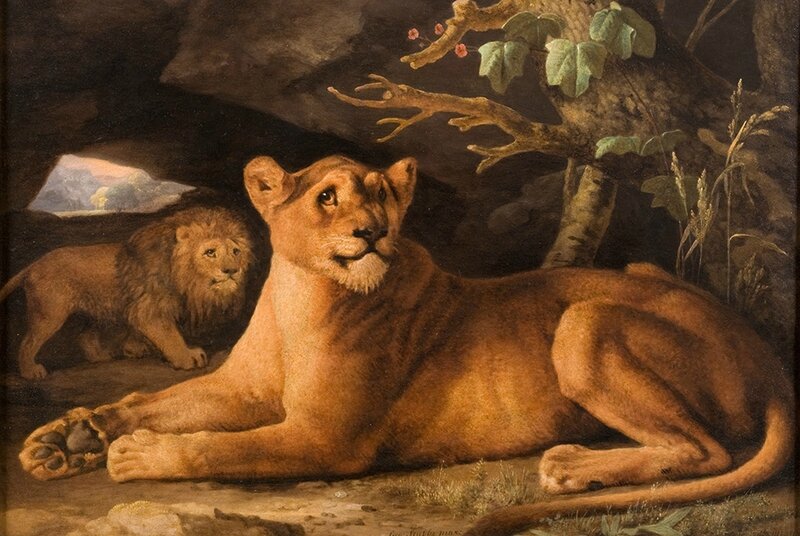 George Stubbs, A Lion and Lioness, 1778. Enamel on Wedgwood ceramic, 43.1 x 61.6 cm. The Daniel Katz Gallery, London.
"The starting point for this exhibition is the Holburne's own Stubbs portrait, The Rev. Robert Carter Thelwall and his Family, a polite Georgian conversation piece of a family on a country estate with their horses. This elegant type of portraiture is typical of Stubbs, but this exhibition will explore another side of the artist. By bringing together Stubbs's anatomical studies and extraordinary images of wild animals, Stubbs and the Wild will present the artist as an indefatigable explorer of the natural world and a bold technical innovator. It will also introduce some of the animal celebrities of eighteenth-century England, from the sweet and fluffy to the majestically terrifying." – Amina Wright, Senior Curator at the Holburne Museum and curator of Stubbs and the Wild .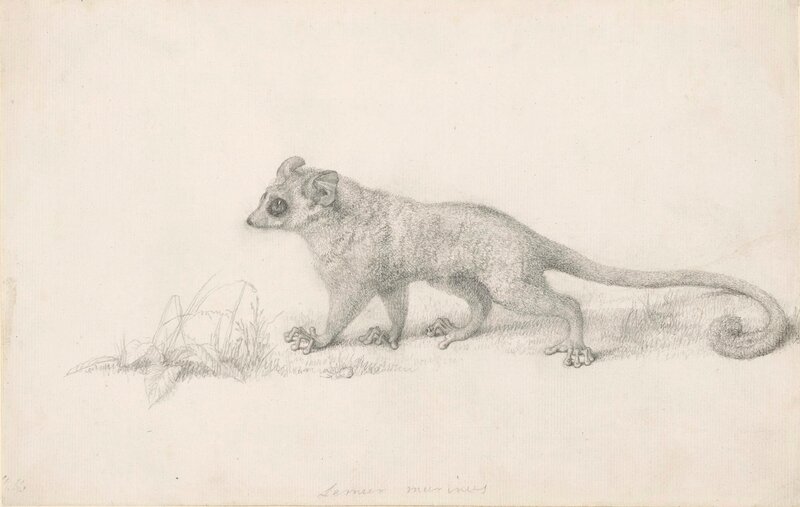 George Stubbs (1724-1806), Marmaduke Tunstall's Mouse Lemur, 1773. Pencil on paper 19.8 x 30.8 cm © Trustees of the British Museum
The exhibition will be accompanied by a free audio guide featuring responses to Stubbs's work by animal experts and artists. Visitors will be able to hear a horse whisperer explaining what's going on in the minds of Stubbs's horses and an equine vet explaining the artist's importance to anatomy. Artist Daphne Wright will explain why monkeys are so fascinating, while wildlife photographer and presenter Simon King will share his many years' experience of observing big cats. Biographer Wendy Moore introduces the lonely moose who made friends with London's leading scientists, and a deer manager discusses the life cycle of these beautiful native mammals.

Stubbs and the Wild is part of a series of special events and exhibitions to celebrate 100 years since the re-establishment of the Holburne Museum in Sydney Gardens.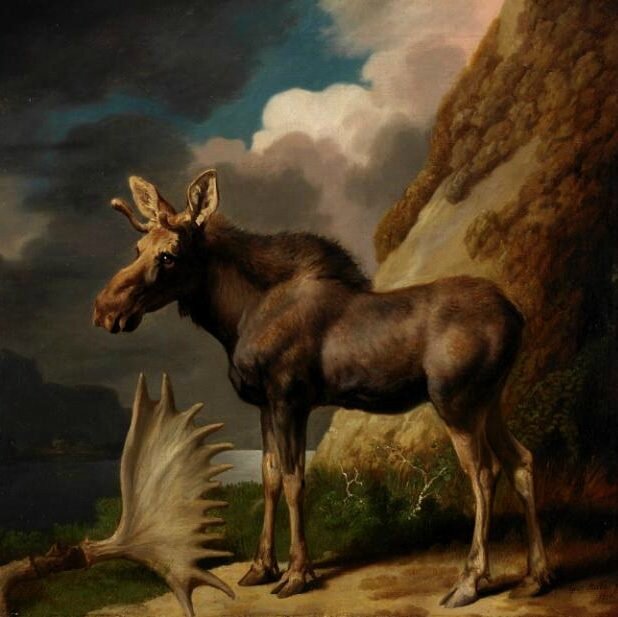 George Stubbs (1724-1806), The Moose, 1770. Oil on canvas, 61x70.5cm. The Hunterian, University of Glasgow.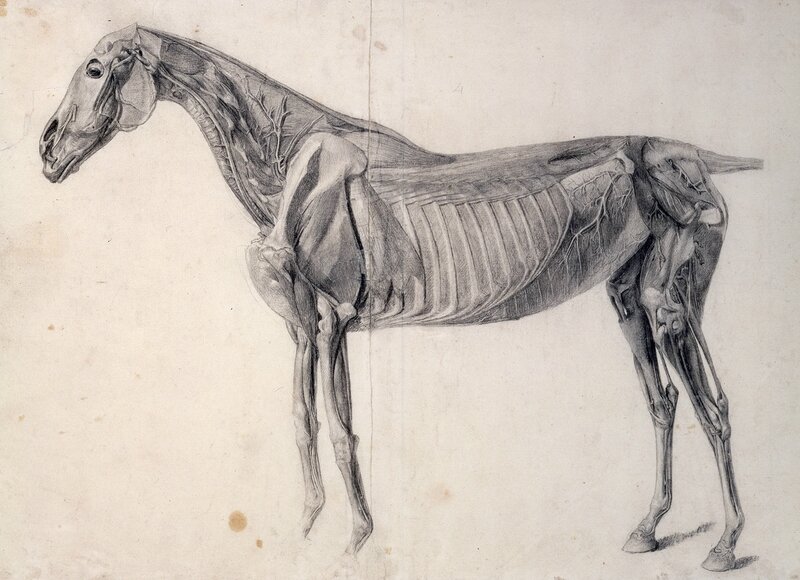 George Stubbs (1724-1806), Finished study for Anatomy of the Horse: 4th anatomical table, 1756-58 © Royal Academy of Arts, London.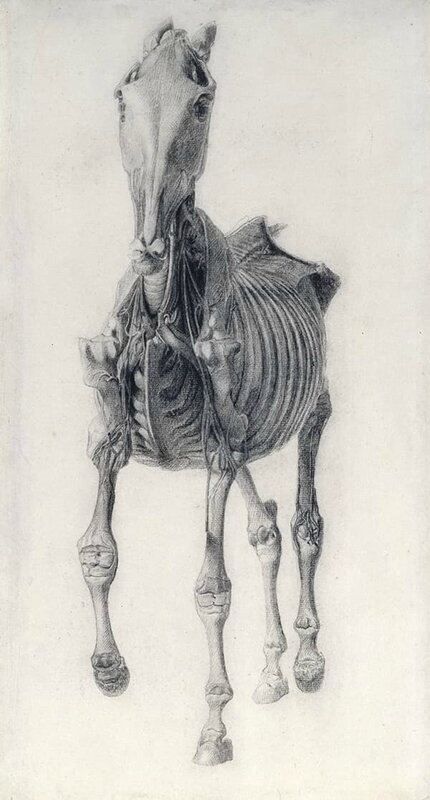 George Stubbs (1724-1806), Finished study for Anatomy of a Horse:10th Anatomical Table. © Royal Academy of Arts, London.
George Stubbs (1724-1806), The Fall of Phaeton. Photograph: National Trust Images/R. Chapman
George Stubbs (1724-1806), Two Leopards, c. 1776. Oil on oak panel, 90.5 x 137.4 cm. Private Collection. © Private Collection