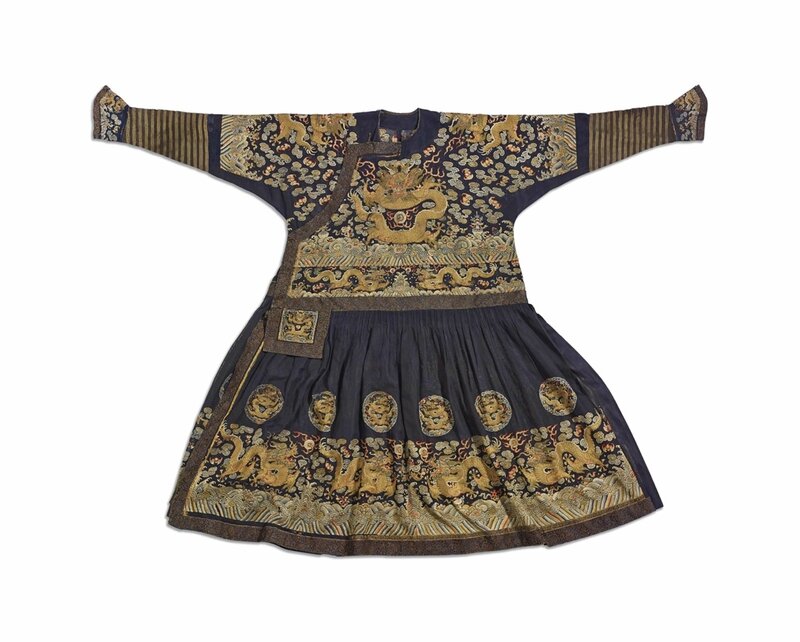 Lot 228. Rare robe de cour en gaze bleu brodée, chaofu, Chine, dynastie Qing, circa 1800. Estimate €5,000 - €7,000 ($5,672 - $7,941). Price Realized €9,375 ($10,579). Photo Christie's Image Ltd 2016.
The robe is worked in fine gold couched threads and satin stitches, depicting nine five-clawed dragons and dragon medallions amidst multi-coloured clouds, bats and peach sprigs above tumultuous waves on a navy blue gauze ground ; restorations. 53 1/8 in. (135 cm.) high
A rare embroidered blue gauze summer court robe, chaofu, China, Qing dynasty, circa 1800
Notes: Manchu men's formal attire, chaofu, were worn for the most important court functions by the emperor, princes, nobles, civil and military high ranking officials. The two-part construction of the robe, with pleated skirt attached to the upper body, derived from Ming-style court dress, which was adapted by the Manchu who altered the full sleeves to tapered sleeves and narrow cuffs, symbolic of their original nomadic lifestyle. At the Qing court the colour blue had ritual significance. It was the colour associated with the rites at the Altar of Heaven, located south of the Forbidden City where the Emperor offered sacrifices at the winter solstice and also prayed for rain during the summer months. The colbalt-blue was designated for the robes of Manchu princes from the first through the fourth rank. Other nobles and high-ranking officials, who were entitled to attend the most formal of state functions where chaofu were required, wore dark blue or black.
Compare to two other chaofu, both dated to mid-nineteenth century, one catalogued and illustrated in Imperial Silks: Ch'ing Dynasty Textiles in The Minneapolis Institute of Arts, Minneapolis, 2000, p. 59, fig. 1; the other example illustrated in Power Dressing: Textile for Rulers and Priests from the Chris Hall Collection, Singapore, 2006, p. 148, fig. 24.
Christie's. ART D'ASIE, 21 - 22 June 2016, Paris