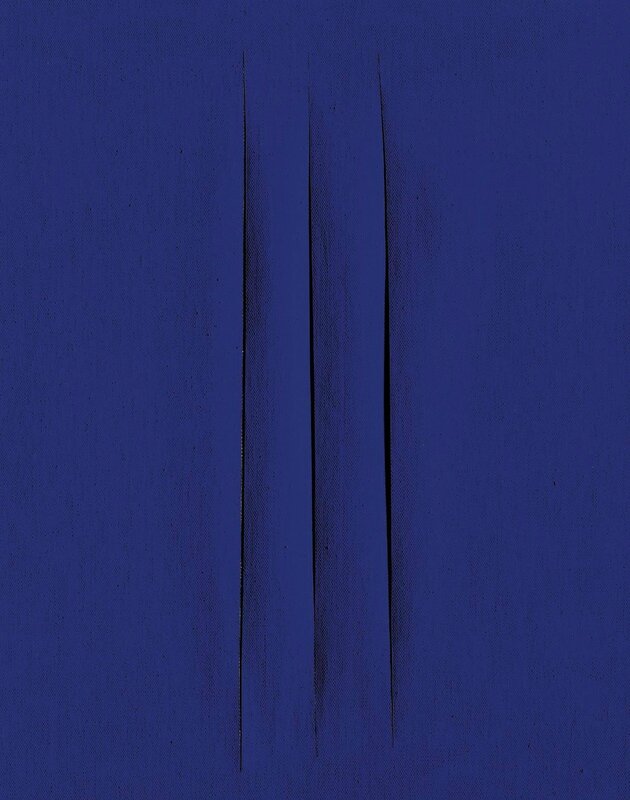 Lot 39. Lucio Fontana (1899-1968), Concetto spaziale, Attese; signed, titled and inscribed ''l. Fontana "Concetto Spaziale" ATTESE, Ho fatto una discussione col pittore Bacci c'erano anche Piero e Nova che...' (on the reverse), waterpaint on canvas, 28¾ x 23¾in. (73.2 x 60.5cm.). Executed in 1967. Estimate £600,000 – £800,000 ($804,600 - $1,072,800). Photo Christie's Image Ltd 2016
Provenance: Galerie Pierre, Stockholm.
Galerie Michel Couturier, Paris.
Anon. sale, Christie's London, 1 December 1988, lot 779.
Anon. sale, Christie's London, 6 April 1989, lot 596.
Private Collection, Paris.
Anon. sale, Christie's London, 23 October 1997, lot 63.
Acquired at the above sale by the present owner.
Literature: E. Crispolti, Lucio Fontana. Catalogue raisonné des peintures, sculptures et environnements spatiaux, vol. II, Brussels 1974, no. 67 T 56 (illustrated, p. 192).
E. Crispolti, Lucio Fontana. Catalogo Generale, vol. II, Milan 1986, no. 67 T 56 (illustrated, p. 665).
E. Crispolti, Lucio Fontana. Catalogo ragionato di sculture, dipinti, ambientazioni, vol. II, Milan 2006, no. 67 T 56 (illustrated, p. 859).
Notes: 'I saw the sky very dark and the earth blue, of a deep and intense blue' —Y. GAGARIN

'What we want to do is to unchain art from matter, to unchain the sense of the eternal from the preoccupation with the immortal. And we don't care if a gesture, once performed, lives a moment or a millennium, since we are truly convinced that once performed it is eternal' — L. FONTANA Yves Klein, Blue Monochrome, 1961. Museum of Modern Art, New York. Artwork: © Yves Klein ADAGP, Paris / DACS, London, 2016. Photo: The Museum of Modern Art, New York/Scala, Florence.
With its three perfectly-articulated slashes penetrating the deep blue surface of the canvas, Lucio Fontana's Concetto spaziale, Attese of 1967 is a sumptuous example of his tagli or 'cuts'. Piercing the very fibre of the canvas to reveal the uncharted void beyond, these works represent the most important realisation of Fontana's ground-breaking Spatialist theories. Inspired by the scientific advances of the Space Age, Fontana sought to create a revolutionary art form equipped to translate the newly-discovered dimensions of the cosmos. By incising the canvas with a near-balletic series of calligraphic gestures, the artist gave birth to a visual language rooted in space, movement, time and energy: elements whose properties had been wholly redefined by man's exploration of the universe. Like his contemporary Yves Klein, whose unique azure pigment sought to transcend the physical world, Fontana listened with interest to Yuri Gagarin's legendary revelation, upon his return from space in the early 1960s, that 'I saw the sky very dark and the earth blue, of a deep and intense blue'. Fontana – who had bought one of Klein's blue monochromes from the artist's legendary 1957 exhibition at the Galleria Apollinaire in Milan – asserted that 'Klein is the one who understands the problem of space with his blue dimension. He is really abstract, one of the artists who have done something important' (Fontana, quoted in T. Trini, 'The last interview given by Fontana', in Lucio Fontana, exh.cat., Amsterdam, 1988, p. 34). The present work, with its deep, dark cuts indicative of a mysterious abyss beyond the saturated cobalt hue of the canvas, captures the very duality identified by Gagarin. In doing so, it represents a powerful expression of man's position in the cosmos on the brink of a new age of discovery.
Responding to the advent of space travel and the extraordinary scientific advances that shook the twentieth-century, Fontana sought transcendent new directions within his practice that could adequately express the ways in which mankind had come to perceive their place in the universe. Fascinated by the astronomical discoveries that had shown the potential infinity of the cosmos, Fontana felt it essential to find an art that could explore these limitless possibilities, writing in 1948, 'We refuse to believe that science and art are two separate things, in other words, that the gestures made by one of the two activities do not also belong to the other. Artists anticipate scientific gestures, scientific gestures always lead to artistic gestures' (Second Manifesto of Spatialism, 1948-1949, reproduced in R. Miracco, Lucio Fontana: At the Roots of Spatialism, exh. cat., Estorick Collection of Modern Art, London, 2007, p. 37). Published in 1947 by Fontana and other avant-garde artists in Buenos Aires, the Manifesto Blanco outlined a new ideology known as Spatialism, which called for 'the development of an art based on the unity of time and space' (Manifesto Blanco, 1946, reproduced in R. Fuchs, Lucio Fontana: La cultura dell'occhio, exh. cat., Castello di Rivoli, Rivoli, 1986, p. 80). Piercing the canvas, initially with his series of bucchi, or holes, and subsequently through his tagli, Fontana discovered an elegant solution to his conceptual aims, creating an object that could exist in material space while denoting the immateriality of the seemingly endless void beyond. 'I make holes, infinity passes through them, light passes through them', the artist explained; 'there is no need to paint' (L. Fontana, quoted in E. Crispolti, 'Spatialism and Informel. The Fifties', in Lucio Fontana, exh. cat., Palazzo delle Esposizioni, Milan, 1998, p. 146).