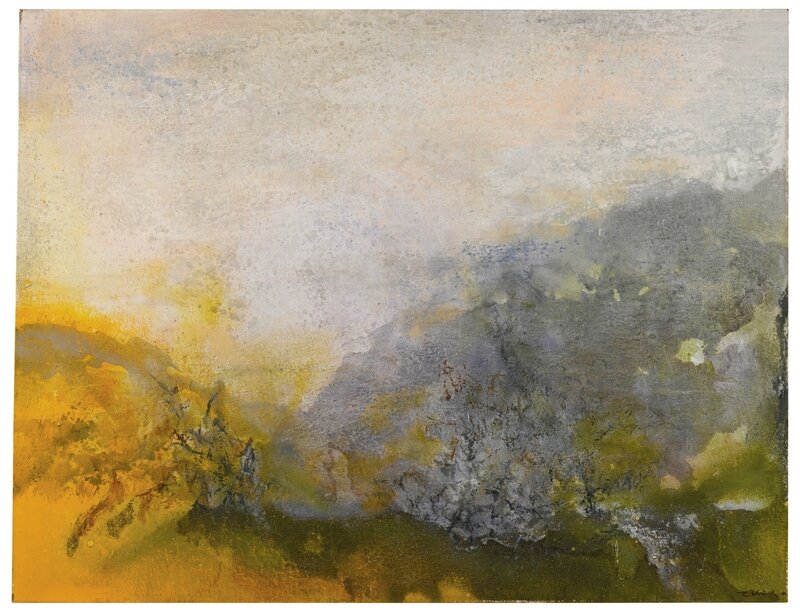 Lot 123. Zao Wou-Ki (1921 - 2013), 13.1.90. Estimate 500,000 — 700,000 GBP. Lot sold 629,000 GBP. Photo Sotheby's.
Provenance: Jan Krugier - François Ditesheim Art Contemporain, Geneva
Acquired from the above by the present owner in 1990
Exhibition: Geneva, Jan Krugier - François Ditesheim Art Contemporain, Zao Wou-Ki, April - May 1990
Zao Wou-Ki in his studio in Paris, circa 1958. Image: © Rights reserved / Archives Zao Wou-Ki Artwork: © DACS 2016
Notes: 13.1.90 is a stunningly lyrical example of Zao's later works, a painting of elegiac beauty and extraordinary grace, brimming with light and vibrancy. Through misty hues appear elevated mountain-like shapes in the background that are contrasted by inky traces reminiscent of branches and trees. Light seems to emanate from the canvas, in particular a warm radiance of yellow golden paint at the lower left of the composition, imbuing the painting with a sense of physicality and corporality. The artist himself recalled the importance of light within his compositions in an interview in 1997: "Light is space. A void at that. But not a true void. It has to be a space for breathing, a space of breath, in other words a 'lived' emptiness" (Zao Wou-Ki quoted in: Exh Cat., Paris, Galerie Thessa Herold, Zao Wou-Ki, Peintres et Encres de Chine, 1998, p. 134).
In the marriage of abstract and figurative elements from which emanates a physical experience of light, the present work recalls the sublime composition of the late Turner. Indeed, Zao's entire oeuvre is a celebration of the primacy of colour; the artist's great admiration for Matisse and his understanding of the essence of colour and space clearly influenced the artist's bold use of it: "I spent whole days bent over a sheet of paper with a brush in my hand, trying to understand how Matisse painted, how he put the colours together, how he organised the space, why the work as a whole conveyed that sensation of freshness, lightness, quivering" (Zao Wou-Ki quoted in: Zao Wou-Ki and Françoise Marquet, Ibid. cit., p. 37).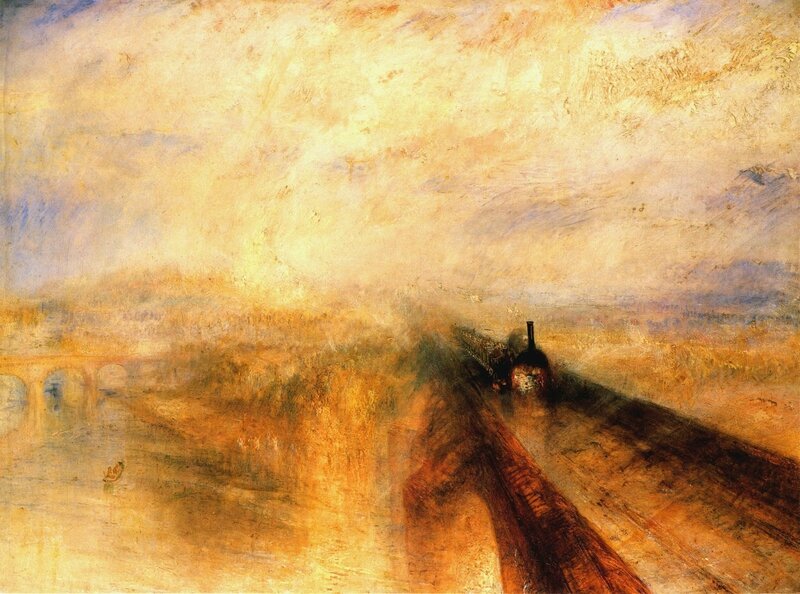 J.M.W. Turner, Rain, Steam and Speed - The Great Western Railway, 1844. The National Gallery, London.
Zao's turn towards Western art was nurtured by his culturally minded family through books and magazines, in which he discovered the artistic freedom and gestural expression that was being oppressed in the rigid culture of academicism in his native China at the time. From an early age on, the artist was critical of Chinese painting as being governed by a recession of copying and reproducing. Leaving Shanghai for Paris at the age of 28 on 26 February 1948, Zao just left the country prior to Mao's assumption of power the following year and so escaped the Cultural Revolution which followed. In Paris, the artist embarked on an exceptional path which eventually led him to merge his technical aptitude of his previous classical training with the exuberant notion of individual expression. Immersing himself in the museums and galleries newly available to him, Zao encountered a creative environment that proved essential in developing his unique style. His gradual associations with artists such as Joan Mitchell and Jean-Paul Riopelle as well as the painters of the Paris School such as Pierre Soulages, Hans Hartung and Georges Mathieu helped the artist settle in his new home and provided a fertile artistic and intellectual inspiration. At the same time, the artist remained deeply connected to his cultural heritage; the abstract world seen in the present work, so richly suggestive of East Asian aesthetics embedded in Buddhist and Daoist philosophy, reflects the intellectual and spiritual influence of the ink medium, to which Zao returned increasingly in the 1970s.
Over the decades in France, Zao tirelessly refined his artistic style, which led from his early abstract experiments reminiscent of Klee to the bold gestures of the following decades up to the more refined compositions of his mature years as masterfully exemplified in the present work. "When I go up to my studio in the morning, I still feel that same anxiety: 'Will I be able to go on where I left off or will I have to start again from the beginning?' I sometimes feel discouraged but I never feel tempted to give up" (Zao Wou-Ki quoted in: Ibid., p. 37). By 1990, the year the present work was painted, Zao was one of the most established and admired painters of his time in both East and West. Starting in the 1980s, Zao's works would be increasingly exhibited in Asia and particularly in China, which provided the artist with frequent travel opportunities, the influences of which clearly manifested in his paintings from this later period. The mountains, rivers, and forests but also insubstantial images of clouds, mists, and air in order to display the technical skill of the artist are echoed in the present work. Zao's mature style, whose elegant compositions of fluid colour fields stands in contrast to the bold strokes of his earlier works, is clearly marked by a change in temperament yielding more serene and purer compositions. The pursuit of space in a Zen-like emptiness is ultimately attained through the juxtaposition of subtle colour nuances intertwined with Zao's unique expressive marks and gestural brushstrokes.
Sotheby's. Contemporary Art Day Auction, Londres, 29 juin 2016