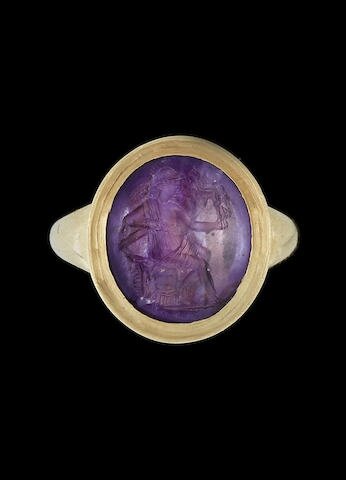 Lot 82. A Roman amethyst intaglio ringstone, Augustan, circa 1st Century B.C-A.D. Estimate £1,200 - 1,400 (€1,400 - 1,700). Photo Bonhams.
The oval intaglio engraved with a figure of Athena seated on a cuirass and military trophies, wearing a high crested helmet and holding Nike aloft in her right hand, set in a modern gold ring, 13mm length of intaglio; ring size 'N'; 18mm inside diam of ring hoop
Provenance: Property from a Dutch private Collection, The Netherlands, formed in the 1960s-70s.
With Lavender, London, 8 May 1978, accompanied by a copy of the invoice.
Wellington Collection.
Bonhams. ANTIQUITIES, 7 Jul 2016, 10:30 BST - LONDON, NEW BOND STREET