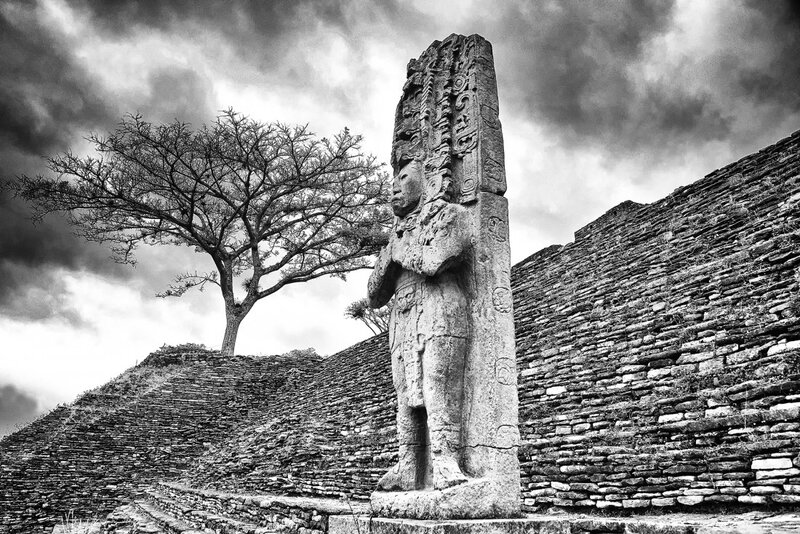 William Frej, Tonina, 2015. Archival Chromogenic Silver Halide Print.
SANTA FE, NM.- Peyton Wright Gallery announces The Maya, a transcendent exhibition highlighting the late Classic Period through an extraordinary marriage of pre-Colombian artifacts and luminous black and white images of forgotten Mayan ruins captured by photographer William Frej.

As a young adventurer, Mr. Frej passed through the Yucatan and was captivated by the majesty and mystery the Maya embodied through the colossal remains of their culture scattered throughout the jungle. Forty years later, after a life dedicated to the study of architecture and diplomatic service with its attending engagement with culture, he returned to the cradle of his inspiration.
William Frej, Labina, 2015. Archival Chromogenic Silver Halide Print.
Now a renowned photographer, he spent three years penetrating remote jungles and the forgetful gauze of time to document the wonders of ancient Mayan development in the Yucatan, Chiapas, Quintana Roo and Campeche. Obscured and consumed over the course of a millennium by the ravenous jungles of the Yucatan Peninsula and the Lacandon, many of the wonders captured anew by these living images have stood unvisited since Teobert Maler documented them in the late 19th century.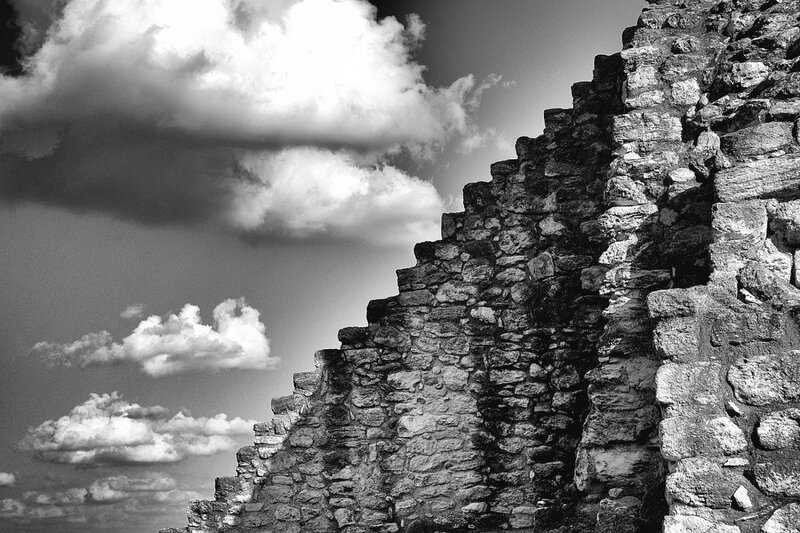 William Frej, Calakmul, 2015. Archival Chromogenic Silver Halide Print).
Frej transports us through compelling images that capture art as a built environment and culture manifest through an engineered devotion to gods, forgotten yet never lost. Sabacche, Chunchucmul, Pixoy and Balche are sites that stand as a silent witness to the vast enterprise and ultimate demise of the Maya. We invite you to accompany Frej on an extraordinary virtual tour of the ruins, a tour in which his vision is accompanied by prime examples of the highest aesthetic ceramic and sculptural achievements of these ancient people.
William Frej, Palenque, 2015. Archival Chromogenic Silver Halide Print.
Moving through the galleries viewers will be transported by an intimate sense of connection to the impulse of the Maya to memorialize their experience of being in vignettes painted on clay and the promise of immortality carved in stone. Mayan craftsmen celebrated the human form in three dimensions across a variety of media. An extraordinary example of their artistry in stone is offered in the Head of a Dignitary. This object, whose authenticity was confirmed by Hasso von Winning in 1975, is a unique death portrait whose elegant headdress and ear spools declare status while a serene expression conveys a timeless air of exalted dignity.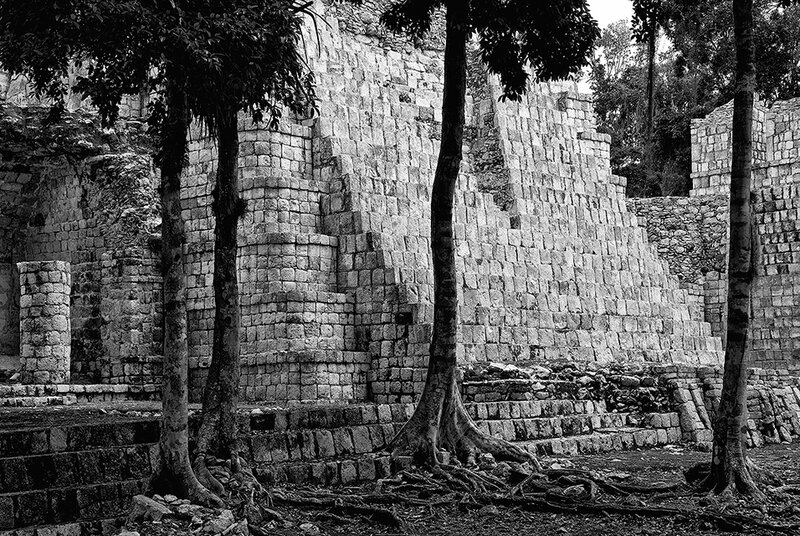 William Frej, Santa Rosa Xtompak, 2015. Archival Chromogenic Silver Halide Print.
A significant dimension of the exhibition is devoted to a striking collection of Mayan cylinders. This grouping is part of a private holding that was assembled over several decades beginning in the late 1930s. In keeping with cultural traditions around the globe, Mayan ceramic objects were used in part as the backdrop for paintings depicting scenes of mundane daily life, elements of the natural world, and moments of extraordinary and unearthly import. Lords in elaborate costume await the coming of off screen vassals. Feathered gods sweep curvilinear skies in pursuit of prey both human and ethereal. As visitors leave the gallery they will take with them a sense of continuity common to the human experience. With a feeling of constancy conveyed by exposure to the world, these objects embody a deep breath of a world filled with mystery and majesty in concert with all of time.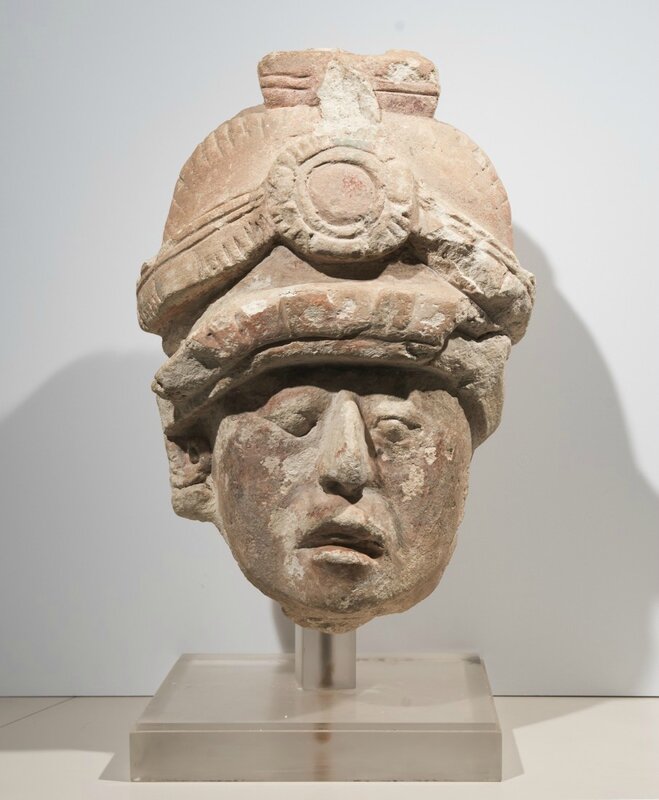 Anonymous-Mayan, Head of a Dignitary, 600 - 900. Stucco, 17 x 11 x 9 in. (43,2 x 27,9 x 22,9 cm.).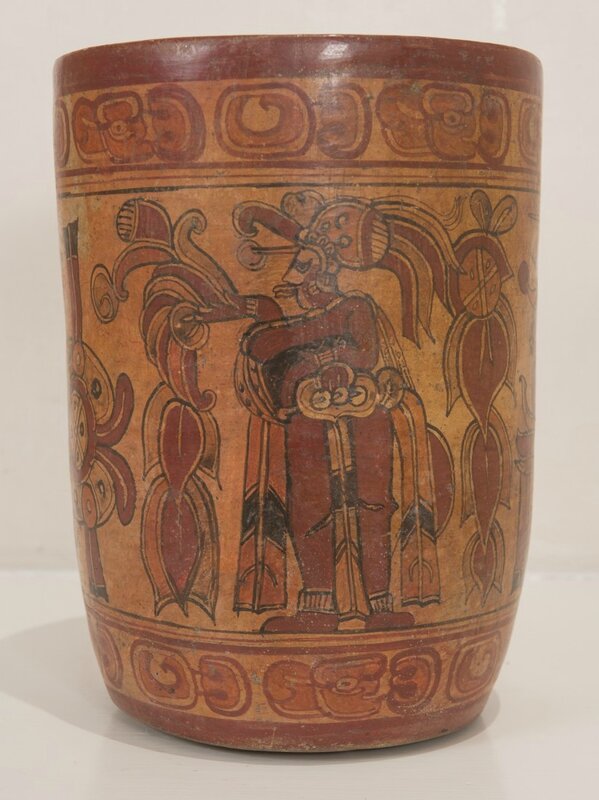 Anonymous-Mayan, Cylinder Vessel, 600 - 1000. Earthenware with colored slips.