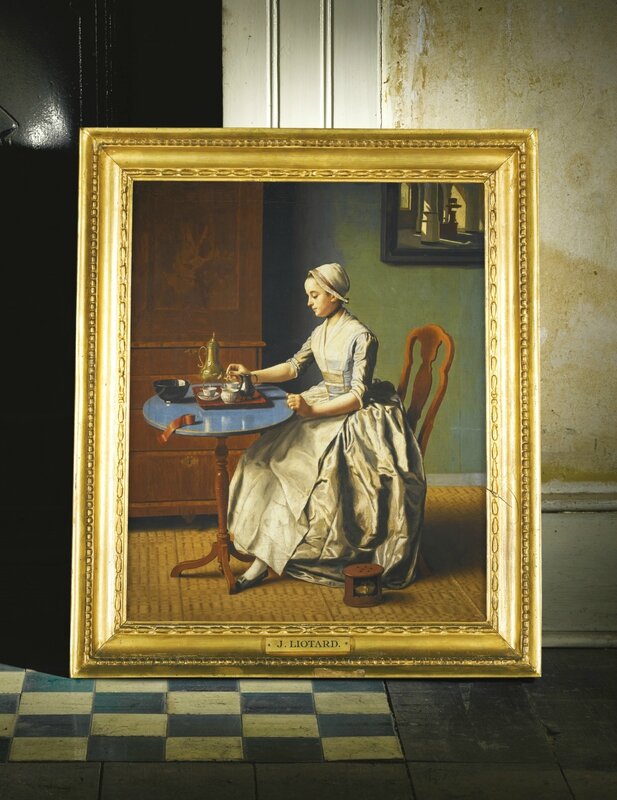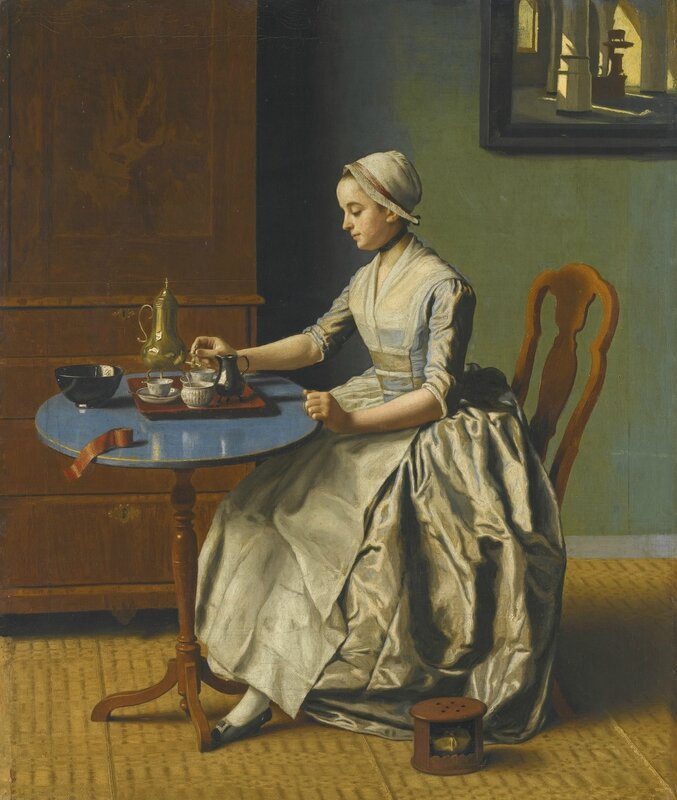 Lot 36. Jean-Etienne Liotard (Geneva 1702- 1789), A Dutch girl at breakfast, oil on canvas, 46.8 x 39 cm.; 18 3/4 x 15 3/8 in. Estimate 4,000,000 — 6,000,000 GBP. Photo Sotheby's.
Provenance: Jean Etienne Liotard, his exhibition sale, Great Marlborough Street, London, 6–9 July 1773, lot 55 ('A Dutch girl pouring coffee'), unsold;
Jean Etienne Liotard, his sale, London, Christie's, 16 April 1774, lot 33 ('A Dutch girl at breakfast'), for £15.4s.6d.;
Acquired at the above sale by William Ponsonby, 2nd Earl of Bessborough (1704–1793);
Thence by descent to Frederick Ponsonby, 10th Earl of Bessborough DL (1913–1993);
By whom bequeathed to the Stansted Park Foundation.
Exhibited: Possibly Paris, Academy of Saint-Luc, 1752, no. 263;
London, Royal Academy, European Masters of the 18th Century, 1954, no.47;
London, National Gallery, on loan, April 2002 – March 2015;
London, Royal Academy, Jean-Etienne Liotard 1702–1789, 24 October 2015 – 31 January 2016, no. 75.
Literature: E. Humbert, A. Revilliod and J.W.R. Tilanus, La vie et les Œuvres de Jean Etienne Liotard, Amsterdam 1897, p. 139, no. 112, reproduced;
L. Gielly, L'Ecole genevoise de Peinture, Geneva 1935, pp. 50, 203;
N. Trivas, n.t. MS monograph and catalogue of the work of Liotard, 3 vols, 1936, no. 253, Geneva, Musée d'Art et d'Histoire;
Frederick Ponsonby, Earl of Bessborough, A Place in the Forest, being a history of Stansted in Sussex, London 1958, p.119;
A. Staring, 'Hollandse werken van Liotard en Perroneau', in Oud Holland, 1959, p. 228, reproduced;
R. Loche and M. Roethlisberger, L'opera completa di Liotard, Milan 1978, p. 93, no. 57, reproduced in colour;
F. Grijzenhout, Liotard in Nederland, exhibition catalogue, Utrecht 1985, pp. 68–71, reproduced fig. 34;
Frederick Ponsonby, Earl of Bessborough, and C. Aslet, A Place in the Forest, being a history of Stansted in Sussex, London 1984, p. 142;
B. Scott, 'A Turkish sensation', in Country Life, 1985, p. 1574;
M. Roethlisberger, 'Holländsiche Malerei in der Westschweiz', in Im Lichte Hollands, Holländische Malerei des 17. Jahrhunderts aus den Sammlungen des Fürsten von Liechtenstein und aus Schweizer Besitz, exhibition catalogue, Zurich and Basel 1987, p. 42, reproduced fig. 2;
M. Roland-Michel, Chardin, Paris 1994, p. 254;
M. Roethlisberger and R. Loche, Liotard, Catalogue Sources et Correspondence, 2008, Vol. I, p. 493, no. 342; Vol. II, fig. 488;
C. Baker, W. Hauptman and M. Stevens, Jean-Etienne Liotard 1702–1789, exhibition catalogue, London, Royal Academy, 2015, pp. 169, 172–173, 210, cat. no. 75, reproduced.
Notes: This is the only genre scene of an interior painted by Liotard in oils to remain in private hands. It was probably painted in Holland around 1755–56, and some twenty years later it was bought at the artist's sale in London by his great friend and patron William, 2nd Earl of Bessborough, in the possession of whose descendants it has remained ever since. It is the single work in which the painter most perfectly expressed his admiration for the Dutch genre painters of the Golden Age. It reflects perfectly Liotard's approach to painting, which he himself described in his later Traité des Principes et des Regles de la Peinture (1781), as 'le miroir immutable de tout ce que l'univers nous offre le plus beau' ('the unchanging mirror of all that is most beautiful in the world').
Liotard's subject is one of total simplicity and tranquillity. In a quiet and modest interior, a young woman sits at her ease at a tripod table, where she pours a cup of coffee from a silver pot into a porcelain cup. The girl is not a chambermaid, but is nevertheless demurely dressed in a grey-brown and blue dress and cream pinafore, her hair tied beneath a simple white lace cap with a brown ribbon. The interior is modestly furnished with a plain wooden armoire, the floor covered with simple straw matting. Behind her on the wall hangs a Dutch 17th-century painting of a church interior. The table top is slightly tilted so that the artist can give full rein to his skill in rendering its polished blue surface and the depiction of the porcelain and silver on a red lacquer tray that comprises the coffee service. The composition is beautifully balanced, with the verticals of the armoire and chair offset by the circles formed by the table top, the foot-warmer and the shadow cast on the floor behind the seated girl. The overall tonality is equally serene, the diffuse light entering from the left playing over a harmonious range of earthy colours: the brown of the table and chair, the cream of the floor and pale green walls and the white of the girl's cap and apron, illumined by the blue accents of her dress and the table-top. Tiny passages of colour, such as the red ribbon on the table top, or the blue ribbon around the girl's neck, subtly underpin this harmony. The handling of the paint is meticulous and polished throughout, perfectly illustrative of the importance of the absence of what Liotard termed 'touche' or brushwork, which he believed should be sacrificed entirely to the finish ('le fini') of a work. For Liotard the great masters of this approach to painting were the Dutch, among them, for example, Jan van Huysum (two of whose works he owned), Gerrit Dou, Gerard Ter Borch, Adriaen van Ostade and Adriaen van der Werff, and this work was quite possibly conceived in emulation of them. The fact that the picture is on canvas is unusual in Liotard's oeuvre, for typically he found it easier to express these aspects of painting in the smoother finish afforded by his more usual medium of pastel on paper.
As there is no record of any commission for this painting, it is most likely that it was painted by Liotard on speculation or else for his own pleasure. On account of its domestic subject, and equally no doubt because of the elements of the coffee service, this painting has always been compared with Liotard's most famous work in this vein, the famous pastel entitled La Belle Chocolatière, painted in Vienna in late 1744 or early 1745, sold shortly afterwards by Count Francesco Algarotti to Augustus the Strong and today in the Gemäldegalerie in Dresden (fig. 1).1 Because of the evident affinity in subject between the two paintings, Loche and Roethlisberger initially suggested that the Bessborough canvas was likewise painted in Vienna around 1743–45. They suggested that it might be the 'Dame prenant du chocolat' exhibited by Liotard at the Académie de Saint Luc in Paris in 1752.2 But as other scholars such as Staring and Grijzenhout have pointed out, the verifiably Dutch elements of the room decoration and the dress of the girl all point to the picture having been painted during one of Liotard's two stays in that country, between 1755 and 1756 and again between 1771 and 1772.3 The chair and tripod table, as well as the armoire and foot-warmer are quintessentially Dutch of the period 1740–50. Although the still-life elements of a coffee service were evidently a favourite of Liotard's, appearing in a number of well-known genre scenes as well as his independent still-lifes, the elements of those displayed here are also conspicuously Dutch. The silver tripod coffee pot, the silver milk jug and especially the chine de commande coffee cups and saucers are all Dutch and also of similar date. The presence of a painting of a Dutch church interior on the wall would also support this view. The church depicted is, to judge from its pulpit (since lost), probably the Nieuwe Kerk in Delft, and the picture is reminiscent of the interiors painted there by Hendrick van Vliet, Gerard Houckgeest and others. As the catalogue of his own collection shows, Liotard himself owned several examples of this type of painting.4 There is no doubt that during both of his stays in the Low Countries Liotard availed himself of the opportunity to purchase and study Dutch Old Masters. Pieter Terwesten, writing soon after in 1776, recorded that during both trips Liotard had painted 'small modern pieces'.5 One such copy of a genre subject survives, a replica on porcelain of an original by Quiringh Gerritsz. van Brekelenkam, painted in 1760, and today in the Kunsthistorisches Museum in Vienna (fig. 2).6 Roethlisberger and Loche, revising their earlier opinion, later favoured a date in the first Dutch period in the 1750s, when Liotard was most actively collecting Dutch pictures. Certainly the meticulous finish of the Bessborough canvas, perfectly illustrates what Liotard termed a 'très beau fini' reminiscent of the Leiden school of fijnschilders, while the quietly observed single figure in a domestic interior accords perfectly with the Dutch masters of the genre such as Metsu or Ter Borch that he must have seen. The work of his Dutch contemporaries, however, seems to have been less of an influence, for the painting shows no obvious debt to the work of painters such as Cornelis Troost.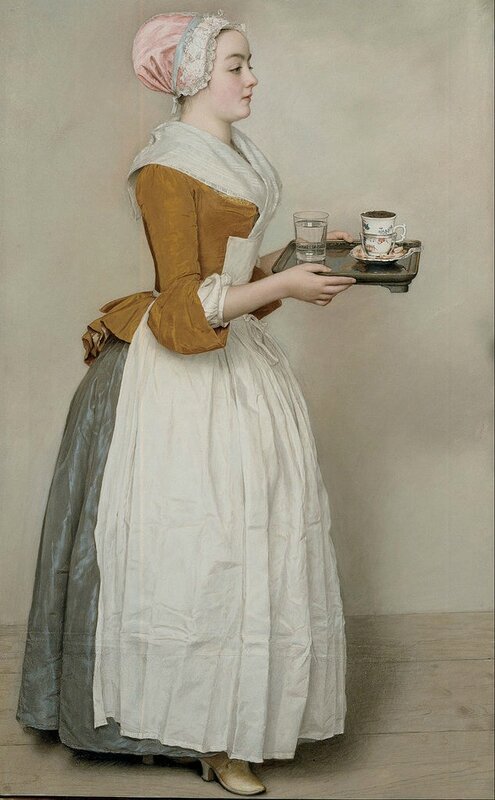 fig.1. Jean-Etienne Liotard, La Chocolatière, 1744-45. Pastel on vellum, 82.5 x 52.5 cm. Gemäldegalerie Alte Meister, Dresden, inv. P161 © bpk | Staatliche Kunstsammlungen Dresden | Elke Estel | Hans-Peter Klut.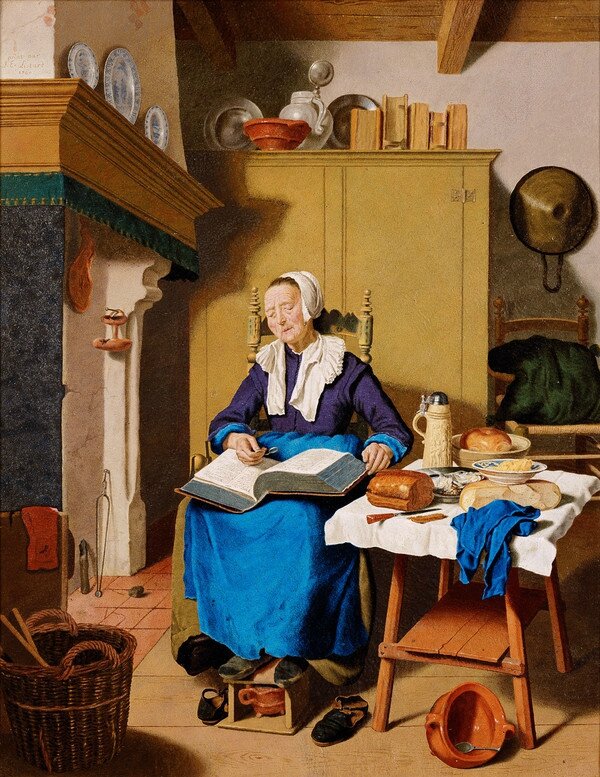 fig. 2. Jean-Etienne Liotard, Old Lady with a Bible on her lap, 1760, 44x 34cm, Kunsthistorisches Museum, Vienna © KHM-Museumsverband.
If it seems strange that the date of a work of such elegance as the Bessborough A Dutch girl at breakfast is uncertain, it must be remembered that Liotard himself was an extraordinarily peripatetic artist. A native of Geneva, from 1723 onwards he travelled to Paris, Naples, Florence and Rome before settling in Constantinople between 1738 and 1742.
Between 1743 and 1745 he was in Vienna where he worked for the Empress Maria Theresa and her family, before returning to Paris once more in 1748 to work for Louis XV and the French Royal Family. Denied entry to the French Académie in Paris, he worked briefly but successfully in London in 1755, again finding favour at court with the patronage of the Prince of Wales. His jealous rival, the Italian Andrea Soldi, criticised the English for 'measuring the value of his works by the length of his beard', a reference to the high prices paid for his pictures and, of course, to the long beard Liotard had sported (fig. 3) ever since his days in Constantinople.7 After his two stays in Holland – in Amsterdam and The Hague – he worked again in Paris (1771–72), London (1773–75) and Vienna (1777–78) before returning finally to Geneva.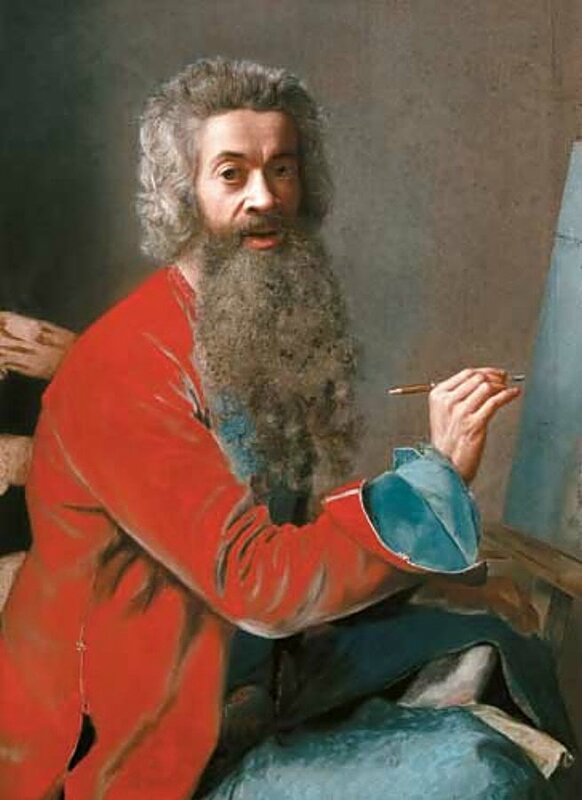 fig. 3. Jean-Etienne Liotard, Self-portrait at the Easel, 1751-52. Pastel on paper (several sheets), 97 x 71 cm. Musée d'Art et d'Histoire, Geneva, inv. CR 196 © Musée d'art et d'histoire, Ville de Genève, Cabinet d'arts graphiques, inv. n° 1843-0005 Photo: Bettina Jacot-Descombes
It was during the second of these stays in London that Liotard, acting as a sort of collector-dealer in Old Masters, chose to sell a number of his own pictures as well as those he had collected. The St. James's Chronicle described it a 'Capital Collection', with pictures 'by the most admired Masters'.8 The first of these sales, an exhibition held at his lodgings in Great Marlborough Street in 1773, consisted of ninety-two pictures of which twenty-three were by Liotard himself. The present painting was lot 55; Liotard himself describing the painting as 'Une Hollandaise se versant du café' ('A Dutch lady pouring coffee'). The exhibition-cum-sale was largely unsuccessful, and Liotard was obliged to send the same pictures and some additions to auction at Christie's on the 15th–16th April the following year. At the sale the Dutch girl pouring coffee (here entitled A Dutch girl at breakfast) was purchased by his long standing friend and patron Sir William Ponsonby (1704–1793), 2nd Earl of Bessborough, in whose family's possession it has remained ever since. The two men had first met in Florence in 1737 and had travelled together to the Levant the following year, visiting Malta, Syracuse and the Greek islands en route. They remained good friends thereafter and Liotard visited his friend on both of his subsequent visits to England. The Dutch girl at breakfast was one of five pictures bought at the 1774 sale by Lord Bessborough. Ponsonby, who succeeded his father as 2nd Earl of Bessborough in 1758, was to become Liotard's most important patron, acquiring more than seventy of his works during his lifetime, including the famous Déjeuner Lavergne of 1754 (Private collection) for which he paid the enormous sum of 200 guineas.9
Liotard's portrait of the future Earl in Turkish dress, probably painted in Constantinople around 1738 when he was Viscount Duncannon and still today in the family's collection, shows a confident man of forty in fashionable Levantine dress (fig. 5). The companion depicts his attractive wife Caroline (1719–1760), the daughter of William Cavendish, 3rd Duke of Devonshire, the Lord-Lieutenant of Ireland, whom he had married in 1739. A successful politician, Bessborough served as a Lord of the Admiralty and the Treasury as well as Postmaster General between 1759 and 1762 and again in 1765–66. A man of considerable culture, he was a founder member of the Society of Dilettanti in 1736, the Accademia del Disegno in Florence, and later a Trustee of the British Museum. During his lengthy travels abroad, he collected marbles, antique gems and intaglios for his houses in London and Roehampton as well as Bessborough House. He was even portrayed in appropriately 'antique' fashion by Liotard in a pastel drawn during his first stay in England in 1753–55 (fig. 6).10 Lord Bessborough built up an extensive collection of Old Master paintings of all schools, and over two hundred were included in the sale of his estate at Christie's in February 1801. The sale included some twenty-one lots by or attributed to Liotard, among them drawings, miniatures and an enamel.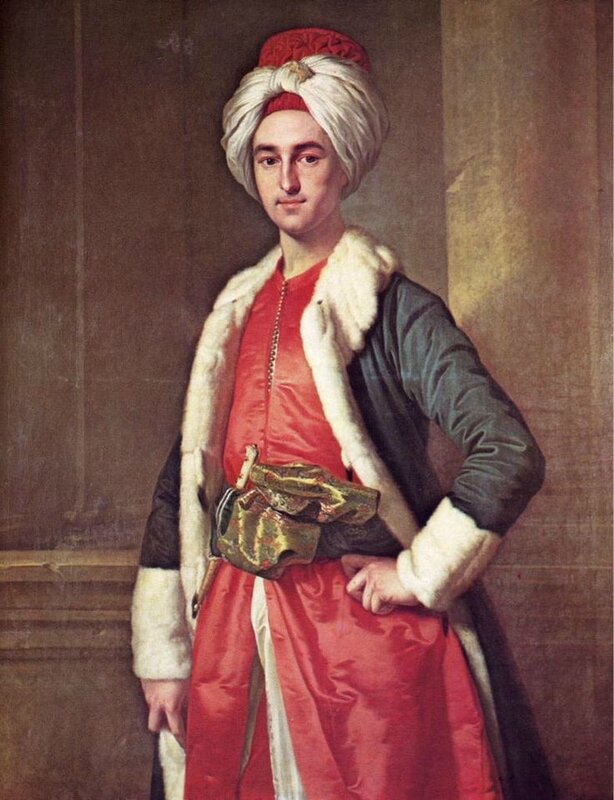 fig. 5. Jean-Etienne Liotard, William Ponsonby, Viscount Duncannon, 1738. Oil on canvas, 124.5 x 99.7 cm, © Stansted Park Foundation.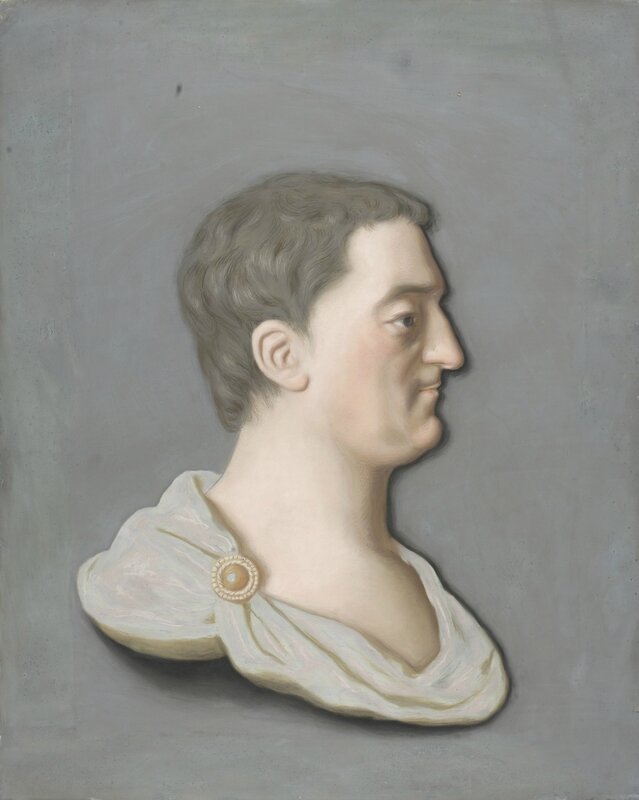 fig. 6. Jean-Etienne Liotard, William Ponsonby, Viscount Duncanon, second version, 60 x 48 cm, © Rijkmuseum, Amsterdam.
Liotard's A Dutch girl at breakfast has to this day remained in the possession of Lord Bessborough's descendants, and has never been offered since on the market. This extraordinary unbroken provenance stretching back over two hundred and forty years is matched only by its rarity in his œuvre both in terms of its subject and in terms of its medium. Like the works of the great Dutch genre painters of the 17th century such as Metsu and Vermeer, who Liotard so admired, its real subject lies in its quiet contemplation of the effects of light on different textures and colours, an intensely personal vision which transcended the limitations of a simple genre subject. In this respect his work was only matched among his contemporaries by the genius of Jean-Baptiste Simeon Chardin in France.
1. Loche and Roethlisberger 1978, no. 57
2. No. 263. This painting was paired with Le Dejeuner des Demélles Lavergne and was probably painted at the same time according to the exhibition catalogue.
3. Staring 1959, p. 228; Grijzenhout 1985, pp. 68–71.
4. From the catalogues of his two sales in London in 1773 and 1774, we know that Liotard owned some two hundred pictures, of which ninety-three were Dutch. No less than forty-four Dutch works were later purchased from him by the great Swiss collector François Tronchin of Geneva. These included church interiors by or attributed to Hendrick van Vliet, Isaaac van Nickelen and Emmanuel de Witte (cf. Roethlisberger and Loche 2008, vol. I, pp. 153–54). The original depicted here has not yet been identified.
5. P. Terwesten and G. Hoet, Catalogus of Naamlyst van Schilderyen, met... Kunst-Confrerie-Kamer van Pictura..., The Hague 1776.
6. Roethlisberger 1987, p. 43, reproduced fig. 3. The original is today in the National Gallery in London.
7. Letters on the English Nation, 1756.
8. 6–9 July 1773.
9. Roethlisberger and Loche 2008, vol. I, p. 464, no. 299, vol. II, fig. 435. He also owned another version in oils (Roethlisberger and Loche 2008, p. 620, no. 495) now in private hands. The sitters are probably family portraits.
10. Roethlisberger and Loche 2008, vol. I, p. 446, nos 274 and 275, vol. II, figs 406 and 407.
Sotheby's. Old Masters Evening Sale, London, 06 Jul 2016, 07:00 PM