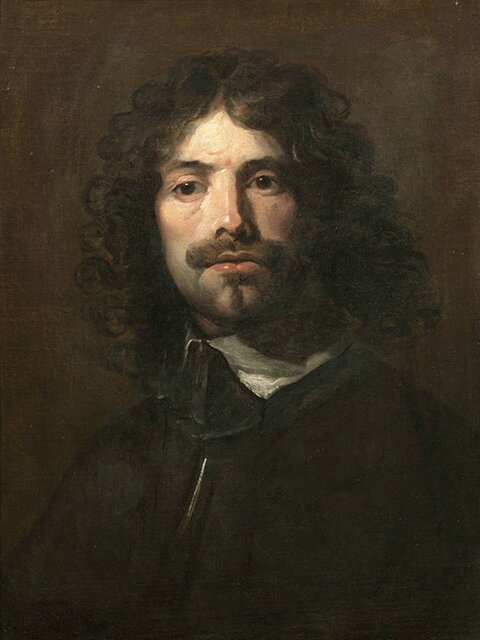 (London 1611-1646), Portrait of the artist, bust-length, in a black tunic and white collar, oil on canvas, 62 x 47.2cm (24 7/16 x 18 9/16in). Estimate £200,000 - 300,000 (€260,000 - 380,000). Sold for £1,106,500 (€1,298,053). Photo: Bonhams.
LONDON.- The earliest known self-portrait by William Dobson (1611-1656) sold for £1,106,500 at Bonhams Old Master Paintings sale in London today, 6 July. This is a new world record price for a work by the artist at auction easily surpassing the previous best of £362,500. The painting was bought by a private English collector.

Bonhams Director of Old Master Painting, Andrew McKenzie said, "It is difficult to overestimate the rarity and importance of this work in the history of British art and I am not surprised that it has sold for a such a very high record price."

Portrait of the Artist is one of the earliest known works that can confidently be attributed to Dobson who was court painter to Charles I during the English Civil War. His early death in 1646 at the age of 45 cut short a dazzling career and not until Hogarth more than seventy years later did Britain produce such a distinctive and important artist. The antiquarian and author of Brief Lives, John Aubrey (1626-1697), described him as "the most excellent painter that England has yet bred."
At the same sale, Pastoral Landscape by Claude Lorrain (1600-1682) was sold for £722,500 against an estimate of £600,000-800,000. Claude painted Pastoral Landscape between 1635 and 1637 in Rome. It is not known who commissioned the painting, but around this time Claude's work had begun to attract important patrons, including Pope Urban VIII, the future Pope Clement IX and, perhaps most prestigious of all, King Philip IV of Spain.

Andrew McKenzie commented, "Claude is regarded as the greatest painter of 'Ideal Landscape'. Pastoral Landscape was a particularly fine example of his ability to create an image that is more beautiful and ordered than nature itself."
Lot 38. Claude Gellée, called Claude Lorrain (Champagne 1600-1682 Rome), A pastoral landscape with a shepherd and shepherdess beside their livestock in an Arcadian landscape with drovers on a bridge beyond, oil on canvas, 97.7 x 134.9cm (38 7/16 x 53 1/8in). Estimate £600,000 - 800,000 (€780,000 - 1 million)Sold for £722,500 (€847,576). Photo: Bonhams.
Other notable results included:

• The Entombment by Maerten van Heemskerck (1498-1574) sold for £482,500. Described by Andrew McKenzie as 'a powerful and important work by a major artist of the Northern Renaissance" the work set a new world auction record for a work by van Heemskerck in oil.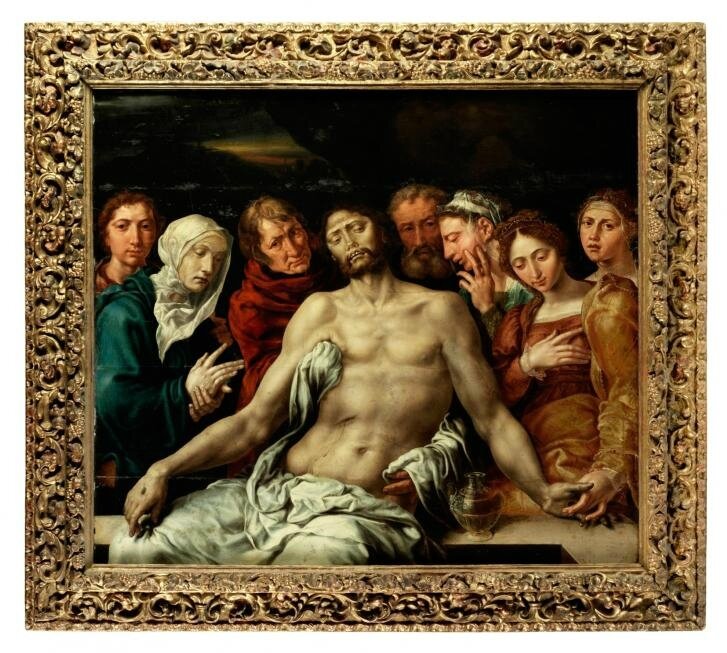 Lot 11. Maerten Jacobsz. van Heemskerck (Heemskerck 1498-1574 Haarlem), The Entombment, oil on panel, 125.6 x 141.6cm (49 7/16 x 55 3/4in). Estimate £20,000 - 30,000 (€24,000 - 36,000). Sold for £482,500 (€566,028). Photo Bonhams.
(Cf. my post: http://www.alaintruong.com/archives/2016/06/30/34032931.html)
Lot 9. Jusepe de Ribera (Jativa 1588-1656 Naples), Saint Sebastian, signed and dated 'Jusepe de Ribera espanol./ .F. 1640' (lower right), oil on canvas, 131.7 x 105.2cm (51 7/8 x 41 7/16in). Sold for £218,500 (€256,326). Photo: Bonhams.
Provenance: Demiami Collection, Germany
Their sale, Lepke, Berlin, 11 November 1913, lot 79
Sale, Gallerie Fischer, Lucerne, 9-11 September 1943, lot 735 (ill. pl. 12)
Literature: A. E. Pérez Sánchez, Caravaggio y el naturalismo español, Seville, 1973, exh. cat., under no. 40
N. Spinosa, L'opera completa del Ribera, Milan, 1978, p. 117, no. 158
N. Spinosa, L'opera completa del Ribera, Naples, 2003, p. 322, no. A237
N. Spinosa, Ribera. L'opera completa, Naples, 2006, p. 354, cat. no. A262, ill. p. 354
Notes: An unsigned version of the present work is at the Museo Bellas Artes Seville. It shows the Saint in the same position but with slight differences in the turn of the figure's head. An earlier pen and ink study now in the Achenbach Foundation of Graphic Arts, California Palace of the Legion of Honour, San Francisco (see fig. 1) shows the similar torsion of the Saint's body and the contorted lower hand although the upper arms and head differ.
Lot 36. George Romney (Beckside 1734-1802 Kendal), Portrait of Elizabeth Burgoyne, half-length, in a white dress, oil on canvas, 74 x 61.5cm (29 1/8 x 24 3/16in). Sold for £314,500 (€368,945). Photo: Bonhams.
Provenance: By descent to Miss Blackett
Her husband, Sir Alfred Bower, and thence by descent to the present owner
Literature: T. Humphry Ward and W. Roberts, Romney A Biographical and Critical Essay with a Catalogue Raisonne of his works, London and New York, 1904, vol. II, p. 21
A. Kidson, George Romney A Complete Catalogue of his Paintings, New Haven and London, 2015, vol. I, p. 105, no. 180a
Notes: Alex Kidson also records an untraced version of the present portrait which he dates to 1781: 'no doubt a belated marriage portrait as well as a pendant for Romney's second portrait of her husband'. The existence of an unpaid-for copy is recorded in Romney's accounts by 1785 and it seems that if there were further sittings for this, they must have taken place in that year, for which the sitter book is lost. The two versions differ in the treatment of the sky. While the untraced versions of the Burgoynes have been traditionally regarded as the prime versions, the quality of the present portrait would appear to question that tradition.

Mrs Burgoyne had seventeen appointments with Romney between 23 January and 13 December in 1781 and she cancelled seven more. This is a large number for this scale of commission and Kidson suggests that Mrs Burgoyne modelled for other works - the early version of Serena, for example. The following lot portraying Mr Burgoyne is its companion.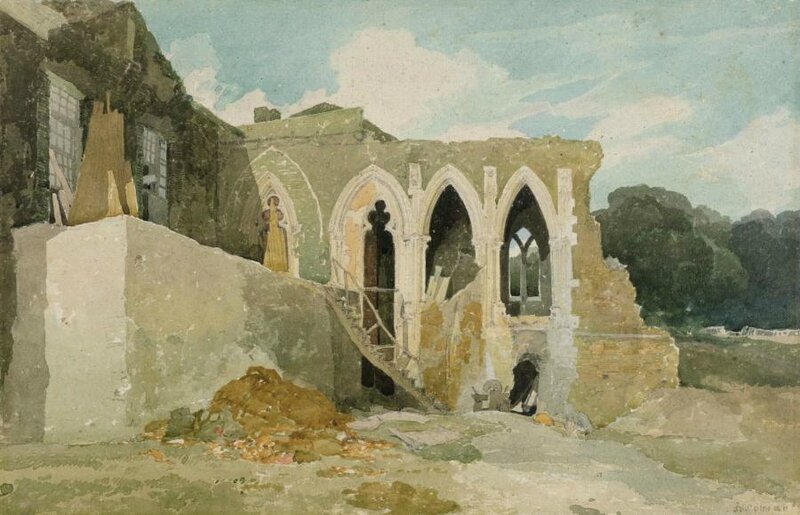 Lot 62. John Sell Cotman (Norwich 1782-1842 London), Part of the Refectory of Walsingham Abbey, Norfolk; watercolour on paper, 29.4 x 45.2cm (11 9/16 x 17 13/16in). Sold for £338,500 (€397,100). Photo: Bonhams.
Provenance: Francis Gibson of Saffron Walden, (d. 1860)
His son-in-law, Rt Hon Lewis Fry MP (d. 1921)
Lewis G. Fry (1860-1933)
Dr L.S. Fry, and thence by descent through the family
Exhibited: Norwich, Norwich Society of Artists, 1811, no. 133, (Part of Walsingham Abbey, Norfolk – sketch for Cotman's Antiquities of Norfolk)
London, Burlington Fine Arts Club, Exhibition of drawings in watercolour and in black and white by John Sell Cotman, 1888, no.32 (Interior of Walsingham Abbey)
London, Tate Gallery, Exhibition of works by John Sell Cotman and some related painters of the Norwich School, 1922, no. 178 (Walsingham Abbey)
Amsterdam, Stedelijk Museum, Twee eeuwen Engelse Kunst, 1936, no. 238
Literature: S.D. Kitson, The Life of John Sell Cotman, London, 1937, pp. 108-9, no. 297
M. Hardie, Water-colour painting in Britain vol. II: The Romantic period, London, 1967, p. 83
M. Rajnai and M. Allthorpe-Guyton, John Sell Cotman 1782-1842. Early drawings (1798-1812) in Norwich Castle Museum, London, 1979, p. 90
Notes: The very fame of Walsingham Priory as the most celebrated pilgrimage site in Britain, surpassing even Beckett's shrine at Canterbury, ensured its almost complete destruction at the hands of Henry VIII. Of the church itself, only the east window was left standing; the partially demolished refectory alone remained, with its fine late 13th-century tracery and carved finials, to give any impression of the grandeur of the whole complex. Cotman first visited soon after his return to Norwich in 1806, and produced three of his boldest watercolours. The magnificent arch of the Priory window is now in the National Gallery of Victoria, Melbourne, and the east window of the Refectory in the City Art Gallery, Leeds. The third is this view of the south wall of the Refectory, partially obscured by a great solid block, most likely lime for the building works which were taking place around 1807-8. The sense of mass, and the drama of the sharp silhouette owe a great deal to Girtin, but Cotman introduced his own personal twist on the fashion for the Picturesque ruin with a wealth of distracting incident: untidy stacks of planks, a tool sharpener, a rickety staircase. All put present human concerns before any reverence for antiquity.

Cotman returned to Walsingham in July 1811; he was just embarking on his first set of etchings of Norfolk architecture and wanted to study these important remains afresh. His print of the same subject, 'Part of the Refectory of Walsingham Abbey' (fig. 1), was among the earliest to be completed, in 1812 (historically, it was never more than a priory, despite its familiar designation, then, and now). He took the earlier watercolour as a model, but cropped the more recent Abbey House, concentrating only on the mediaeval arches, accentuating their shape with the change to a vertical format. The print was dedicated to the owner of the house, Henry Lee Warner. It seems likely that the earlier watercolour was chosen by Cotman to draw attention to the forthcoming publication and exhibited at the Norwich Society in 1811, since neither of the other Walsingham subjects was etched.

In 1831 Cotman was approached by the banker Francis Gibson of Saffron Walden, who had admired the latest watercolours exhibited in London. Cotman sold him several of his finest early productions, and Gibson continued to acquire new work from Cotman until the end of the decade. He was virtually the only regular client outside Norfolk in Cotman's entire career. His watercolours were lent by his descendants to every subsequent Cotman retrospective, beginning with London in 1888, then the Tate Gallery in 1922 and finally the bicentenary exhibition of 1982, although this particular work has not been seen in public for more than a generation. Kitson, in his 1937 biography of Cotman, refers to it twice, as 'that superb drawing' and 'the loveliest of the Walsingham drawings', an opinion which the passage of time has more than confirmed.

We are grateful to Timothy Wilcox for preparing this catalogue entry.