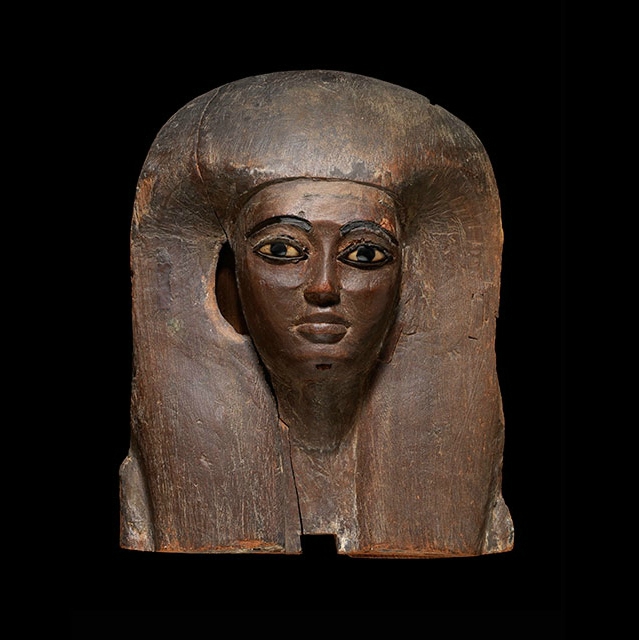 Lot 230. A large Egyptian wood mummy mask, New Kingdom, 18th Dynasty, circa 1550-1295 B.C. Sold for £116,500 (€136,668). Photo: Bonhams.
LONDON.- A stunning Egyptian wood mummy mask dated 1550-1295 B.C which was once in the collection of the renowned Victorian traveller, Jane, Lady Franklin sold for £116,500 at Bonhams Antiquities Sale in London on 7 July. It had been estimated at £100,000-150,000. In total, the sale made £1,101,825.

Lady Franklin (1791-1875) is best known for her exploration of Tasmania in the 1830s and for her ceaseless, and ultimately fruitless, efforts to discover what had befallen her husband, Sir John Franklin, who, with his men, disappeared on an ill-fated Arctic expedition to chart the Northwest Passage in 1845.

It is thought that Lady Franklin acquired the mask in Egypt in 1834 when she travelled down the Nile with her friend, the Rev. Rudolf Lieder. The mask was of a person of high status indicated by the fact that the eyes are separately made and inlaid into the wood. In the 1830s, when Lady Franklin visited Egypt, the main sites of excavation were Saqqara, Abydos and Thebes, and it is likely that the mask comes from one of these places.

Other highlights of the sale include:
Lot 147. A South Arabian alabaster head of a woman, Qatabanian, circa 1st Century B.C.-A.D. Estimate £12,000-15,000. Sold for £122,500 (€143,706). Photo: Bonhams.
With a long neck, the oval face with stylised facial features including arching incised eyebrows above almond-shaped eyes, inlaid with white stone, the long straight nose with a small mouth below, hair falling behind semi-circular ears, set on an alabaster stepped base, 29.5cm (including the base)
Provenance: Property from the Collection of the late Ralph Hinshelwood Daly OBE (1924-2006). In 1955 Daly joined the Colonial Service and was posted to the Aden Protectorates that today form the Republic of Yemen. It was here that he met and married his wife Elizabeth Anne Daly (née Fenton Wells) and acquired the collection of alabaster sculptures. In 1967 the Aden Protectorates became independent from Britain, and Ralph, awarded an OBE for his work, retired from the Colonial Service and returned with Elizabeth to Europe, taking their collection of alabasters with them.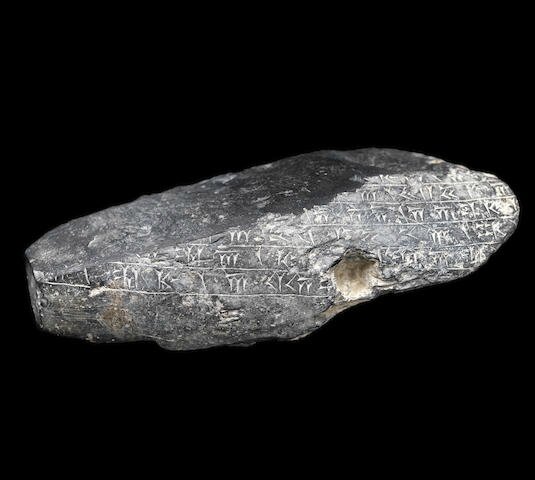 Lot 139. An Achaemenid grey stone inscribed column base fragment, Iran, circa 5th-4th Century B.C. Inscribed with six lines of Old Persian text for King Artaxerxes II Memnon (404-358 B.C.), 31cm long. Estimate £2,000-3,000. Sold for £75,700 (€88,804). Photo: Bonhams.
Provenance: UK private collection.
Christie's, London, 06 October 2011, lot 29.
Sotheby's, London, 21 May 1992, lot 55.
Sotheby's, London, 18 May 1987, lot 87.

Published: P. Knapton, M.R. Sarraf, J. Curtis, 'Inscribed Column Bases from Hamadan', Iran, XXXIX, The British Institute of Persian Studies, 2001, pp. 99-117.
Notes: The complete Old Persian text, reconstructed on the basis of parallel texts, is as follows: 'Saith Artaxerxes the Great King, King of Kings, King of countries, King in this earth, son of Darius the King, of Darius (who was) son of Artaxerxes the King, of Artaxerxes (who was) son of Xerxes who was son of Darius the King, of Darius who was son of Hystaspes, an Achaemenian. By the favour of Ahuramazda, Anaitis, and Mithras, this palace I built. May Ahuramazda, Anaitis and Mithras protect me from evil, and that which I have built may they not shatter or harm', (Kent 1953: 155).
Lot 6. A Cycladic marble head, Late Spedos Type, Early Cycladic II, circa 2600-2200 B.C. Estimate £6,000-8,000.
The finely carved up-tilted lyre-shaped head with stylised elongated pointed nose, set on a long neck, 4cm high
Provenance: American private collection, Midwest, acquired in New York in the early 1980s.

Literature: For further discussion of the type, cf. J. Thimme, Art and Culture of the Cyclades, London, 1977; no. 186 for an idol with a head of similar form.
Bonhams Head of Antiquities, Madeleine Perridge, said, "This sale was particularly strong in Greek artefacts and important objects from private collections. These later were among the top selling lots, demonstrating how the knowledge and enthusiasm of private individuals has played a significant role in keeping the past alive and helping to preserve items which might otherwise have been lost."