Lot 9116. Two carved agate containers, Late Qing-Republic period. Estimate USD 800 ~ 1,200. Sold for US$ 1,625 (€1,467). Photo: Bonhams.
he first thinly sectioned as a curved leaf forming a shallow well rising from reticulated flowering and fruiting branches with two songbirds perched on the rim, the translucent stone marked with russet patches (losses); the second a libation cup of inverted bell form with handles carved as stylized dragons, the translucent stone of gray with a faint golden cast (chipped). 5 and 4 1/4in (12.8 and 10.8cm) long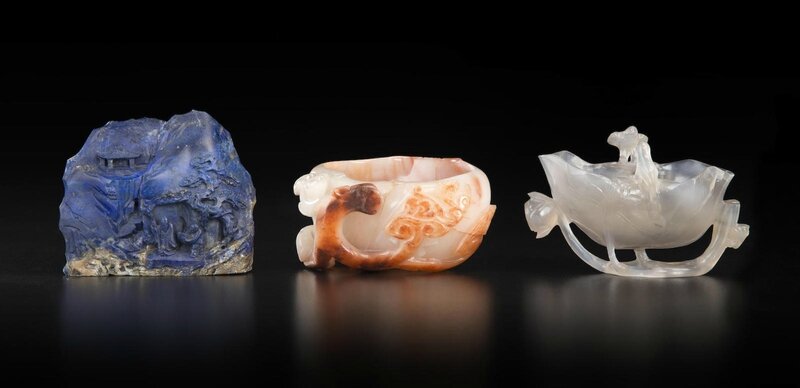 Lot 9117. A group of three carved stone scholar's objects. Estimate USD 1,000 ~ 1,500. Sold for US$ 10,625 (€9,598). Photo: Bonhams.
The first a small lapis lazuli landscape rock with a silvery pyrite vein utilized as a waterfall descending down both sides of a mountain mass with scholars strolling beneath trees on one side and a grove of trees on the other; the second a mottled carnelian libation cup of irregular quatrefoil form deeply undercut from lingzhi fungus branches, one fungus also supporting a tiny crouching dragon (chipped rim); the third a gray agate libation cup of deep lotus leaf rising from lotus bud and flower stems that form the undercut foot, with two birds perched on the rim. 3 1/8 to 3 7/8in (8 to 9.7cm) long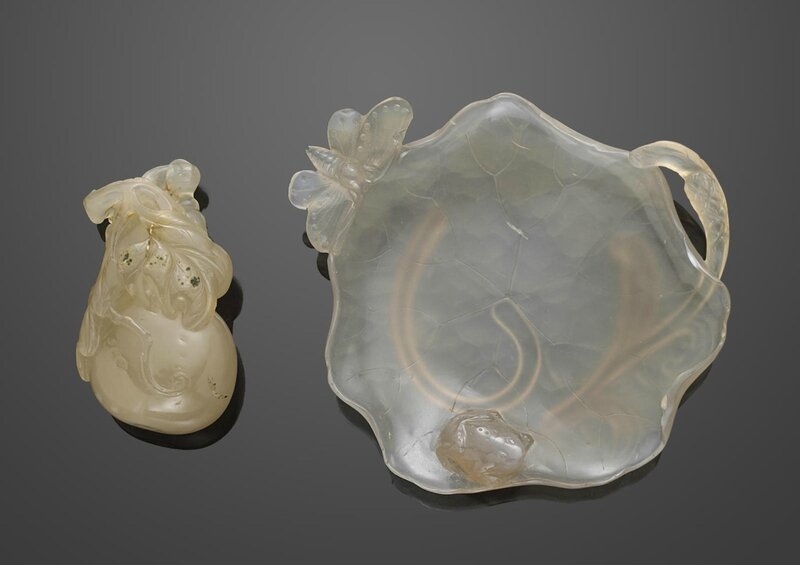 Lot 9118. Two carved agate decorations. Estimate USD 2,000 ~ 3,000 (€1,800 - 2,700). Unsold. Photo: Bonhams.
The first a small lotus leaf-form tray, the thin edges supporting an insect along one edge and enclosing a small frog, all raised upon curled stems to the underside forming the foot rim; the second, a large pendant or toggle carved as a fruiting and leafy vine of double gourds; both carved from stone of whorled translucent gray hue marked by notable natural inclusions (chip to tray). 6in (15.2cm) diameter of first and larger
Lot 9119. A group of three hardstone vases. Estimate USD1,500 ~ 2,500. Sold for US$ 1,000 (€903). Photo: Bonhams.
The first a carnelian baluster vase decorated with a raised and undercut design of Mandarin ducks in a lotus pond, the fitted lid topped with an additional Mandarin duck holding a lotus spray in its mouth, the stone of red and pale honey tones marked with a few black and white areas; the second and third of agate utilizing the opaque brick-red inclusions in the gray-hued stone as part of the design, one carved as two small conjoined vases supported on reticulated flower branches, the side walls with two chi-dragons, the covers with undercut branches bearing blossoms (chips), the other carved with elaborate leafy branches and a pair of loose rings suspending from undercut branch extensions, the cover similarly decorated and topped with an animal (tiny chips). 2 1/2 to 8in (6.4 to 20.3cm) high
Bonhams. ASIAN DECORATIVE ARTS, 2016-06-29 - SAN FRANCISCO