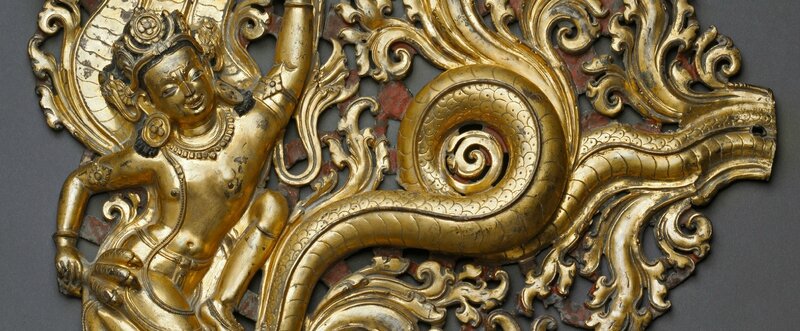 Flying Naga (detail), Nepal or Tibet; 14th century; gilt copper alloy; repoussé 13.75" h. x 15.625" w. x 2" d.; Rubin Museum of Art C2005.16.18 (HAR 65441) © Rubin Museum of Art.
Featuring almost fifty objects from the Rubin Museum's premiere collection of Nepalese art and select loans, Nepalese Seasons: Rain and Ritual illustrates the enduring manifestation of rituals, agrarian festivals, and the natural environment in the art of Nepal's Kathmandu Valley.
This is the first exhibition connecting well-known deities represented in Nepalese art to rituals and festivals surrounding the rainy season, or monsoon, and highlighting the importance of the seasons to the culture and everyday life of Nepalese people. Through this lens, the exhibition will offer visitors a new understanding of the region and its art, which is already renowned for its high quality and aesthetic appeal.
As life in Nepal faces ongoing threats from natural disasters and climatic changes, Nepalese Seasons poignantly illustrates how the country's dependence on monsoon rain continues to play an important role in its agriculture, spirituality, social culture, and art.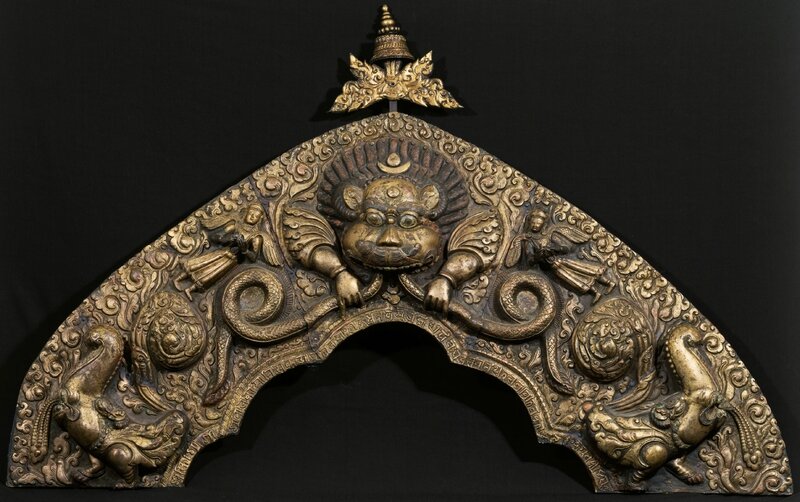 Upper Section of a Torana, Nepal. Dated 1810. Copper alloy; repoussé, 32 x 49 3/4 x 5 5/8 in. (81.3 x 126.4 x 14.3 cm); Rubin Museum of Art, C2003.21.3 (HAR 65234) © Rubin Museum of Art.
Curated by Gautama Vajracharya with the assistance of Elena Pakhoutova
This exhibition is made possible in part by the Ellen Bayard Weedon Foundation. Additional support is provided by public funds from the New York City Department of Cultural Affairs in partnership with the City Council, as well as by contributors to the 2016 Exhibitions Fund.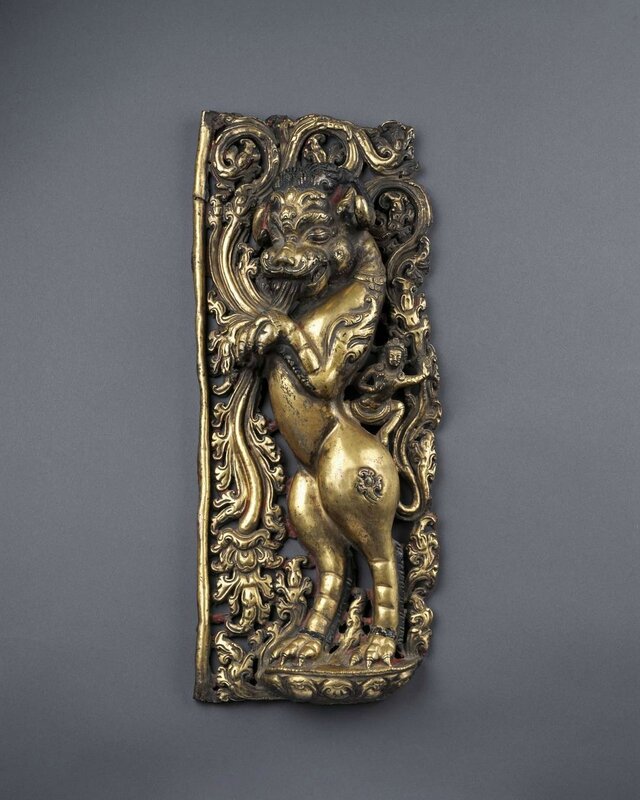 Sharabha, the Creature of the Atmosphere, Nepal or Tibet, 14th or 15th century. Metalwork, repoussé and pigment, 17 1/8 x 7 x 3 in. (43.5 x 17.8 x 7.6 cm); Rubin Museum of Art, C2004.14.9 (HAR 65338) © Rubin Museum of Art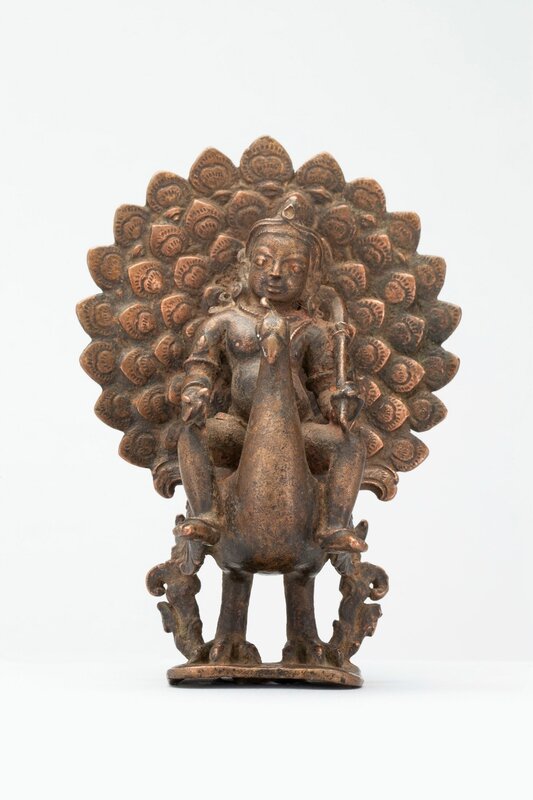 Kumara, Nepal, 11th century. Copper alloy, 4 1/2 x 3 1/4 x 2 in. (11.4 x 8.3 x 5.1 cm); Rubin Museum of Art, C2004.14.10 (HAR 65337) © Rubin Museum of Art
Bunga Dya, Nepal. Dated 1842. Pigments on cloth, 40 1/8 x 23 3/4 x 2 1/8 in. (101.9 x 60.3 x 5.4 cm); Rubin Museum of Art, Gift of Shelley and Donald Rubin, C2006.66.45 (HAR 100013) © Rubin Museum of Art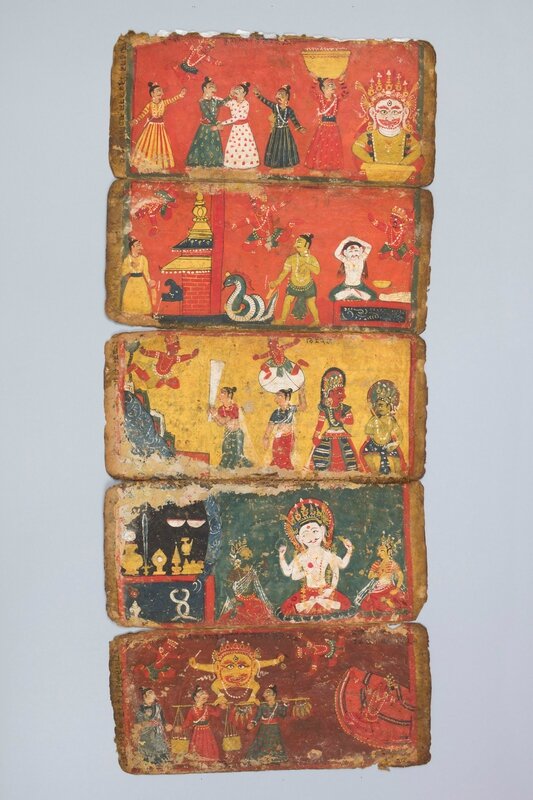 Story of Water, Illustrated Manuscript, Nepal, 17th century. Pigments on paper, 25 1/4 x 11 1/8 in. (61.1. x 28.3 cm); Rubin Museum of Art, Gift of Shelley and Donald Rubin, F1996.31.33 (HAR 100018) © Rubin Museum of Art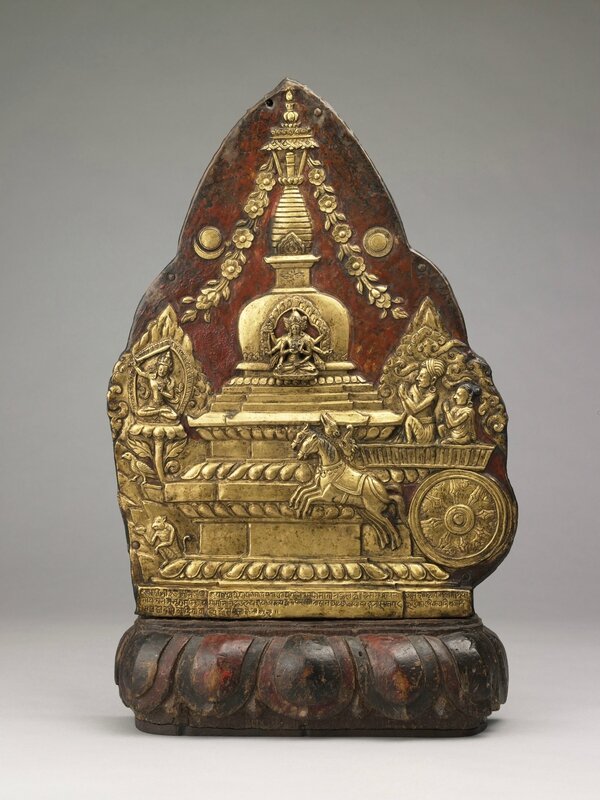 Ushnisavijaya and Celebration of Old Age (Bimarata Ritual), Nepal, Dated 1775. Copper, 17 1/2 x 11 1/2 33/4 (44.5 x 29.2 x 9.5 cm); Rubin Museum of Art, Gift of Shelley and Donald Rubin, C2006.66.63 (HAR 700095) © Rubin Museum of Art
Lakshmi, Nepal, 17th century. Wood, 24 3/8 x 20 1/2 x 8 3/4 in. (62.9.x 52.1 x 22.2 cm); Rubin Museum of Art, Formerly of Joe Gelpey Collection, C2008.1a-b (HAR 65821) © Rubin Museum of Art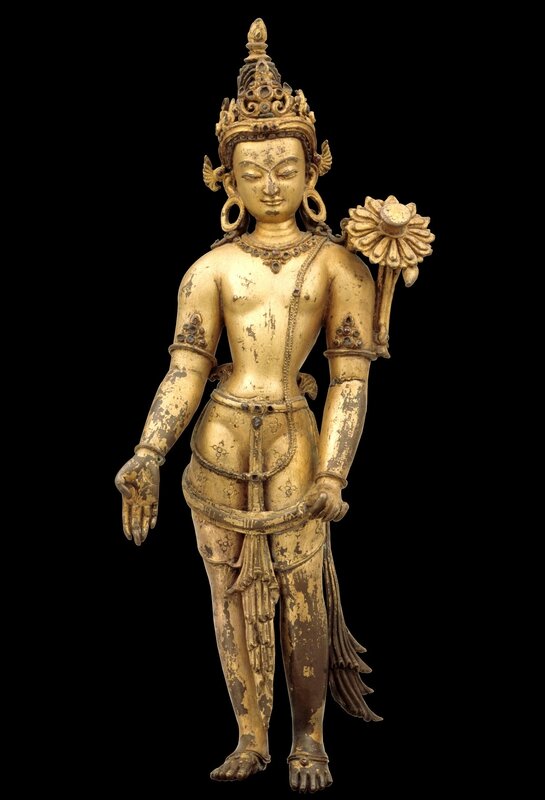 Avalokiteshvara, Nepal, 13th-14th century. Gilt copper alloy with inlays of semiprecious stones , 18 1/8 x 5 1/2 x 4 1/8 in. (45.7 x 14 x 10.5 cm); Rubin Museum of Art, C2005.16.8 (HAR 65430) © Rubin Museum of Art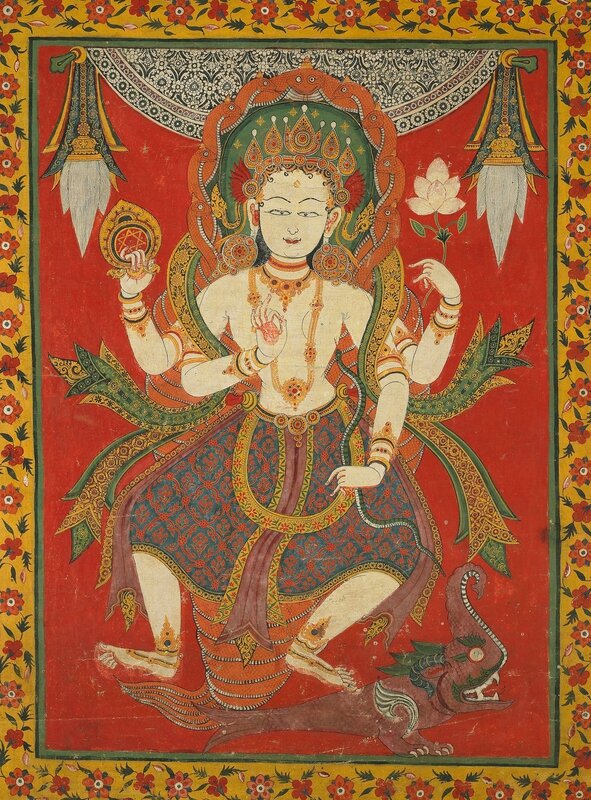 Varunani, Nepal, 17th or 18th century. Pigment on cotton, 23 ¾ x 17 ½ in (59.1 x 44.5 cm); Rubin Museum of Art, C2007.19.1 (HAR 69050) © Rubin Museum of Art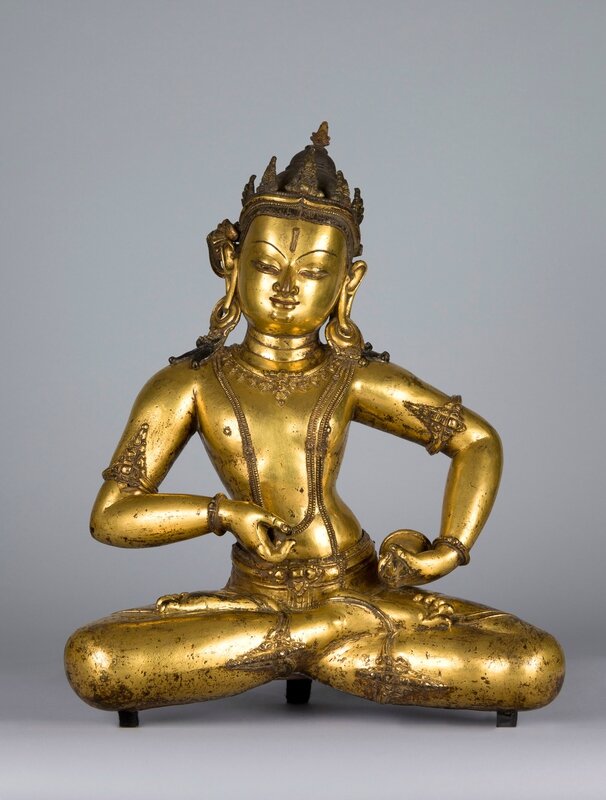 Vajrasattva, Nepal. Gilt copper alloy with traces of pigments, H 6 5/8 x W 4 3/4 x D 1 3/4 in.; Rubin Museum of Art, C2005.16.10, HAR65432 © Rubin Museum of Art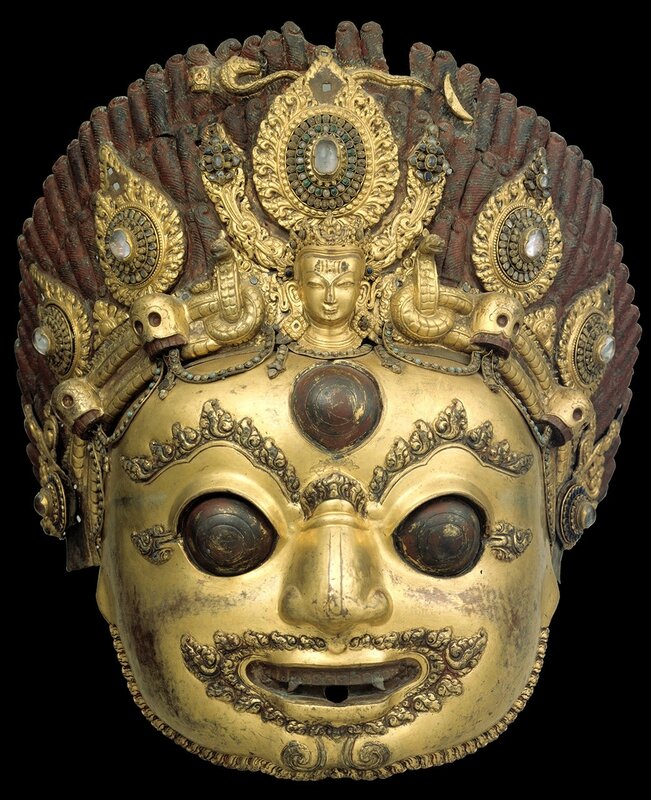 Divine Ancestor Hatha Dyah, Nepal, 16th century. Gilt copper alloy, 27.5" h. x 25.75" w. x 18.375" d.; Rubin Museum of Art, C2005.16.14 (HAR 65436) © Rubin Museum of Art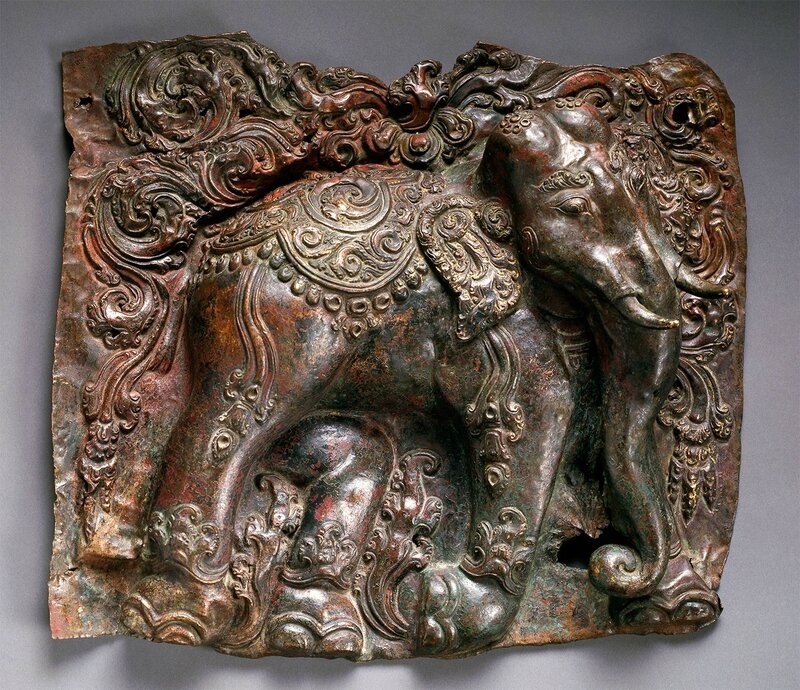 Cloud Elephant, Nepal or Tibet, 18th century. Copper alloy; repoussé, 14 x 15 1/2 x 4 in. (35.6 x 39.4 x 10.2 cm); Collection of Shelley and Donald Rubin, P 1999.33.6 (HAR 700055) © Rubin Museum of Art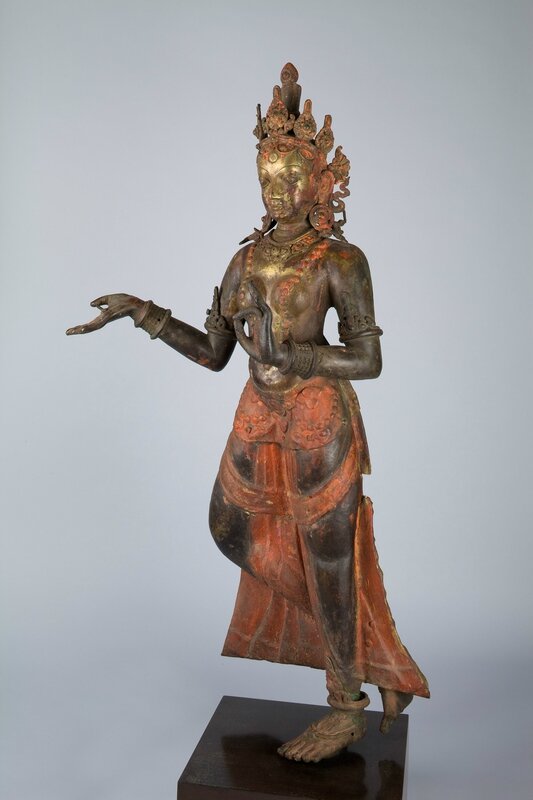 Goddess Shri or Lakshmi, Nepal, 18th century. Copper alloy, 41.125" h. x 19.125" w. x 12.75" d.; Rubin Museum of Art, Gift of Shelley and Donald Rubin, C2006.66.631 (HAR 700023) © Rubin Museum of Art

Temple Banner (Bilampau) depicting Avalokiteshavara's Legends. Described in the Gunakarandavyuha Sutra, Nepal, 17th century. Pigment on cloth, Approx. 14 x 933 in. (35.6 x 22,983.8 cm); Rubin Museum of Art, Gift of Michael Phillips and Juliana Maio, C2007.35 © Rubin Museum of Art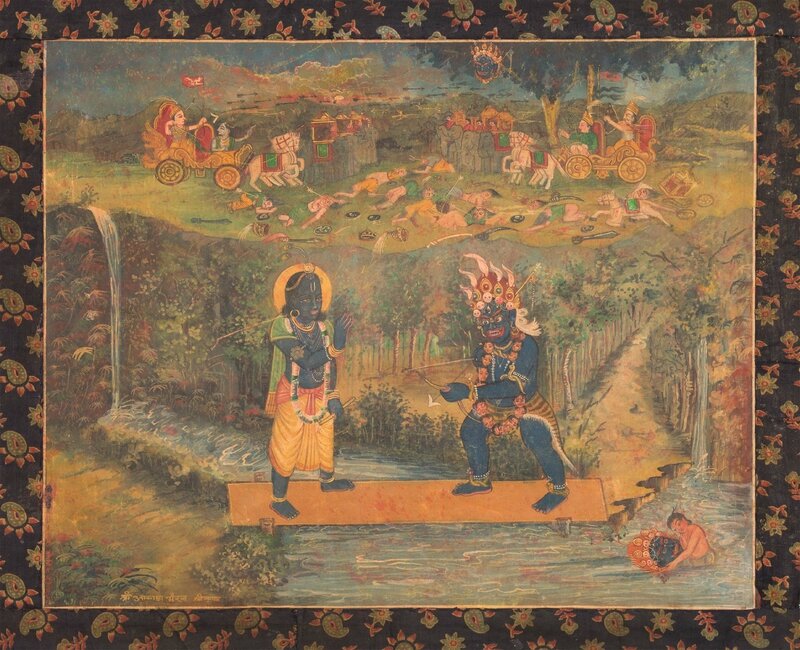 Krishna and Hatha Dya, Nepal, 19th century. Pigments on cloth, 18 3/4 x 22 7/8 in. (47.6 x 58.1 cm); Rubin Museum of Art, C2006.52.1 (HAR 65707) © Rubin Museum of Art