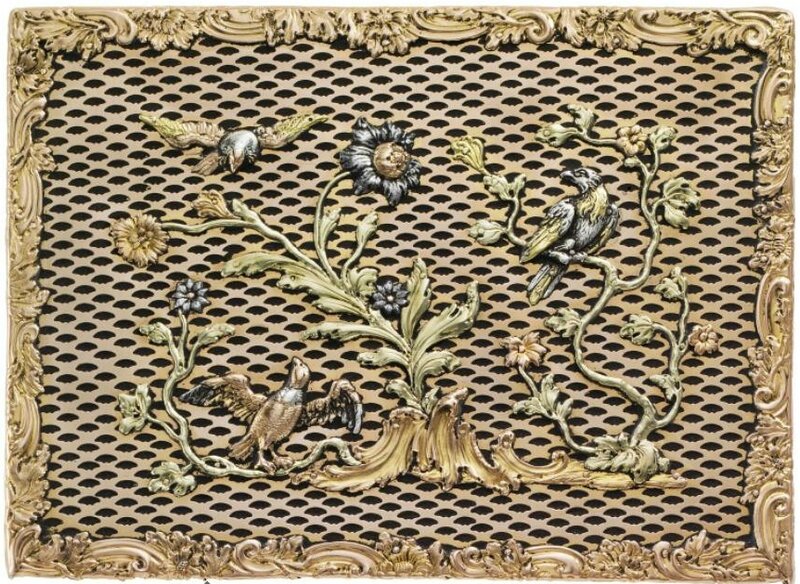 Lot 230. A German four colour gold and powdered shell snuff-box, Berlin, circa 1765. Estimate £100,000 - £150,000 ($129,100 - $193,650). Price Realized £200,500 ($259,848). Photo Christie's Image Ltd 2016
rectangular gold-lined box, the cover, sides and base set with panels of powdered tortoiseshell, overlaid with pierced gold trellis-work and mounted en-cage within chased scalloped gold floral borders, each panel applied with vari-colour gold birds perched amongst trees, flowers and foliage, the interior of the cover set with a miniature attributed to Carl Gustav Klingstedt (Swedish, 1657-1734), en grisaille, of a flautist playing to two ladies; 3 3/8 in. (85 mm.) wide
Provenance: Sotheby's, Geneva, 15 November 1995, lot 415.
Notes: The highly unusual gold trellis-work that overlays the panels on this box should be compared to the very similar trellis-work that covers a jewelled and enamelled box made for Frederick the Great in Berlin circa 1775, illustrated in W. Baeret al., Friedrich der Grosse, Sammler und Mazen, Munich, 1992, no. 132, see catalogue illustration. This extraordinary technique does not seem to have been replicated on any other known box. The sides of this box have applied gem-set flowers and foliage similar in form to the applied vari-colour gold foliage on the present box. The floral designs and bird motifs that were used on these boxes are very similar to the designs found on porcelain that were being made in Berlin at this time. Frederick the Great is arguably the most notable 18th Century Royal collector of vertu and, of all his renowned musical and artistic pursuits, he reputedly took the greatest personal interest in his snuff-boxes. The records of the Royal inventories detail his intense involvement in the creation and commissioning of over three hundred exquisitely made boxes from the time of his accession in 1740 to his death in 1786. The King carried one of his delicately jewelled or colourfully enamelled snuff-boxes with him at all times, famously taking one into battle at Kunersdorf in 1759, where it saved his life by stopping a bullet. Now only twenty-six examples from this renowned Royal snuff-box collection are known to have survived. These expertly made objects are held mainly in Charlottenburg Castle, the Gilbert Galleries at the Victoria and Albert Museum, the Metropolitan Museum of Art and the Louvre, making works by Frederick the Great's acclaimed goldsmiths as rare as they are intricately opulent.
Carl Gustav Klingstedt was born in Riga in 1657 and died in Paris in 1734. Originally a soldier he gave up his military career in 1690 and practised as a miniature painter in Paris. Known popularly as the 'Raphael des Tabatières.' he specialised in painting small figurative compositions, often of a gallant nature, for snuff-boxes. Snowman describes him as 'homme sans moeurs et sans pudeur, qui remplit Paris de miniatures obscènes' , A. Kenneth Snowman, Eighteenth Century Gold Boxes of Europe, London 1966, p. 70.
Christie's. MAGNIFICENT GOLD BOXES FROM A PRIVATE COLLECTION, 7 July 2016, London, King Street