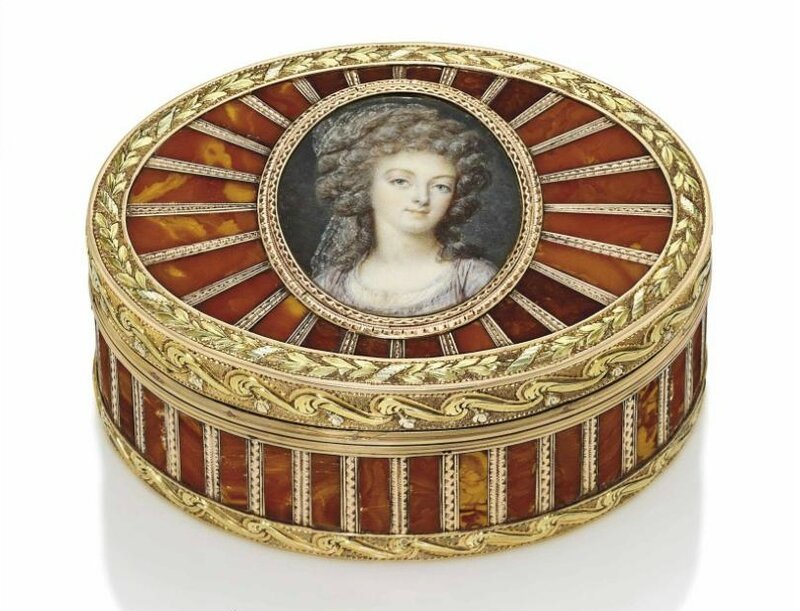 Lot 212. A Louis XV three-colour gold and hardstone snuff-box set with a portrait miniature of Queen Marie-Antoinette of France by Jean-François Breton (Fl. 1737-1791), marked, Paris, 1766-1767, with the charge and decharge marks of Jean-Jacques Prevost, 1762-1768. Estimate £50,000 - £80,000 ($64,550 - $103,280). Price Realized £140,500 ($182,088). Photo Christie's Image Ltd 2016.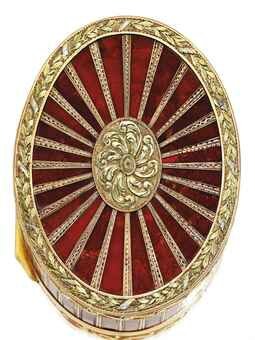 oval box, the cover inset with a slightly later portrait miniature, on ivory, by François Dumont (French 1751-1831) of Queen Marie-Antoinette (1755-1793), the cover, sides and base inset with shaped segments of polished cloudy orange-brown agate over foil, between chased gold strips, within slightly raised vari-colour chased gold foliate outer borders; 3 1/8 in. (78 mm.) wide
The box is reputed to have belonged at one time to Empress Eugenie of France (1826-1920), consort of Emperor Napoleon III of France.
Provenance: Sotheby's, Geneva, 12 November 1980, lot 91.
Notes: François Dumont was one of the greatest and most sought after miniaturists in France during 18th century. He painted a number of portrait miniatures of the Queen from the late 1770s onwards and he became her official court painter. Because of his elevated position at the court of Louis XVI, he was imprisoned during the French Revolution but was released on the fall of Robespierre in 1794. On the Bourbon Restoration he continued to paint for Charles X and King Louis XVIII. Other patrons included prominent artists, musicians and performers of his day.
Christie's. MAGNIFICENT GOLD BOXES FROM A PRIVATE COLLECTION, 7 July 2016, London, King Street