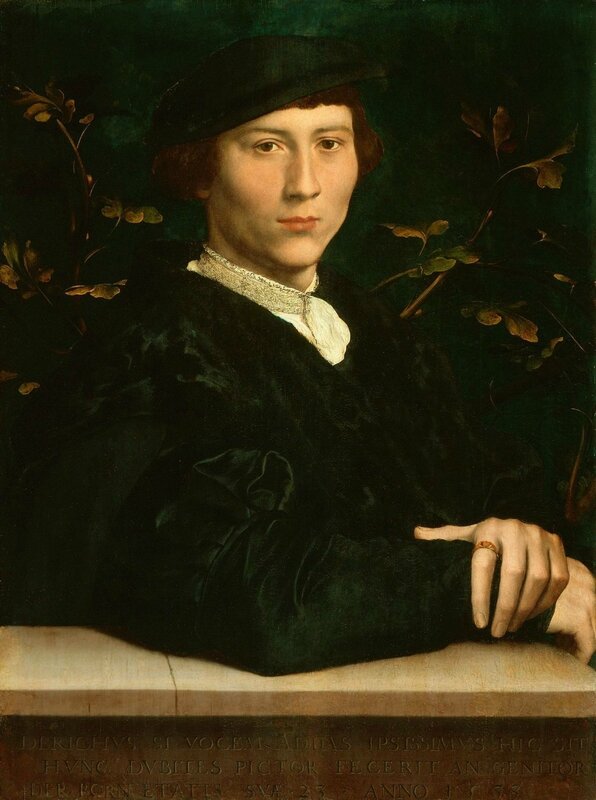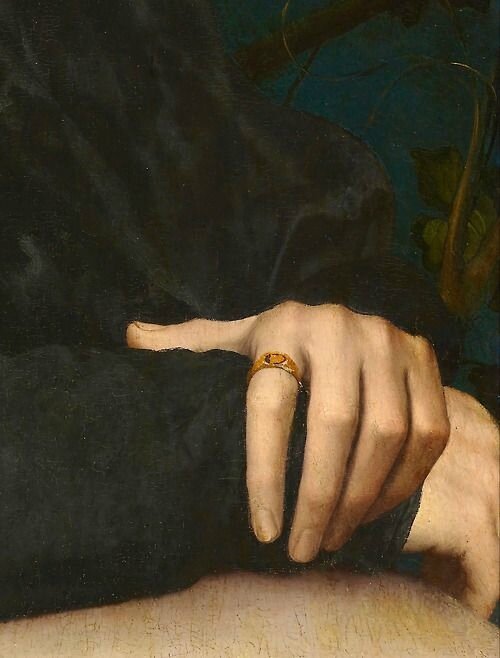 Hans Holbein the Younger (1497-1498-1543), Portrait of Derich Born, 1533. Oil and tempera on oak, 60.3 × 45.1 cm (23.7 × 17.8 in). Royal Collection, Windsor Castle. Royal Collection Trust/© Her Majesty Queen Elizabeth II 2016
After he first returned to England from Basel in 1532, Holbein painted a series of portraits of Lutheran merchants of the Steelyard, on the north bank of the Thames. The Cologne merchant Derich Born (1510–49) was at 23 the youngest of his sitters from that community. Born later supplied Henry VIII with military equipment and in 1541 became involved in a dispute with the Duke of Suffolk which led to his expulsion from the Steelyard, lest his quarrel endanger trading privileges there.
The simplified composition was innovative for Holbein and contrasts with his elaborate portrait of the merchant Georg Gisze. The work alludes to Leonardo da Vinci's Mona Lisa and perhaps also to Titian and other Italian portrait styles. The device of the parapet follows the style of Holbein's earlier Venus and Amor and Lais of Corinth, which may have been influenced by the use of the balustrade device in the work of the Venetian artist Giovanni Bellini. The Latin inscription translates: "If you add the voice, Derich is here in person, so that you will doubt whether the painter or the Creator made him".
References: Stephanie Buck, Hans Holbein, Cologne: Könemann, 1999, ISBN 3829025831, pp. 94–96.
Susan Foister, Holbein in England, London: Tate, 2006, ISBN 1854376454, pp. 146–47.
Roy Strong, Holbein: The Complete Paintings, London: Granada, 1980, ISBN 0586051449, p. 10.