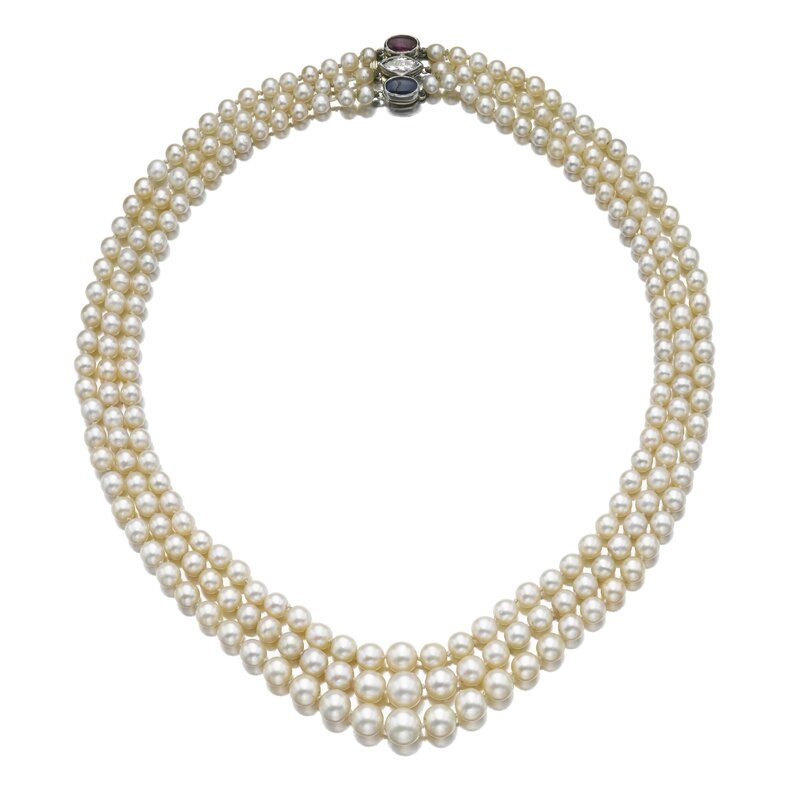 Lot 405. Natural pearl, gem set and diamond necklace, Petochi. Estimate 95,000 — 140,000 CHF. Lot sold 302,500 CHF. Photo: Sotheby's 2012
Designed as three graduated rows of natural pearls measuring from approximately 4.0 to 9.3mm, on a clasp set with a marquise-shaped diamond and a cabochon sapphire and ruby, length approximately 450mm, signed G. Petochi, Italian assay marks.
Accompanied by SSEF report no. 64704, stating that the pearls were found to be natural, saltwater.
Note: Alessandro and Giuseppe Petochi came from a long line of goldsmiths and jewellers. Born in the 1850s near Trivigliano-Fiuggi, the cousins moved to Rome in 1876 where they opened their first shop, in 1884. Known for their fine quality of craftsmanship, they became greatly successful in the 1920s following their move to palazzo Torlonia on Via Bocca di Leone. It is here where they were discovered by prince Alessandro Torlonia who presented them to many of Rome's greatest families including the Borghese, the Colonna, the Odescalchi, the Pallavicini, and the Del Drago, to name but a few. In 1939 the Petochi participated in the New York's World Fair while at this time also producing jewellery for various royal houses of Europe. Today, in their fifth generation, the Fratelli Petochi passionately continue to produce some of Italy's finest jewels.