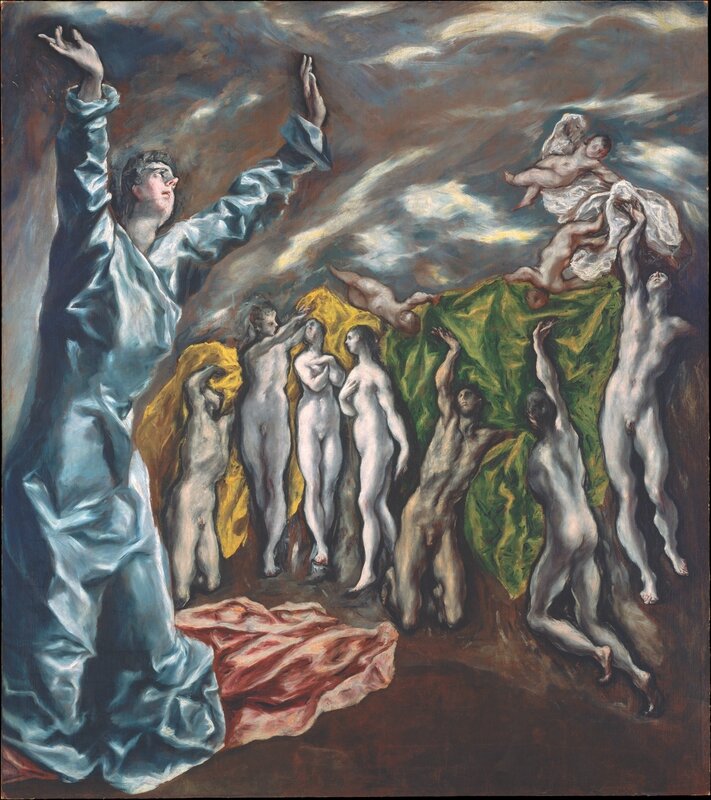 El Greco (Domenikos Theotokopoulos) (Greek, Iráklion (Candia) 1540/41–1614 Toledo), The Vision of Saint John, ca. 1609–14. Oil on canvas, 87 1/2 x 76in. (222.3 x 193cm); with added strips 88 1/2 x 78 1/2 in. (224.8 x 199.4 cm) [top truncated]. Rogers Fund, 1956; 56.48 © 2000–2016 The Metropolitan Museum of Art.
This now fragmentary canvas was one of three altarpieces commissioned for a hospital outside Toledo that were left unfinished at the artist's death. Two were completed by the artist's son, but this work remained incomplete. Here, the unfinished sky and foreground, against which the figures seem to float, add to the altarpiece's mesmerizing quality. The scene depicts the opening of the fifth seal, as described in the Book of Revelation: Saint John looks up ecstatically, having seen the "souls of them that were slain for the word of God." The upper portion of the painting, almost certainly very damaged, was cut off in the 1880s.

This work had an enormous impact on 20th-century artists from Picasso, who saw it in a studio in Paris in 1905, to Thomas Hart Benton and Jackson Pollock. All were inspired by the power of its weightless forms and highly charged atmosphere.
This work is exhibited in the "Unfinished: Thoughts Left Invisible" exhibition, on view through September 4th, 2016. #MetBreuer