Lot 9044. A white and russet jade snuffbottle, 1770-1830, 5cm. Estimate USD 15,000 ~ 20,000. Photo: Sotheby's
NEW YORK, NY.- Bonhams presents a week of Asian Art, Sept. 9-16, with auctions that cover a wide range of Chinese, Japanese and Korean art in New York. These sales will be accompanied by a special exhibition preview of Bonhams' inaugural Hong Kong auction of Indian, Himalayan and Southeast Asia art.

"The Fleming collection is a testament to the highly refined tastes of a beloved Denver philanthropic couple guided by major figures in the field of Chinese furniture and works of art. Bonhams has become a world leader in the Chinese snuff bottle field — offering choice, fresh collections in highly curated auctions of Chinese works of art is the centerpiece of our strategy," said Head of Asian Art for Bonhams North America Dessa Goddard. "As the market leader in global sales of Japanese art, the week's auction of fine Meiji period cloisonné, metalwork, among others kicks off a stunning fall season for Japanese art at Bonhams."
CHINESE FURNITURE COLLECTION, SNUFF BOTTLES & WORKS OF ART
On Sept. 12, the Asian sales start full-swing with A Taste for the Remarkable: The John and Celeste Fleming Collection of Chinese Furniture and Works of Art. The 20-lot single-owner sale is comprised of fine highly desirable 16th-18th century huanghuali and zitan wood furniture, as well as early Chinese metalwork. The Flemings were devoted patrons of Asian art in Denver, Colo. and actively participated with important organizations such as the Asian Performing Arts Council, Denver Art Museum and Opera Colorado.

An important highlight of this collection is a rare huanghuali four-poster bed, late Ming dynasty, estimated at U.S. $250,000-400,000. The Flemings purchased their furniture in the mid to late 1990's from Grace Wu Bruce, a world-renowned dealer of 16t-17th century furniture. Under her guidance, they carefully built a stellar collection of Ming furniture which graced their elegant Japanese style home.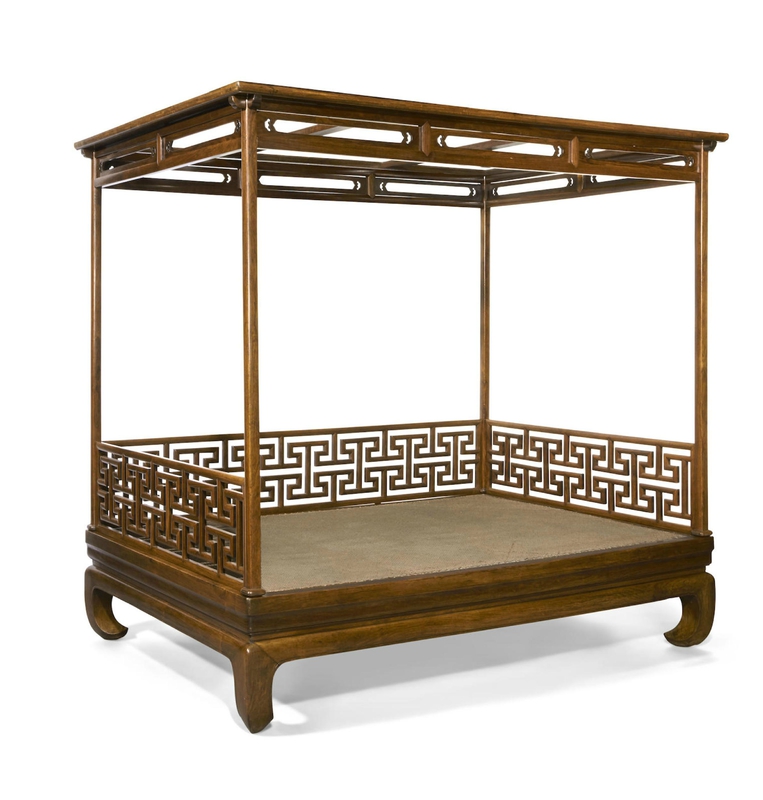 Lot 6020. A rare huanghuali four-poster bed, late Ming dynasty, 204x209x146cm. Estimate U.S. $250,000-400,000. Photo: Bonhams.
Provenance: Grace Wu Bruce, purchased 4 October 1996
On loan and exhibited: The Denver Art Museum, 1996 - 2016, (Loan 227.1996)
Following this first sale on Sept. 12, Bonhams will host Chinese Snuff Bottles from American Collections and Chinese Works of Art and Paintings.

Chinese Snuff Bottles features 140 lots of fine jade, glass and inside-painted bottles. Sourced from private collections in the United States, the sale includes a grouping from the collection of the late Elsa Glickman, who passionately studied, collected and wrote about Chinese snuff bottles. One of the highlights from this auction is an amber snuff bottle (1770-1830), estimate U.S. $15,000-25,000. It is meticulously carved as a squatting boy, holding a double gourd — a popular motif in Chinese art symbolizing a wish for numerous offspring. The form is akin to similarly sized porcelain examples from the corresponding late Qianlong and Jiaqing periods.
Lot 9039. An amber snuff bottle, 1770-1830, 5.7cm. Estimate U.S. $15,000-25,000. Photo: Bonhams.
Property from the Elsa Glickman Collection
Provenance: Hugh Moss Ltd., 6 May 1998
Chinese Works of Art and Paintings include paintings, calligraphy, fine silk textiles, archaic and later bronze vessels, jades, scholar's rocks, and a group of huanghuali furniture from the prominent collection of Mark Pratt, totaling 145 lots. Among the top lots is a Western Zhou dynasty bronze ritual food vessel (ding), formerly in the collection of the Monterey Museum of Art (estimate U.S. $50,000-80,000). Standing a just over seven inches, the vessel nonetheless has a monumental stature with crisply cast decoration and a striking profile. An unusual late Shang dynasty beaker vase (gu), also from the Monterey Museum of Art, commemorates by inscription the investiture of rank to a member of the Zhu clan (estimate U.S. $40,000-60,000).
FINE JAPANESE & KOREAN MASTERPIECES
Building on the strong results from last March, Bonhams presents a 322-lot strong Fine Japanese and Korean Works of Art auction on Sept. 14. The sale features a group of Meiji period masterpieces from the studios of Ando Jubei, Namikawa Yasuyuki, Namikawa Sosuke and Yabu Meizan, among others.

Bonhams is the only major auction house that will hold a dedicated Japanese and Korean art sale this season.

A fine cloisonné-enamel and partial plique-a-jour square bowl by Ando Jubei will be on the auction block, (estimate U.S. $70,000-90,000). Decorated in the interior with a single crab in gold and silver wires, this bowl is a testament to Ando's genius. He combined three different and highly-challenging techniques to create this extraordinary design. In addition to fine and decorative Japanese works, the auction also offers swords, armor and accouterments. Among the five select full suits of armor is a notable 18th century example built around a helmet (dated 1512) by renowned smith Myochin Nobuie (estimate U.S. $25,000-35,000).

For Korean art collectors, the sale features an attractive group of Buddhist sculptures, furniture, scholar objects and a fine selection of ceramics primarily from an important private collection. A large blue and white porcelain dragon jar from the Joseon dynasty stands nearly 21-inches tall (estimate U.S. $20,000-25,000).
PREVIEW OF INAUGURAL HONG KONG AUCTION
As an integral part of Asian Art Week at Bonhams New York, the Indian, Himalayan and Southeast Asian department presents an exhibition preview of its inaugural auction in Hong Kong titled Images of Devotion: Including Masterpieces from the Collection of Ulrich von Schroeder. On view will be more than 20 highly important works of art, including a monumental Tibetan brass figure of one of Vajrayana Buddhism's primary protector deities, Canda Vajapani from the 13th century, which represents the most important surviving Tibetan brass sculpture of any period (estimate HK $22,000,000 – 28,000,000, or U.S $2,800,000-3,600,000), and a superb Tibetan mandala for the "Goddess of Light", Marici from Central Tibet (estimate HK $16,000,000 – 24,000,000, or U.S. $2,000,000 – 3,000,000), representing two out of many examples of this stunning, museum-quality group.