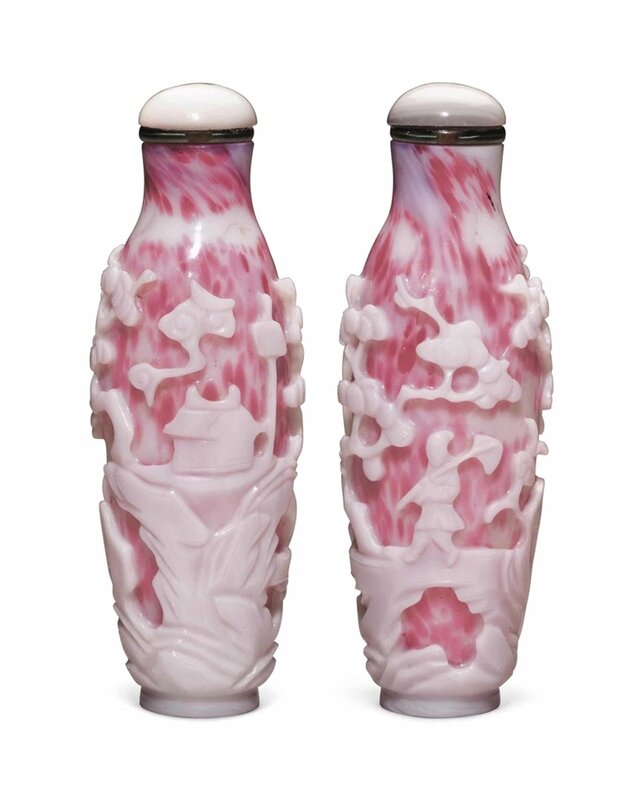 Lot 557. A rare white-overlay sandwiched pink glass snuff bottle, possibly Palace Workshops, Beijing, 1770-1840. Estimate USD 7,000 - USD 9,000. Photo Christie's Image Ltd 2016.
The bottle is carved through the semi-opaque white overlay to the mottled pink and white ground with a continuous scene of a farmer walking on a rocky path towards his home, beneath pine branches and clouds. 3 ¼ in. (8.3 cm.) high, shell stopper.
Provenance: Bentley Collection, England.
Sotheby's London, 23 March 1988, lot 106.
Asian Art Studio, Los Angeles, California, 2009.
Ruth and Carl Barron Collection, Belmont, Massachusetts, no. 4957.
Literature: Asian Art Studio, The Bentley Collection of Chinese Snuff Bottles, 2008, p. 27.
Notes: It is rare to find a combination of sandwiched glass (where a color is contained between transparent or translucent layers) and overlay. In this case the opaque white glass overlay has been cut away to reveal the speckled effects of sandwiching ground-up flakes of ruby-red glass between layers of white. The selection of the subject is masterful, with the white landscape containing a farmer returning to his mountain home cut through the outer opaque white glass layer revealing the sandwiched pink layer and suggesting the background of filtered light from a pink and red setting sun.

A bottle of a similar color palette and technique, but in the form of a cabbage, was sold at Christie's New York, The Ruth and Carl Barron Collection of Fine Chinese Snuff Bottles: Part II, 16 March 2016, lot 491.
Christie's. The Ruth and Carl Barron Collection of Fine Chinese Snuff Bottles: Part III, 14 September 2016, New York, Rockefeller Plaza