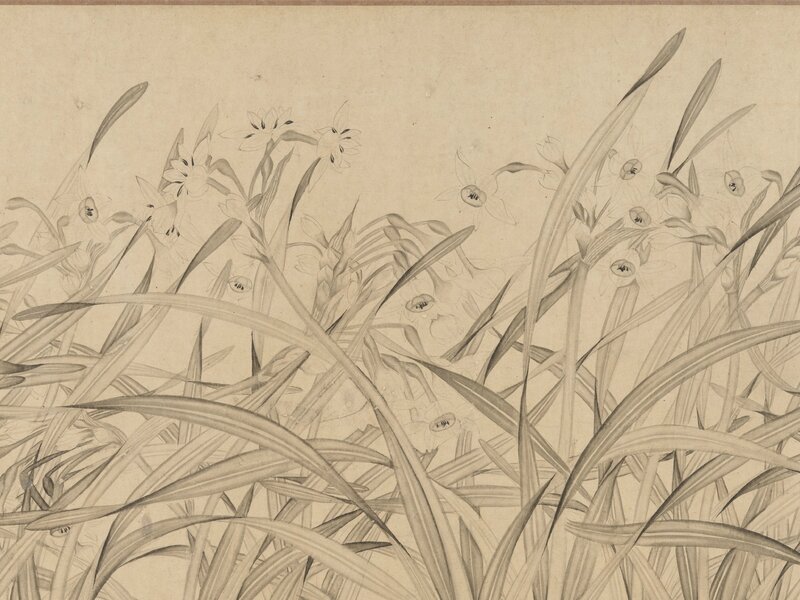 Zhao Mengjian (Chinese, 1199–before 1267), Narcissus 南宋 趙孟堅 水仙圖 卷, mid-13th century, Southern Song dynasty (1127–1279). Handscroll; ink on paper. Image: 13 1/16 in. × 12 ft. 3 1/4 in. (33.2 × 374 cm) Overall with mounting: 13 7/16 in. × 32 ft. 7 3/16 in. (34.1 × 993.6 cm). Ex coll.: C. C. Wang Family, Gift of The Dillon Fund, 1973. The Metropolitan Museum of Art, 1973.120.4 © 2000–2016 The Metropolitan Museum of Art.
Zhao Mengjian, a member of the Song imperial family and an accomplished scholar and calligrapher, specialized in painting narcissi and raised the flower to the level of the orchid in the esteem of scholars. Offering the promise of spring, the narcissus is known in Chinese as the "water goddess" (shuixian) or the "goddess who stands above the waves" (lingbo xianzi). The fragrant blossoms are associated with the two goddesses of the Xiang River and, by extension, with Qu Yuan (343–277 b.c.), author of Li Sao (On Encountering Sorrow). Qu Yuan, a loyal minister of the state of Chu, drowned himself in a tributary of the Xiang River after failing to alert his prince of the imminent danger threatening the state.

In a poem appended to the scroll after the Mongol conquest, the Song loyalist Qiu Yuan (1247–after 1327) describes Zhao's narcissi as the only vision of life in an otherwise devastated land:
The shiny bronze dish is upset,
and the immortals' dew spilled;
The bright jade cup is smashed,
like broken coral.
I pity the narcissus for not being
the orchid.
Which at least had known the
sober minister from Chu.
This work is exhibited in the "Masterpieces of Chinese Painting from the Metropolitan Collection" exhibition, on view through October 11th, 2016.