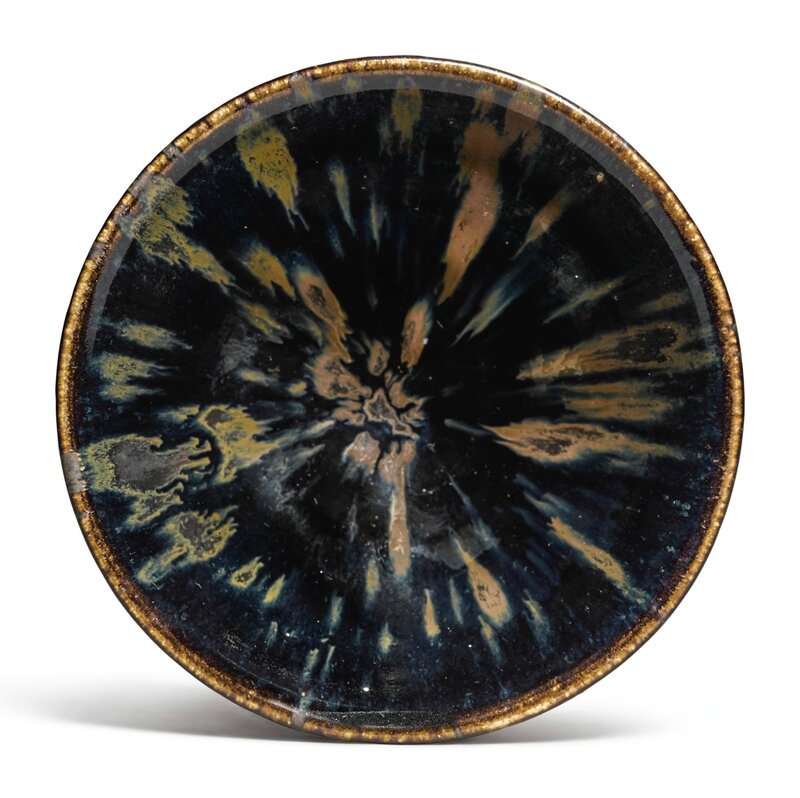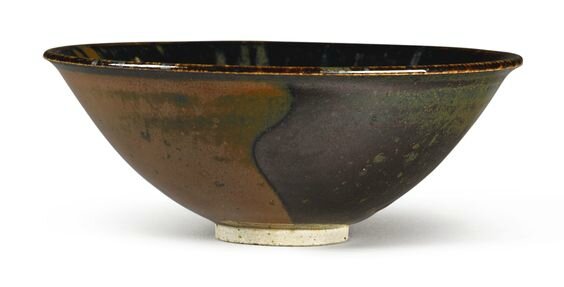 Lot 108. A rare 'Ding-type' russet-splashed 'partridge feather' bowl, Northern Song-Jin dynasty. Estimate 120,000 — 150,000 USD. Photo Sotheby's
well potted, with gently rounded sides rising from a short straight foot to an everted rim, the interior covered with a lustrous black-brown glaze, thinning to a caramel-brown at the rim and applied with russet 'partridge feather' streaks, the exterior covered in a purplish-brown glaze and applied on one side with an iron-oxide slip to form a russet 'skin', producing an unusual color contrast, stopping neatly above the foot, the center of the base similarly glazed. Diameter 4 3/4 in., 12.1 cm
Note: Decorated with an irregular pattern of small splashes of iron oxide that create the stunning effect of small partridge feather mottles, this bowl belongs to one of the rarest and highly prized groups of Song wares. While the Ding kilns are widely known for white-glazed wares, a small number of fine vessels covered in black, russet and mottled glazes were also produced. These were highly sought after by collectors and connoisseurs already in the Ming dynasty, as expressed by Cao Zhao in his Gegu yaolun [The Essential Criteria of Antiquities], from 1388, where he mentions: "There is also brown Ding, whose color is purplish brown, and there is black Ding, whose color is lacquer black; [both] have pure white bodies; [their] prices exceed those of white Ding" (translated in Robert D. Mowry, Hare's Fur, Tortoiseshell and Partridge Feathers, Cambridge, Mass, 1995, p. 28).
The rarity of this type of ware is evident in the small number of russet-splashed vessels unearthed at the Ding kilns in Quyang county, Hebei province. Two reconstructed bowls, both of conical shape with straight sides, covered in a similar mottled glaze are known: one is illustrated in Selection of Ding Ware. The Palace Museum's Collection and Archaeological Excavation, Beijing, 2012, pl. 97; and the other is published in Series of China's Ancient Porcelain Kiln Sites. Ding Kiln of China, Beijing, 2012, pl. 129. Contrary to white Ding vessels produced in the late 11th century and early 12th century, which were fired upside down to achieve maximum kiln capacity, black-glazed Ding ware were fired upright in their own saggars.
Ding vessels covered in this glaze are known in important private and museum collections worldwide; a conical bowl in the National Palace Museum, Taipei, was included in the Museum's exhibition Song ci tezhan [Special exhibition of Song Wares], Taipei, 1978, cat. no. 4; one in the Arthur M. Sackler Museum, Harvard University Art Museums, is illustrated in Robert D. Mowry, op. cit., pl. 16; another from the collections of Mr and Mrs Eugene Bernat and the Mannō Art Museum, Osaka, included in the exhibition Chūgoku no tōji. Tokubetsuden [Chinese ceramics. Special exhibition], Tokyo National Museum, Tokyo, 1994, pl. 155, was sold at Christie's Hong Kong, 28th October 2002, lot 515; and a foliate dish, from the collections of Alfred Clark, the Idemitsu Museum of Arts, Tokyo, and the collection of Francisco Capelo, was sold in our London rooms in 1975, at Christie's New York in 2002, and again in our London rooms, 12th May 2010, lot 153.
The form of this vessel, with gently flaring sides and lipped rim is more commonly seen on Ding bowls covered in a monochrome black glaze, such as one excavated from a Ding kiln in Quyang county, illustrated in Series of China's Ancient Porcelain Kiln Sites. Ding Kiln of China, op. cit., pl. 127; two bowls included in the exhibition Song Ceramics, The Museum of Oriental ceramics, Osaka, 1999, cat. nos 37 and 38, one from the MOA Museum of Art, Atami, and the other in a private collection; and another sold in these rooms, 15th September 2015, lot 41.
Sotheby's. Important Chinese Art, New York, 13 sept. 2016, 10:30 AM