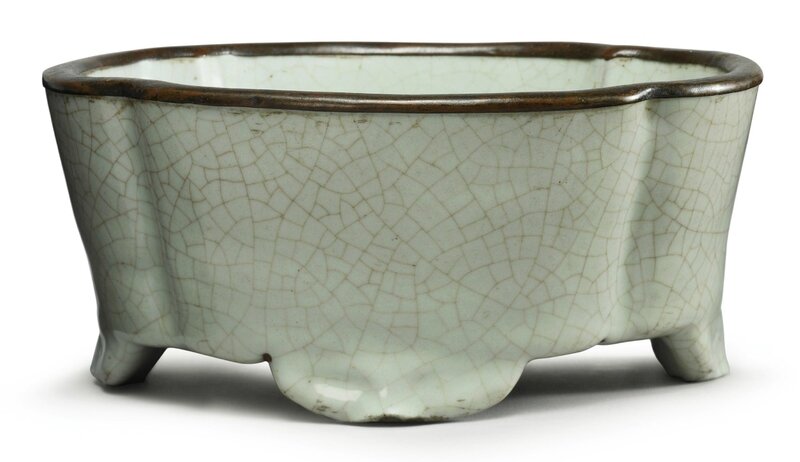 Lot 147. A rare 'Guan' planter, Yuan-Ming Dynasty, circa 12th-14th century. Estimate 60,000 — 80,000 USD. Photo: Sotheby's
of quadrilobed form, supported on four ruyi-shaped feet, covered overall in a lustrous silky glaze of grayish-celadon tone, suffused with a fine network of luminous golden-beige crackles, the interior with a central aperture surrounded by four dark-brown spur marks, the rim bound in metal. Length 9 3/8 in., 23.7 cm
Provenance: Collection of Wah L. Liu, New York
Note: Unusual for its large size, this planter appears to have been inspired by the similarly sized and robust wares of the Jun kilns. Compare four flowerpots of this form, raised on ruyi-form feet, in the Palace Museum, Beijing, illustrated inSelection of Jun Ware. The Palace Museum's Collection and Archaeological Excavation, Beijing, 2013, pls 62-65; and two narcissus bowls, in the National Palace Museum, Taipei, illustrated in A Panorama of Ceramics in the Collection of the National Palace Museum: Chun Ware, Taipei, 1999, pls 45 and 46.

Compare smaller Song dynasty Ge censers with similarly-shaped ruyi feet, such as one with steep curved sides supported on five feet and five short posts set at the rim, sold in our London rooms, 12th July 2006, lot 48; and a wide barrel-shaped censer raised on three feet, attributed to the Song/Yuan periods, sold in our London rooms, 2nd May 1995, lot 8.

The lobing and the oval contour of this vessel follow in the Tang silverware tradition, the forms of which were reproduced in ceramics as seen in a four-lobed stoneware bowl, from the Buffalo Museum of Science, New York, illustrated in William Watson, Tang and Liao Ceramics, London, 1984, pl. 294. The original silver shapes were later combined with archaic bronze vessel forms, replacing the tapering sides with straight walls with an everted rim to form flower pots.

The thick luminous glaze on the present piece was probably created by applying several layers and low-fired between each application. For final firing, large pieces such as the present were placed on stands and then fired at a relatively low temperature so that the material would become slightly cloudy during cooling. Firing in reducing conditions yields shades of blue, gray-blue and bluish green, while oxidizing conditions yield pinkish beige to gray shades such as the present. Crackle of varying density was created as a result of the contraction between body and glaze and sometimes deliberately tinted by the potter when the item was still hot out of the kiln; on cooling the cracks would close up and trap the pigment. Finer secondary crackles would appear over the ensuing weeks and months.
The dating of this lot is consistent with the result of a thermoluminescence test, Oxford Authentication Ltd., sample no. P116c36.
Sotheby's. Important Chinese Art, New York, 13 sept. 2016, 10:30 AM