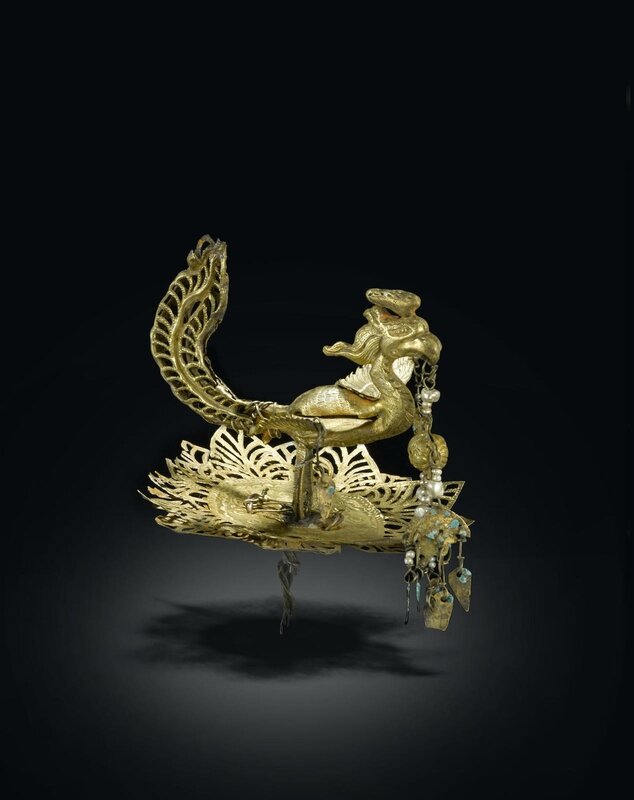 Lot 6006. A rare gilt silver head ornament in the form of a phoenix, 9th-11th century. Estimate US$ 10,000 - 15,000 (€8,900 - 13,000). Photo: Bonhams.
The finely modeled crested bird with chased hollow body set off by a high crested tail and separately fashioned openwork wings attached through the body and pierced with two small holes at each tip suspending pendant chains, a further cluster of ornaments and chains falling from the slender beak, the small legs inserted through a bed of delicately fashioned layers of lotus petals. 3in (7.6cm) high
Provenance: J. J. Lally, purchased 20 December 1993.
On Loan and Exhibited: The Denver Art Museum, 1999 - 2016; (Loan 795.1993).
Notes: See a similar model exhibited in the Reitberg Museum, Zurich, 1991, from the Dali Kingdom, Yunnan, and illustrated in the catalog Der Goldschatz der Drei Pagoden, no.22.

See also a similar model founded at the Famen Temple in Precious Cultural Relics in the Crypt of Famen Temple, no. 58. The Famen temple can be dated, through a discovered stone inscription, to the Tang dynasty, and had been sealed from the fifteenth year of Wentong, during the reign of the Tang Emperor Xizong (AD 873). There are pair of similarly executed phoenix birds over the lintel of the Famen crypt entrance, illustrated as cat. no. 14. Tang pottery female figures are often shown with a phoenix-bird ornament as a centerpiece in their official court headdresses.

See a closely related silver-gilded hair ornament found in the Chifeng district and published in Asia Society exhibition,Gilded Splendor: Treasures of China's Liao Empire (907-1125),, New York, 2006, pp 156-157. Both a Chinese and a Khitan feminine symbol, it is likely that these ornaments were hair ornaments for an elite woman. The hooked beak may also be related to the Khitan passion for falconry, part of the ritual hunting calendar and conducted in the early spring. See Emma C. Bunker, Julia M. White and Jenny F. So, Adornment for the Body and Soul: Ancient Chinese ornaments from the Mengdiexuan Collection, pp. 19-22, 274 and 278.
Bonhams. THE JOHN AND CELESTE FLEMING COLLECTION OF CHINESE FURNITURE AND WORKS OF ART, 2016-09-12 10:00 EDT - NEW YORK