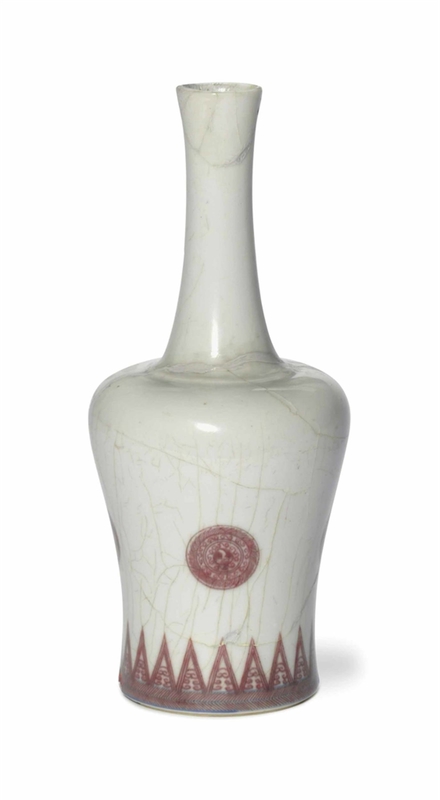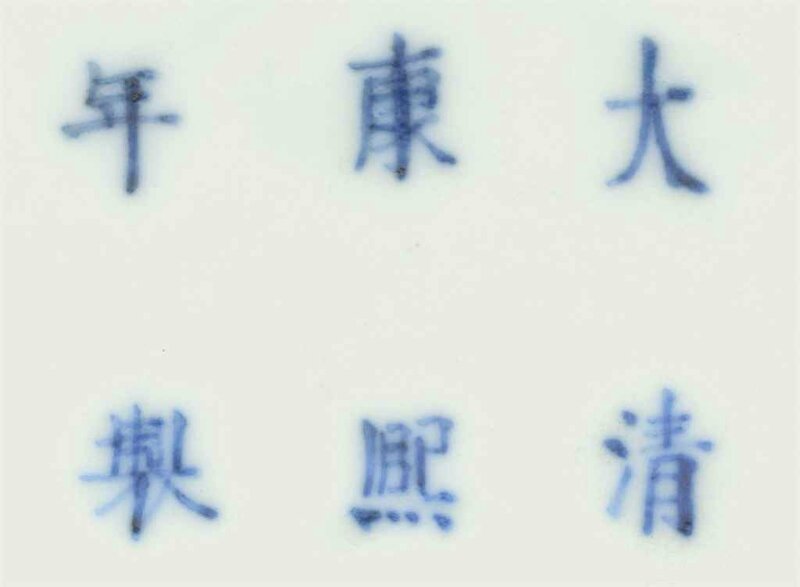 Lot 920. An underglaze copper-red and blue 'mallet' vase, yaoling zun, Kangxi six-character mark in underglaze blue and of the period (1662-1722). Estimate USD 6,000 - USD 8,000. Photo Christie's Image Ltd 2016.
The high-shouldered body is finely painted in copper red with four circular medallions in the form of archaistic mirrors positioned above a band of upright blades rising from a herringbone band divided and outlined by fine lines in pale underglaze blue, beneath the tall, slightly waisted neck which rises from a bow-string band at its base. 9 in. (22.7 cm.) high.
Provenance: Robert West Collection.
The Metropolitan Museum of Art, New York, accessioned in 1950.
Notes: The elegant form of this vase, with its long, slender, slightly waisted neck rising from pronounced shoulders, is particularly associated with the Kangxi reign. In Chinese the name often given to this form is yaoling zun, or 'hand bell vase'. The reference is to bronze bells, which formed part of the repertoire of Chinese instruments used in formal secular and religious music, although pottery bells of similar, if less refined form, were made in China as early as the Neolithic period.

Vases of this form appear decorated both in underglaze cobalt blue and also, like the current example, in underglaze copper red with underglaze-blue lines encircling the base. Both types have underglaze-blue six-character Kangxi marks. An underglaze-blue example in the collection of the Palace Museum, Beijing is illustrated in The Complete Collection of Treasures of the Palace Museum - 36 - Blue and White Porcelain with Underglaze Red (III), Hong Kong, 2000, p. 15, no. 11. An underglaze copper-red-decorated yaoling zun in the collection of the Tianjin Museum is illustrated in Porcelains from the Tianjin Municipal Museum, Hong Kong, 1993, no. 130. Another copper-red example is in the collection of the Shanghai Museum, and illustrated in Kangxi Porcelain Wares from the Shanghai Museum Collection, Hong Kong, 1998, pp. 10-11, no. 7.
Christie's. Collected in America: Chinese Ceramics from The Metropolitan Museum of Art, 15 September 2016, New York, Rockefeller Plaza