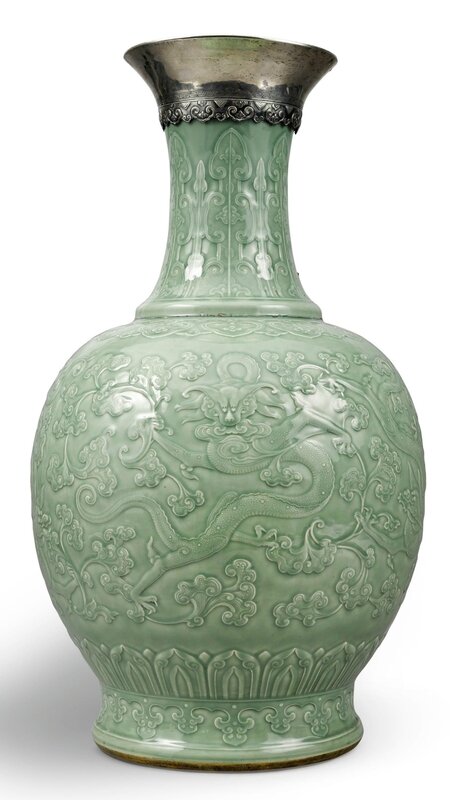 Lot 253. An exceptionally large and rare carved celadon-glazed 'dragon' vase, Qing dynasty, Qianlong period (1736-1795). Estimate 60,000 — 80,000 USD. Photo: Sotheby's.
of monumental size, the ovoid body rising from a splayed foot and sweeping up to a waisted neck, the exterior crisply carved overall in varying levels of relief with a lively and unusual scene of five three-clawed dragons, the principal dragon centered and full-frontal flanked by four striding dragons, with front claws clasping long lingzhi stems, with the central dragon grasping a further lingzhi head in its mouth, the bodies finely detailed with small raised spots, all framed within a band of ruyi at the shoulder with a border of lotus lappets below and a pendent trefoil band at the foot, the neck encircled by a broad band of upright stylized plantain leaves, covered overall with a watery celadon-green glaze, skillfully transmuting to white along the higher relief details and pooling to a sea-green in the recesses, the base unglazed, the reduced neck mounted in silver Height 31 1/2 in., 80.2 cm
Provenance: Canadian private collection, acquired in the 19th century (by repute).
Notes: Striking for its impressive size and carved design which emerges under a cool celadon glaze, this vase draws on celebrated porcelain traditions and reinterprets them to result in a rare and engaging piece. The crisp celadon glaze displays the Qing emperors' admiration of Longquan celadon wares of the Song period, and their efforts to replicate it. The carved motif, on the other hand, is highly unusual and appears to be an 18th century innovation that displays the technical proficiency of the craftsmen working at the Imperial kilns in Jingdezhen, who created a rich and sumptuous effect by filling outlines with a multitude of small dots in order to depict the dragons' scales. A similar motif is found on two blue and white vases with Qianlong marks and of the period, one in the National Palace Museum, Taipei, illustrated in Porcelain of the National Palace Museum. Blue-and-White Ware of the Ch'ing Dynasty, Hong Kong, 1968, vol. II, pl. 10, and the other sold at Christie's London, 11th July 2006, lot 142; and on a double-gourd copper red vase, also with a Qianlong mark and of the period, sold in our Hong Kong rooms, 8th April 2010, lot 1867.
While no other celadon-glazed vase of this shape and size appears to have been published, a Qianlong mark and period vase of globular shape, carved with a similar motif of dragons and also with upright leaves on the neck and ruyi heads on the shoulder, from the Qing Court collection and still in Beijing, is illustrated in The Complete Collection of Treasures of the Palace Museum. Monochrome Porcelain, Hong Kong, 1999, pl. 137; a pear-shaped vase, in the Wang Xing Lou collection, is published in Imperial Perfection. The Palace Porcelain of Three Emperors, Hong Kong, 2004, pl. 71; and a globular vase, carved with dragon and phoenix, from the Ohlmer collection, in the Roemer Museum, Hildesheim, is illustrated inChinesisches Porzellan, Mainz am Rhein, 1981, col. pl. 89.
Sotheby's. Important Chinese Art, New York, 13 sept. 2016, 10:30 AM