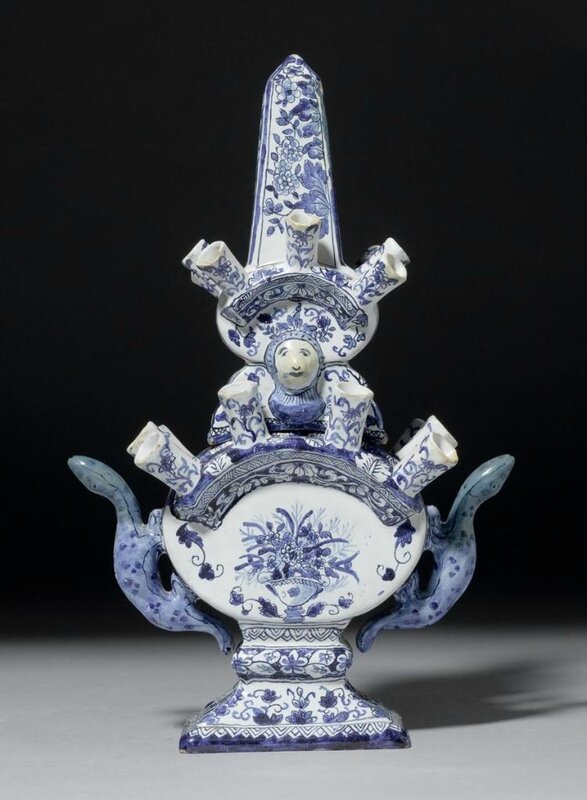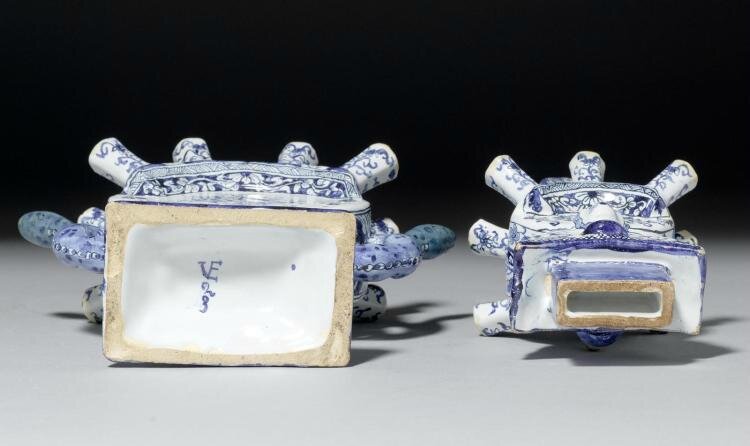 Lot 1711. Tulip vase with obelisk, probably Delft, De dubbelde Schenkkan, Lambertus van Eenhorn, late 17th century. Estimate: CHF3,000 - CHF5,000. Photo Koller
Faience, glazed white and painted in blue. Two-part structure, obelisk with 8 small nozzles and mascaron on the front and back, mounted on a vase with lizard handles and 10 nozzles. Mark VE ligated, 2 and 3 in blue. H 32 cm. Restorations on the edges, lizard heads and 1 mascaron.

Provenance: - Schmitz-Eichhoff Collection, Cologne. Literature: M.-T. Schmitz-Eichhoff, Sammlung Europäischer Fayencen des 17. bis 19. Jahrhunderts Addendum, Cologne 1999, No. 254.
Exhibition: Museum für Angewandte Kunst (MAK) Köln, "Fayence aus Europa, Kölner Sammler stellen aus", 9 May - 11 July 1999.
Faience Col. Schmitz-Eichhoff by Koller Auctions, September 19, 2016, 1:30 PM CET