A Massive and Magnificent Imperial Khotan Jade 'Taishang Huangdi zhi Bao' Seal, Qing Dynasty, Qianlong Period. Height 11 cm / Length 12.8 cm / Depth 12.8 cm. Est. HK$80 – 120 million / US$10 – 15 million. Photo: Sotheby's.
HONG KONG.- Sotheby's Hong Kong Chinese Works of Art Autumn Sales 2016 will take place on 5 October at Hall 3, Hong Kong Convention and Exhibition Centre. The Autumn sales this year will be led by a highly important Imperial Khotan-green Jade 'Taishang Huangdi zhi Bao' Seal. Other highlights include a unique Imperial Inscribed Documentary Cinnabar Laquered Wutong Qin not seen on the open market for over half a century, and an extremely rare pair of Pink-Ground Famille-Rose 'Trompe L'oeil' Jars and Covers. The series of six sales will offer close to 300 lots with a total estimate of approximately HK$623 million / US$80 million.

Nicolas Chow, Deputy Chairman, Sotheby's Asia, International Head and Chairman, Chinese Works of Art, said, "This October we are proud to present a stunning array of material spanning from the dawn of Buddhist art in China in the 4th century to the culmination of material refinement at the Qing dynasty court in the 18th century. The selection includes private collections such as that of the celebrated Japanese connoisseur Sakamoto Gorō and Roger Keverne, one of the doyens of London's art scene. Two extraordinary historical objects from the Qianlong period anchor the sale, one a superb zither made to his order in 1746, and the other a massive jade seal carved fifty years later marking his rise to the status of Emperor Supreme."
SALE HIGHLIGHTS
I) DRAGON EMPEROR
This special sale includes a select number of outstanding and unique Imperial works of art and porcelain, embodying the power and authority of the Emperor.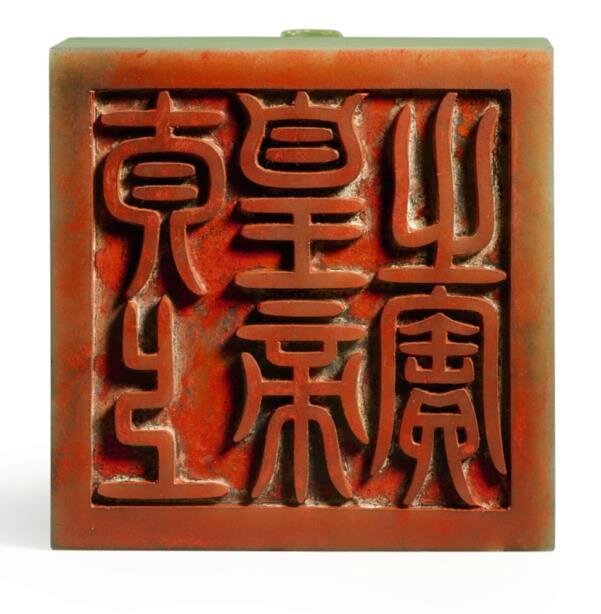 A Massive and Magnificent Imperial Khotan Jade 'Taishang Huangdi zhi Bao' Seal, Qing Dynasty, Qianlong Period, Height 11 cm / Length 12.8 cm / Depth 12.8 cm. Est. HK$80 – 120 million / US$10 – 15 million. Photo: Sotheby's.
On 9 February 1796, The Qianlong Emperor abdicated after 60 years on the throne and thus became the Emperor Supreme. This massive jade seal, the star of the Dragon Emperor sale, celebrates the ultimate chapter of his long and outstanding reign. The seal offered in this auction is the largest seal ever used by Qianlong as Emperor Supreme. This seal is carved from Khotan-green jade, and both the texture and the colour of the seal are pure and beautiful.
On the sixtieth year of Qianlong's reign (1795), the eighty-five year old emperor convened his princes, the nobility and his great generals, to declare that his fifteenth son, Yongyan was to become crown prince. In the following year, Qianlong held a grand coronation ceremony for his son to take position of Emperor, saying: "I, sovereign of the Taihedian, now bow and confer the Imperial Seal, and am now suitable to be the Emperor Emeritus". The Emperor Qianlong thus concluded his sixty-year reign and became the Qing dynasty's only, and China's last, Emperor Supreme. Later in the same year, Qianlong pronounced: "After I have passed on the throne, I shall have the phrase 'Taishang Huangdi zhi Bao' carved onto my best jade seal…to display the flourish and growth of the dynasty while I am the Emperor Supreme." This original seal is the largest imperial jade seal of the Qing dynasty that was never to be used and is today part of the Beijing Palace Museum's collection. Following the orders of Qianlong, craftsmen made a further twenty 'Taishang Huangdi zhi Bao' seals from various types of jades, and the present example is the second largest in size and the largest in a private collection.
An Exceptional and Massive Cabinet with Zitan Carved 'Dragon' Panels, Qing Dynasty, 18th Century, Height 241.5 cm / Length 208.3 cm / Depth 53.3 cm. Est. HK$30 – 40 million / US$3.9 – 5.2 million. Photo: Sotheby's.
Constructed with panels made entirely from zitan wood, this large cabinet features complexly carved imagery of dragons raised above treasures, symbolising the emperor's rule of the lands and oceans. Such imagery was historically popular among, and exclusive to, members of the imperial family, thus placing the present cabinet in the highest class of Chinese furniture. The style of the dragon, cloud carvings and dragons' postures we characteristic of the Qianlong period.
II) IMPORTANT CHINESE ART
This auction is a tightly curated assemblage of fine and rare porcelain and works of art with a particular focus on the Ming and Qing dynasties.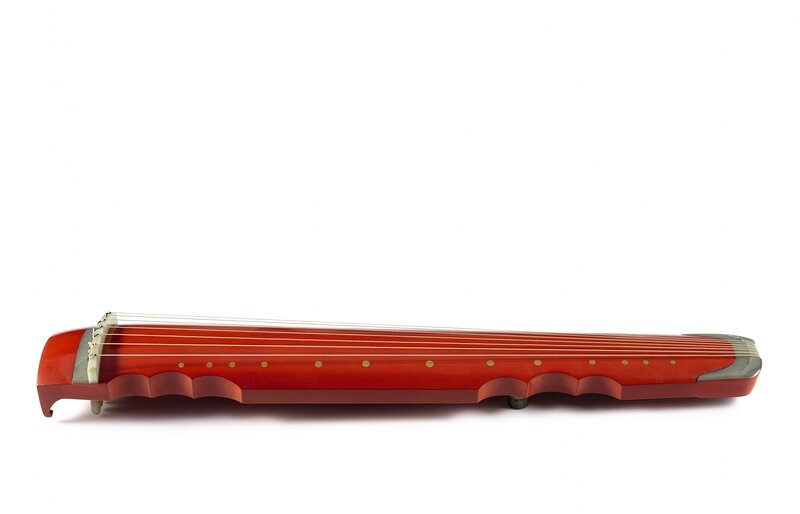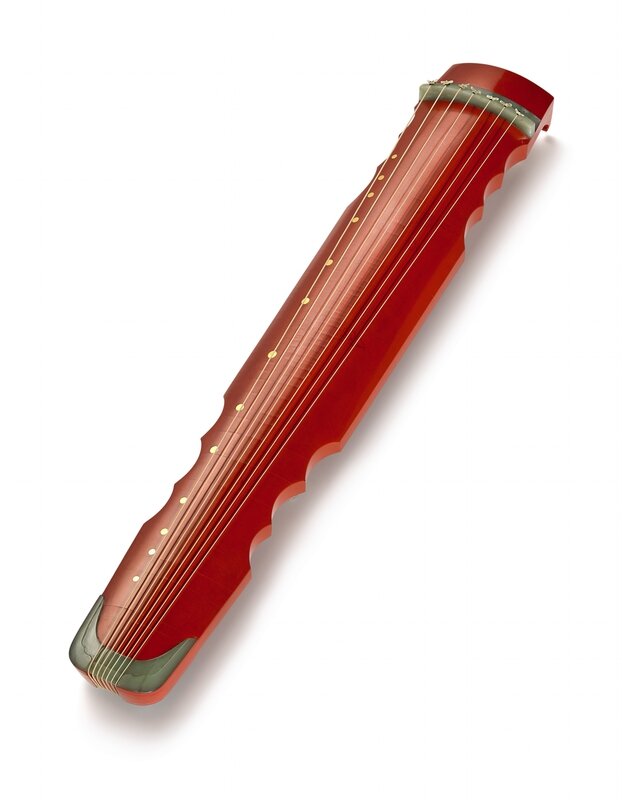 An Imperial Inscribed Documentary Cinnabar Lacquered Wutong Wood Qin, Qing Dynasty, Qianlong Period (Dated in Accordance to 1745), Length 101 cm. Est. HK$25 – 30 million / US$3.2 – 3.9 million. Photo: Sotheby's.
Highlighting the Autumn Sale is a superbly documented Cinnabar Lacquered Wutong Qin dated from the Qianlong period. According to Qing literature, the present qin was made to commemorate the wilted wutong tree at the Replenished Wutong Library. Before ascending the throne as Qianlong Emperor, the young Crown Prince Hongli studied at the Replenished Wutong Library, named after one of the two old wutong trees which stood before the Library was wilted and replaced. In the 9th year of the Qianlong reign (1744), the remaining old tree withered. To commemorate the tree, grieve its passing and to cherish the memory, the Emperor ordered the lost tree to be made into four qin, each named and inscribed with a poem. Two years later, these four qin were completed, preserved in cases and stored in the Library. Among the dozen or so qin with imperial inscriptions by the Qianlong Emperor known to exist, most were made in the Tang and Song dynasties, with many of them now preserved in museums. According to the records, during the Qianlong period, only four qin were produced. For generations in the past 270 years, despite its departure from the imperial Library, the present 'Clear Autumn Skies above the Xiang River' Qin has been secluded and preserved, until finally brought to light and its music heard again. The unlacquered wutong interior is inscribed with an imperial poem that can be translated as follows:
I do not know how to play the qin, but I know its meaning;
Understand not the technique of qin, but the feeling of it, why don't we suspend the seven-string instrument on the wall?
Thirteen studs resembling the little morning stars, picture and text, together guiding our sensibility;
At night, beneath the moon, the Water Fairy arrives at the Xiang River,
flies through the green shades, the imagery of which reflected through the window;
Why should one look for the renowned qin Mingyu ('Smooth-sounding jade') made by Jinru?
My beloved canal moves me in the same way.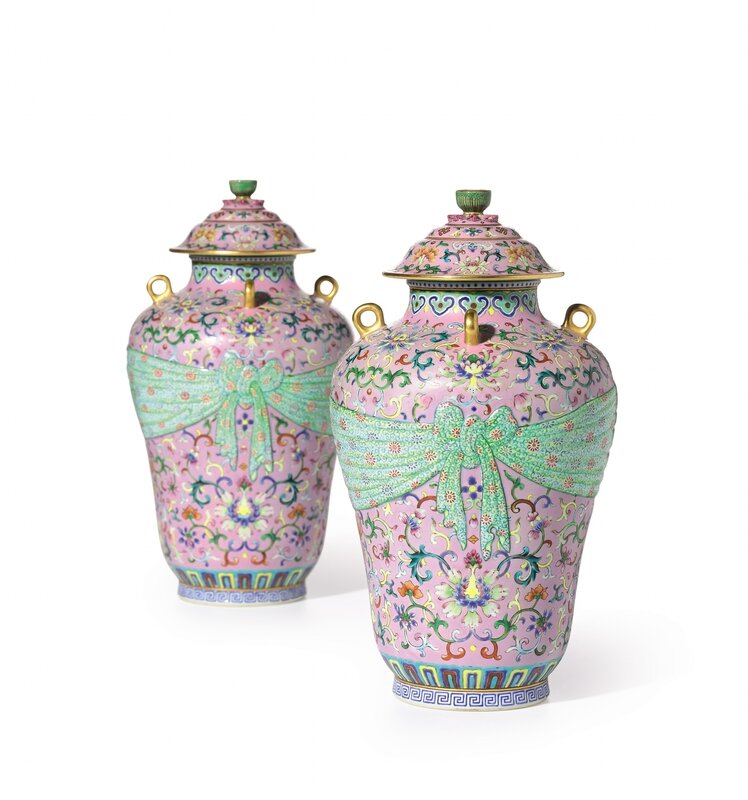 An Extremely Rare Pair of Pink-Ground Famille-Rose 'Trompe L'oeil' Jars and Covers, Seal Marks and Period of Qianlong, Height 23.9 cm. Est. HK$30 - 40 million / US$3.9 – 5.2 million. Photo: Sotheby's.
This pair of magnificent and brilliantly enamelled vases was made for the Qianlong Emperor and may be unique, reflecting the Qianlong Emperor's fascination with objects that simulate other materials. The painted knotted cloth is a Japanese concept reflecting Japanese furoshiki packaging customs, and this design element is frequently used on Japanese lacquer ware.
III) CHINESE ART THROUGH THE EYE OF SAKAMOTO GORŌ – EARLY BUDDHIST BRONZES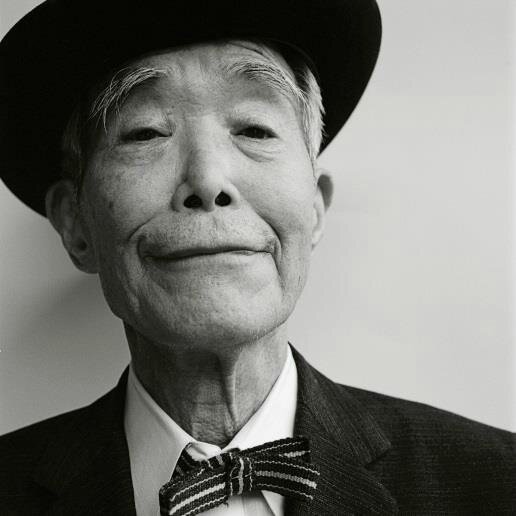 The legendary Japanese collector and dealer Sakamoto Gorō (1923-2016). Photo: Sotheby's.
The 22 bronze votive figures in this outstanding collection, assembled over the past 60 years by the legendary Japanese collector and dealer Sakamoto Gorō (1923-2016, (pictured abovr), are not only of sublime beauty, but also of great importance in documenting the transmission of Buddhism into China from the 4th century onwards. Revered and treasured in Japan, this carefully preserved group includes several with documentary inscriptions, including the famous large gilt-bronze figure of Padmapani from the Northern Wei Dynasty, dated to 470, extensively exhibited and published in Japan since 1960.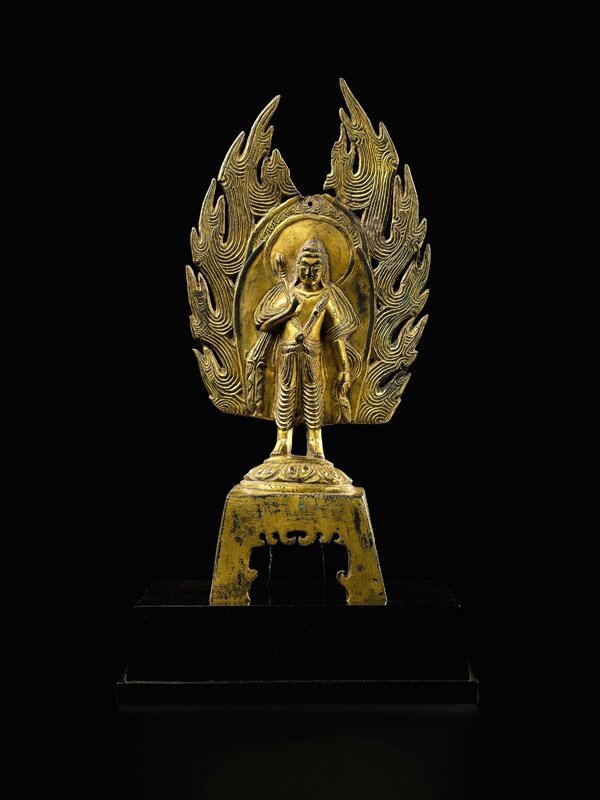 An Important Large Dated Gilt-Bronze Figure of Padmapani, Northern Wei dynasty, Dated 4th Year of the Huangxing Period (In Accordance with 470), Height 27.7 cm. Est. HK$3 – 4 million / US$387,000 – 520,000. Photo: Sotheby's.
Encapsulating the finest qualities of fifth century sculpture, with its sensitive modeling inspired by the art of Gandhara, and crisp articulation of the aristocratic features of the Bodhisattva in a powerful standing posture, the Sakamoto Padmapani is arguably the greatest example of its type remaining in private hands. The sculpture has a longstanding history in Japan, where it was discussed and illustrated by the eminent scholars Mizuno Seiichi and Saburo Matsubara in the 1960s, who recognised the importance of its dated inscription.
IV) ROGER KEVERNE – 50 YEARS IN THE TRADE
The fruits of 50 years of collecting, each of the 93 lots in the sale is endowed with its own unique story, encapsulating the eclectic taste, expertise and indefatigability of this distinguished London-based art dealer. With a broad focus on works of art in particular, he is internationally recognised for his deep knowledge of jade.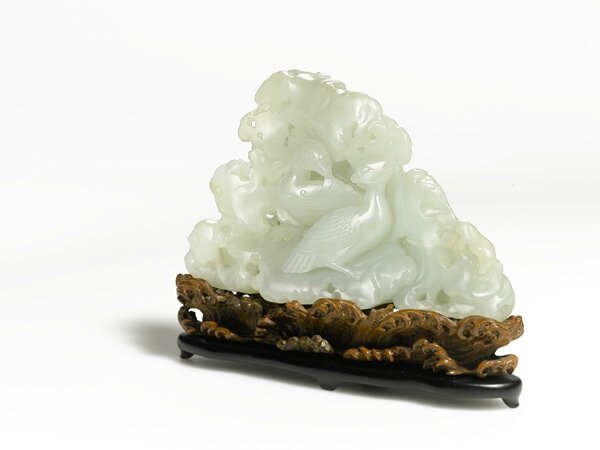 An Exquisite White Jade 'Birds and Rockwork' Group, Qing dynasty, Qianlong period Length 11.1cm Est. HK$1 – 1.5 million / US$129,000 – 194,000. Photo: Sotheby's.
This superb jade carving is impressive for the exceptional luminous and even tone of the stone from which it has been fashioned. This piece may once have adorned a table in one of Emperor Qianlong's many studios and served various purposes, such as a paperweight, brushrest, or purely for aesthetic enjoyment.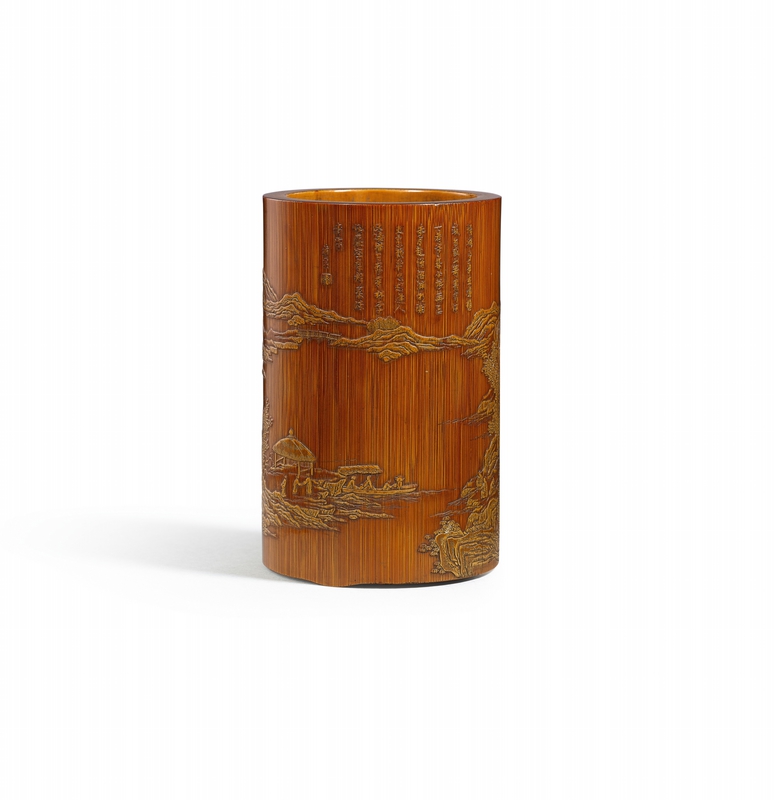 A Superbly Carved Bamboo 'Riverscape' Brushpot by Zhang Xihuang, 17th Century, Height 10.6cm Est. HK$1 – 1.5 million / US$ 129,000 – 194,000. Photo: Sotheby's.
This exceptional brushpot is by the hand of one of China's most outstanding master carvers, Zhang Zonglue (hao Xihuang), a native of Jiangyin in southern Jiangsu province. Zhang was active in the late Ming and early Qing periods. This piece represents the height of Zhang's aesthetic taste and technical skill. Zhang was especially renowned for his use of the liuqing technique, a method of carving that involved the manipulation of the contrasting colours of the smooth greenish bamboo skin and the darker and more fibrous inner layer of the stalk. In this method of carving, the upper layer of the bamboo is cut away leaving a dark background while the skin is left in relief to form the positive image. The result is a pronounced contrast between dark and light tones which is achieved through a drying process in which the green skin of the material turns into a rich light brown colour while the inner layer of the worked bamboo matures into a darker lustrous brown tone.
V) IMPORTANT CHINESE ART: THE COLLECTION OF A PARISIAN CONNOISSEUR, PART III
Assembled by a discerning connoisseur in France since the 1970s, the focus of the collection is on Ming and Qing Imperial porcelain and works of art of the highest quality. Following the spectacular success of the first two parts of the collection, sold in April 2007 and October 2010, the third installment consists of 17 lots, including an extremely fine and rare wucai 'cricket' jar and cover enamelled with a brilliant design of mythical beasts.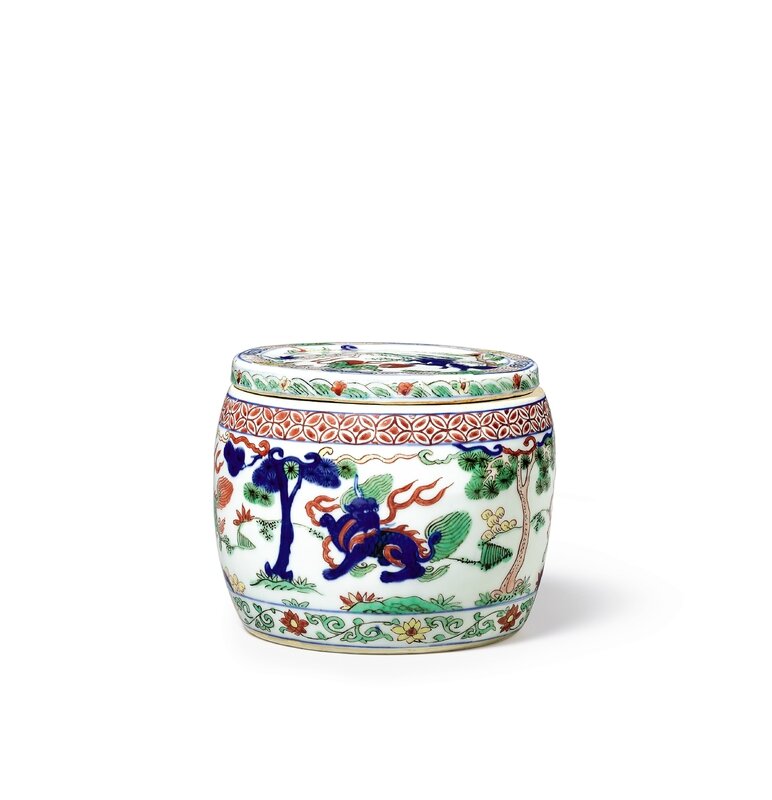 An Outstanding and Rare Wucai 'Mythical Beast' Jar and Cover, Mark and period of Wanli, Diameter 14.6 cm. Est. HK$8 – 12 million / US$1 – 1.5 million. Photo: Sotheby's.
It is extremely rare to find covered boxes of barrel form among Ming dynasty porcelain. The jar and cover presented here is potted with a distinctive and pleasing form, inscribed with a reign mark of the Wanli period (1573-1620). The box is painted with attractive and brilliant wucai ('five colour') enamels, and depicts fascinating auspicious beasts such as qilin in delightful postures.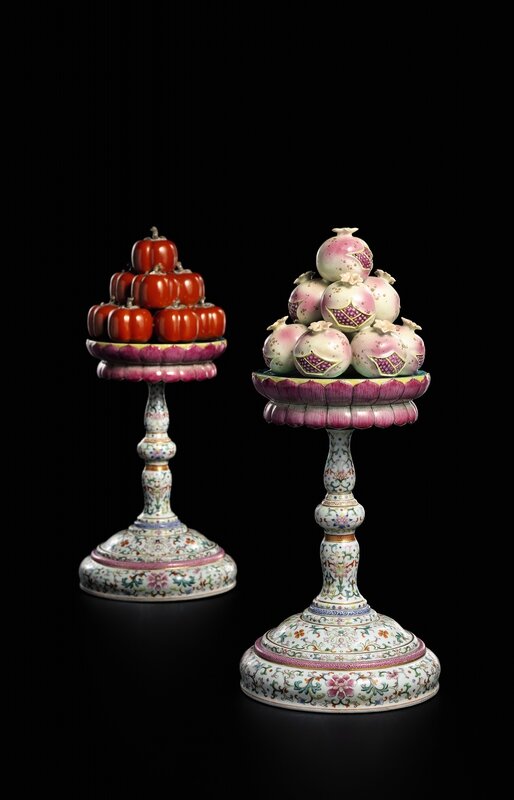 A Magnificent and Extremely Rare Pair of Large Famille-Rose Stands and Trompe L'oeil Persimmons and Pomegranates, Qing Dynasty, Qianlong Period, Height 47.5cm and 47.8cm Est. HK$7 – 9 million / US$905,000 – 1,170,000. Photo: Sotheby's
The Emperor Qianlong is arguably the greatest connoisseur and patron of the arts in Chinese history. This pair of magnificent fruit trays is likely to have been commissioned by the Emperor himself, with no similar examples appearing on record. Beautifully crafted, these trays containing porcelain fruits may have been created as offerings for the altar of a Tibetan Buddhist shrine in the Forbidden City. They may also have been made as decorative items for a palace hall, as both pomegranate and persimmons are fruits with auspicious meanings. With numerous seeds, the pomegranate is a symbol of the abundance of descendants and therefore a favoured design used throughout the Ming and Qing dynasties on porcelain. The persimmon, being round in shape, is thought to symbolise good fortune.
VI) MING FURNITURE – PORTABLE TREASURES
This fine assemblage of 22 furniture items and table-top pieces encapsulates the elegance and refinement of scholarly interiors in the late Ming/Qing dynasties. The highlight of the collection is a rare huanghuali square corner cabinet preserved in very good condition.
A Huanghuali Square Corner Cabinet, Late Ming – Early Qing Dynasty, Width 77.2 cm / Depth 42.1 cm / Height 112 cm. Est. HK$380,000 – 550,000 / US$49,000 – 71,000. Photo: Sotheby's

This well-proportioned small square corner cabinet, fashioned from choice timber, is originally made in huanghuali wood throughout. The apron below is curvilinear-shaped and carved with scrolling tendrils, breaking the monotony of the plain surface of square shape. Surviving examples of square-corner cabinets are usually of large size with small pieces being quite rare.
A Huanghuali Banzhuo Side Table, Late Ming – Early Qing Dynasty, Width 97.8 cm / Depth 48.9 cm / Height 86.8 cm. Est. HK$380,000 – 550,000 / US$49,000 – 71,000. Photo: Sotheby's

This finely crafted piece of choice timer was made during the golden period of Chinese furniture manufacture. This Ming Design, seen already in wall murals of the Jin and Yuan dynasties (1115 - 1368) is hailed by furniture historians to be an all-time classic.
A Huanghuali Box, Late Ming – Early Qing Dynasty, Width 45 cm / Depth 27 cm / Height 20.5 cm. Est. HK$90,000 – 150,000 / US$11,700 – 19,400. Photo: Sotheby's

This classical design was used to fashion large storage chests for clothings as well as small boxes like the present example. Often called document boxes, the functions of these boxes are manifold, ranging from the storage of documents and seals to valuables like jewellery, cash and silver. It is interesting to note that boxes as small as these were all fitted with handles, indicating their association with frequent carriage.