Zhang Daqian (1899 – 1983), Spring Clouds Amidst Autumn Landscape, 1948. Photo Sotheby's.
HONG KONG.- Sotheby's Hong Kong will present a sale of Fine Chinese Paintings on 4 October 2016 during this year's Autumn Sale Series at Hall 3 of the Hong Kong Convention and Exhibition Centre, offering around 300 works by celebrated artists and calligraphers. Highlights include neverbeen-seen masterpieces by Fu Baoshi from a European collection, a rich array of paintings, calligraphy and seal impressions previously in the M K Lau Collection, as well as an assemblage of works by 20th-century artists from the Cheng Xin Xuan Collection. The sale is estimated at a total close to HK$190 million / US$24 million*.
C.K. Cheung, Head of Chinese Paintings Department, Sotheby's, said, 'This season, we are delighted to once again assemble important and fresh-to-the-market works for our discerning clients, leveraging Sotheby's unparalleled global network and trusting relationship with collectors. The sale will see historically significant masterpieces – many from major private collections – by distinguished modern Chinese painters and calligraphers, among them include the market debut of masterworks by Fu Baoshi from a European collector, as well as a blue-and-green gongbi brushwork landscape painting, Spring Clouds Amidst Autumn Landscape, by the legendary Zhang Daqian.
Another notable highlight is the first ever presentation of seal impressions at Sotheby's Hong Kong's Fine Chinese Paintings auction. The opportunity to present a complete picture of Chinese art with a sale that encompasses Chinese calligraphy, Chinese paintings and seals, together in one place, is truly one not to miss!"
Sale Highlights
Zhang Daqian (1899 – 1983), Spring Clouds Amidst Autumn Landscape, 1948. Ink and colour on paper, framed, 138.5 x 61cm. Est. HK$30 – 50 million / US$3.8 – 6.4 million. Photo Sotheby's.
Spring Clouds Amidst Autumn Landscape is a birthday gift from Zhang Daqian to his confidant, Li Qiujun. Zhang and Li's brother were best friends, and later developed a very close rapport with the rest of his siblings.
During Zhang's travel to Sichuan's Mount Qincheng, he painted eight landscapes using the mountainscape as his subject matter. In celebrating Li's birthday, Zhang travelled to her hometown in Shanghai and gifted her with this Gongbi brushwork landscape painting.
Masterpieces by Fu Baoshi from a European Collection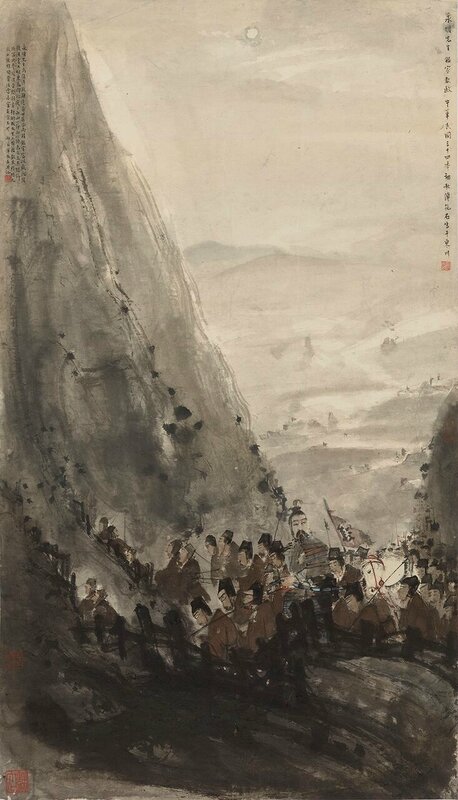 Fu Baoshi (1904 – 1965), Warriors on the Night March, 1945. Ink and colour on paper, hanging scroll, 106.2 x 60.7 cm. Est. HK$15 – 20 million / US$1.9 – 2.5 million. Photo Sotheby's.
Making its auction debut this October, Fu Baoshi's Warriors on the Night March was a work dedicated to the father of French-Vietnamese collector Doan (1914 – 1978), and have been kept in a private European collection ever since. Doan was tracing the path of his ancestry and roots in China, and commissioned Fu to use a piece of history related to his Chinese last name as the key context of this painting.
Deviating away from the artist's usual subject matter, Fu drew inspiration and reference from Book of the Later Han, one of the official works documenting the history of the Han Dynasty. He vividly portrayed warriors marching in the night, with their heads solemnly bowed in solidarity. In this work, the artist brilliantly addresses the common issues of traditional Chinese paintings – such as the lack of perspective and distance as well as the relationship between light and shadow – by adding lighter shades and tones to depict an empty space and the moonlight. Fu employs a modern approach through traditional ink medium to express both simplified and intense brushstrokes. Finely detailed, deeply evocative, Warriors on the Night March is a masterful depiction of a 20th-century war scene.
Works by 20th Century Artists from the Cheng Xin Xuan Collection
Jiang Zhaohe (1904 – 1986), Old Women, 1938. Ink and colour on paper, hanging scroll, 116 x 53cm. Est. HK$1.8 – 2.5 million / US$230,000 – 320,000. Photo Sotheby's.
Old Women is created by Jiang Zhaohe during the late 1930s which demonstrates traces of realism by portraying the daily lives of the lowest stratum of social class living in Beijing.
Based in Beijing during and following the Second Sino-Japanese War, Jiang Zhaohe was a teacher at Jinghua College of Fine Arts and painted numerous works depicting war-era devastation. Merging Eastern and Western painting techniques, Old Women portrays a homeless, elderly Manchu woman in ragged clothing, evoking the artist's compassion for those left in the wake of conflict. The work's title is translated in Chinese as Fate of the Manchu, referring to the plight of the Manchus following their fall from power after the Qing dynasty.
Calligraphy and Seal Impressions Previously in the M K Lau Collection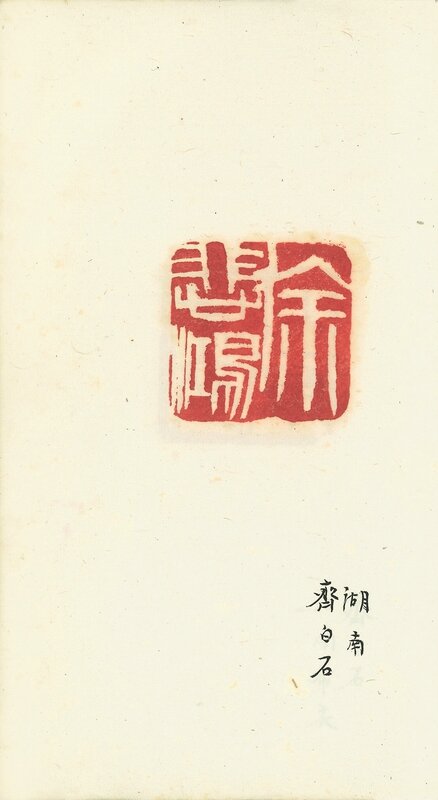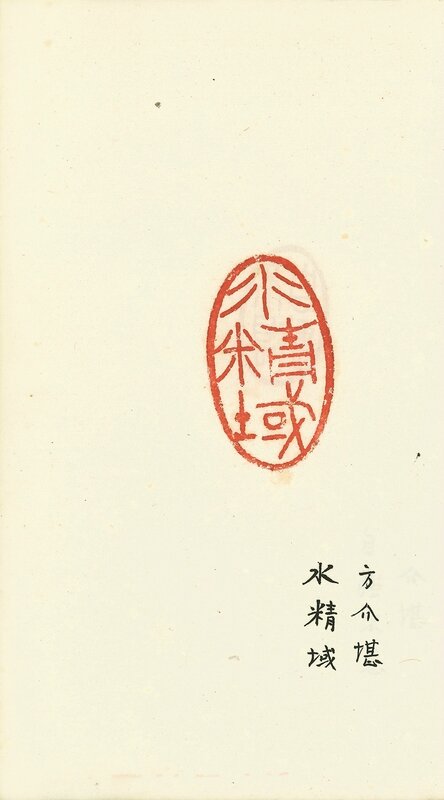 Xu Beihong (1895–1953), Seal Impressions of Xu Beihong (partial), 1939, Album. Each album: 21 x 15.2 cm. Est. HK$250,000 – 350,000 / US$32,000 – 45,000. Photo Sotheby's.
In September 1939, Xu Beihong organised an exhibition in Singapore and stayed with Huang Mangshi during his time there. Huang created two sets of impressions from the seals that Xu used often, and the album on offer at this Autumn Sale is one of the two. The album contains a total of 83 seal impressions, each with an annotation written by Xu to explain whether the seal was for his own use or created for someone else. The seals themselves were crafted by a total of 17 individuals, including seal masters such as Chen Shizeng, as well as Xu's close friends – Qi Baishi, Yang Zhongzi and Chen Zifen.
Calligraphy and Seal Impressions Previously in the M K Lau Collection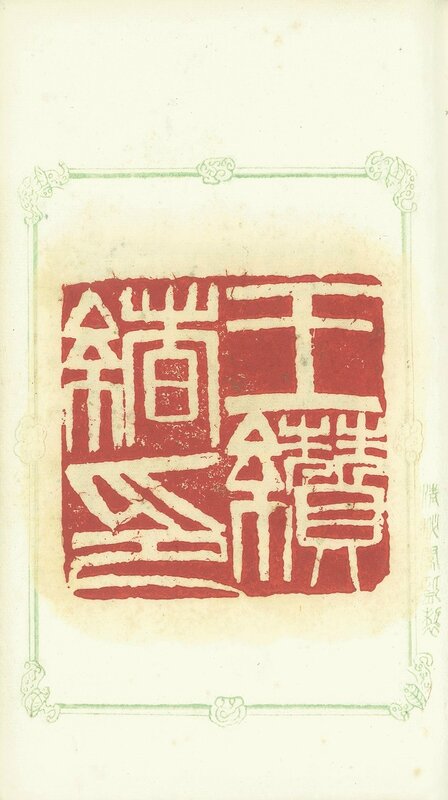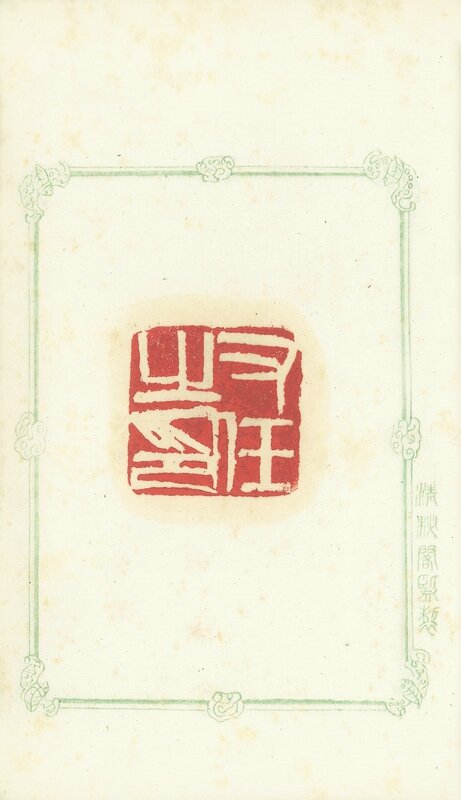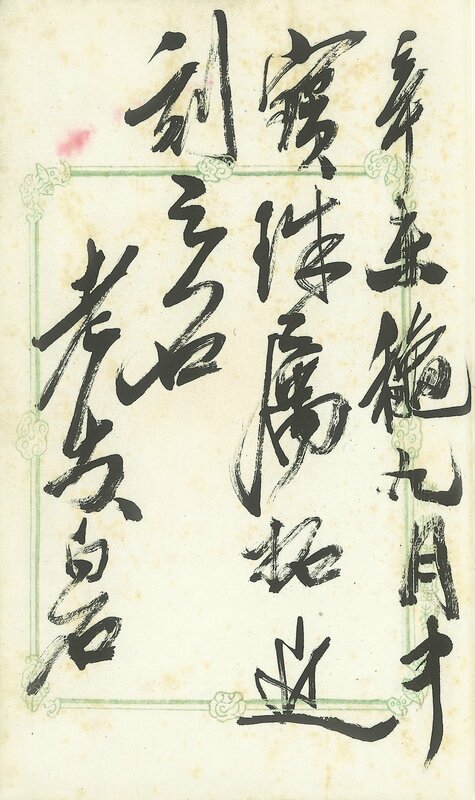 Qi Baishi (1864 –1957), Book of Seal Impressions. A Set of three albums (partial). Each album: 19.5 x 13 cm. Est. HK$120,000 – 18,000 / US$15,000 – 23,000. Photo Sotheby's.
A gift from Qi Baishi to his wife, Hu Baozhu, the seals impressed in this set of three albums were all crafted by Qi Baishi, with an annotation on each album. Majority of the seals documented here were carved by Qi for other people, including families and friends, as well as government officials, scholars and painters such as Ma Lian and Takeuchi Seihō. This important collection illustrates Qi's extensive network and relationships with influential figures from all walks of life.